Read time:

1:30min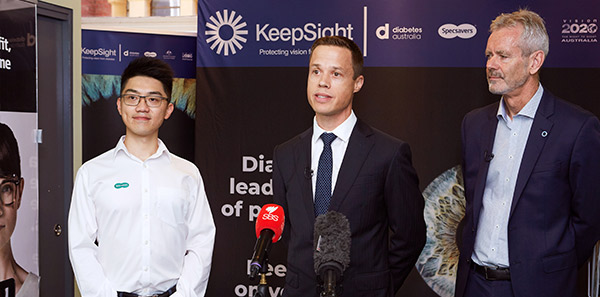 Optometry Victoria member and Specsavers optometrist Patrick Mac, Centre for Eye Research Australia Deputy Director Associate Professor Peter van Wijngaarden and Diabetes Australia CEO Professor Greg Johnson at the awareness campaign launch yesterday.
______________________________
By Helen Carter
Journalist
More than 4,000 eye care providers and clinical support staff are registered to use KeepSight – Australia's new national diabetes eye screening program.
Diabetes Australia CEO Professor Greg Johnson told Optometry Australia that since the program's official launch last October about 800 eye care providers per month were signing up.
'The majority – more than 2,000 – are optometrists,' he told Optometry Australia.
Eye care providers who have registered can expect their patients with diabetes to attend more regularly for examinations and should also receive referrals from new diabetes patients following the weekend launch of a national awareness campaign urging people with diabetes to sign up to KeepSight.
The campaign will use advertising to target three key regions with high rates of diabetes including western Sydney, the Sunshine Coast and south-east Melbourne. The campaign launched yesterday, Sunday 24 March, 2019.
KeepSight will also deliver direct communications to the 1.27 million people with diabetes registered on the National Diabetes Services Scheme (NDSS), encouraging them to have regular eye examinations with an eye health care provider.
Half of diabetes patients aren't having eye exams
Professor Johnson said, at the launch, that diabetes was a leading cause of preventable blindness in working age Australians, yet with regular eye checks, most vision loss was preventable. However, about 630,000 Australians with diabetes are at risk of vision loss or blindness because they aren't having regular eye examinations.
'About 1.3 million Australians have diabetes and we think that about half, or around 630,000 people, aren't getting their eyes checked and this means eye damage is often identified too late when treatment is less effective and more costly,' he said.
KeepSight is designed to make it easier for people to remember to have regular eye examinations and increase the number of people with diabetes having regular eye exams, to prevent diabetes-related vision loss.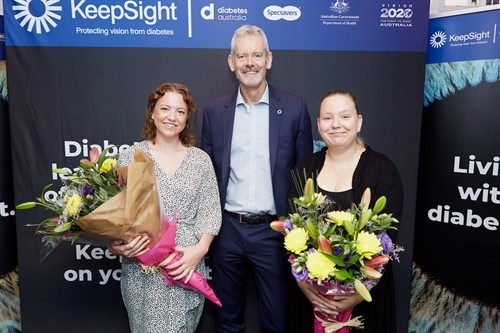 Diabetes Australia CEO, Professor Greg Johnson at the official launch of KeepSight. He is with Ebony and Jess who have both experienced vision loss as a result of diabetes.
'Every person with diabetes is at risk of eye damage and vision loss because diabetes can damage blood vessels in the eye,' Professor Johnson said.
'Many people with diabetes are not even aware they need to have their eyes checked. Often there are no signs or symptoms of eye damage and it is only picked up when people get their eyes checked for reading or when substantial damage has occurred.
'If we detect problems early then people can get early treatment, damage can be prevented and they can keep their sight.
Centre for Eye Research Australia Deputy Director Associate Professor Peter van Wijngaarden said KeepSight was the missing link in Australia's diabetes health system.
Proven program has reduced diabetes blindness in UK
'We have some of the world's best eye care providers and an excellent health service, but people are still slipping through the cracks,' he said.
'The thinking behind KeepSight is already proven. The UK implemented a similar program and, for the first time in 50 years, diabetes is no longer the leading cause of blindness in working age adults there. We want to achieve that in Australia.
'KeepSight is a once in a generation opportunity to significantly reduce the rates of diabetes-related vision loss and blindness across Australia.'
KeepSight has widespread support from leading diabetes and eye health groups and is funded by the Australian Government, Vision 2020 Australia, Oculo, Specsavers, Bayer and Novartis.
Optometry Australia is a key program stakeholder and CEO Lyn Brodie encouraged members in an EDM sent today to register, saying it should take less than one minute.
Optometrists and diabetes patients can register via the secure KeepSight webportal. It's free and quick and details will be securely held by Diabetes Australia and only used to help patients keep their sight. It alerts patients when they need a diabetes eye examination and how to make an appointment with an eye care professional for a Medicare-funded diabetes eye test. Once registered they will receive reminders and prompts for regular examinations.
______________________________
Filed in category:
Patient care & management
Tagged as:
Diabetes
,
KeepSight