Read time:

1:30min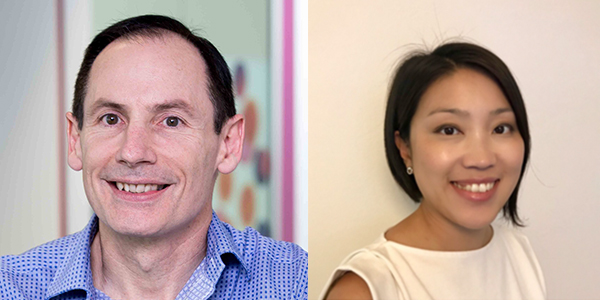 Joe Tanner and Julia Kwok
By Helen Carter
Journalist
Five-year data from the world's longest-running clinical trial of paediatric contact lens wear shows MiSight® 1 day contact lenses1 continue to slow myopia progression and eye elongation among children.
CooperVision's latest report from its MiSight® 1 day study1,2 also found that children who began wearing the contact lenses later in the study progressed at the same rate as those who commenced treatment three years earlier. The company says this means practitioners can consider treating slightly older children.
Optometrists Joe Tanner and Julia Kwok from CooperVision Professional Services will speak about the latest results at breakfast sessions at North Queensland Vision conference in Townsville tomorrow Saturday August 10, and at TLC in Hobart on August 25.
MiSight® 1 day is the first soft contact lens specifically designed to slow myopia progression in children.
Part one of the study quantified three-year effectiveness of MiSight® 1 day versus an equivalent single vision 1-day lens in slowing the rate of progression of juvenile-onset myopia.
The peer-reviewed "A 3-Year Randomised Clinical Trial of MiSight Lenses for Myopia Control" in children aged eight to 12 has just been published online in Optometry and Vision Science4.
After year three, myopia progression slowed in children wearing the MiSight® 1 day contact lens: 59 percent as measured by mean cycloplegic spherical equivalent and 52 percent as measured by mean axial elongation of the eye when compared to the children in the control group wearing a single vision 1-day contact lens.4
Part two, which is being presented at conferences this year, was initiated at the 36-month mark, when children in the original control group were refit with MiSight® 1 day. They continued to be tracked separately to compare the rate of myopia progression between the two matched populations with different treatment history.
Physiological changes among 108 myopic children from Singapore, Canada, England and Portugal were evaluated during this period.
The latest data reveals that:
Progression rates among the original control group, after already showing a dramatic reduction in year four following refitting, matched the children who had been wearing MiSight® 1 day for the entire duration of the study in spherical equivalent refractive error (0.17D) and axial length (0.07mm) during year five.
There were minimal adverse events, and none of the children wearing the daily disposable contact lenses in both groups presented at greater than grade two for all typical anterior eye clinical observations.
Vision performance remained excellent among both groups, with visual acuity of better than 6/6 at every scheduled appointment, with no significant differences across groups or visits.
'The mirrored slowed progression across both groups suggests that myopia progression with MiSight® 1 day lenses is more dependent on age of the patient than their baseline myopia or length of time under treatment,' CooperVision's Director of Research Programs, Paul Chamberlain said.
'The children more recently entering treatment are progressing at the same rate as those completing their fifth year of MiSight® 1 day wear. This information can help practitioners as they consider treating slightly older kids than studied in part one of the trial.
'No other prospective randomised controlled study has offered conclusive data for such a high degree of continued efficacy in myopia management using a 1-day soft contact lens over five years.'
Meanwhile CooperVision will donate up to US$500,000 from sales of the contact lens to the Our Children's Vision campaign by the end of 2020. Our Children's Vision is a global network of partners dedicated to child eye health by bringing together individuals, governments, development agencies and  public and private sectors to reach 50 million children worldwide by 2020.
'We firmly believe having strong partnerships in place can get us further than any individual effort,' said Yvette Waddell, CEO of the Brien Holden Vision Institute Foundation, the founder and manager of the Our Children's Vision campaign.
'The assistance we're receiving from CooperVision will help us reach more children and provide greater access to eye health services in underserved communities, as well as help us advocate on behalf of a vulnerable demographic to ensure child eye health is integrated into country and education policies.'
1 MiSight® 1 day contact lenses are currently available for sale in Canada, the United Kingdom, France, Spain, Portugal, Netherlands, Belgium, Germany, Austria, Switzerland, the Nordic Region, Singapore, Malaysia, Hong Kong, Australia and New Zealand. MiSight® 1 day is not approved in the United States.
2 Chamberlain P, Logan N, Jones D, Gonzalez-Meijome J, Saw S-M, Young G. Clinical evaluation of a dual-focus myopia control 1 day soft contact lens: 5-year results (2019 BCLA Clinical Conference & Exhibition).
3 Holden et al, – Global Prevalence of myopia and high myopia and temporal trends from 2000 through 2050. Ophthalmology 2016. 123(5):1036-1042
4 Chamberlain P, Peixoto-de-Matos Logan N, Ngo C, Jones D, Young G. A 3-Year Randomised Clinical Trial of MiSight Lenses for Myopia Control. Optometry and Vision Science. July 19, 2019-Volume Pre-Publication Optom Vis Sci 2019; Vol 96(8).
Filed in category:
CPD, conferences & events
,
Patient care & management
Tagged as:
Contact lenses
,
Paediatric optometry
,
Patient management