Read time:

1:30min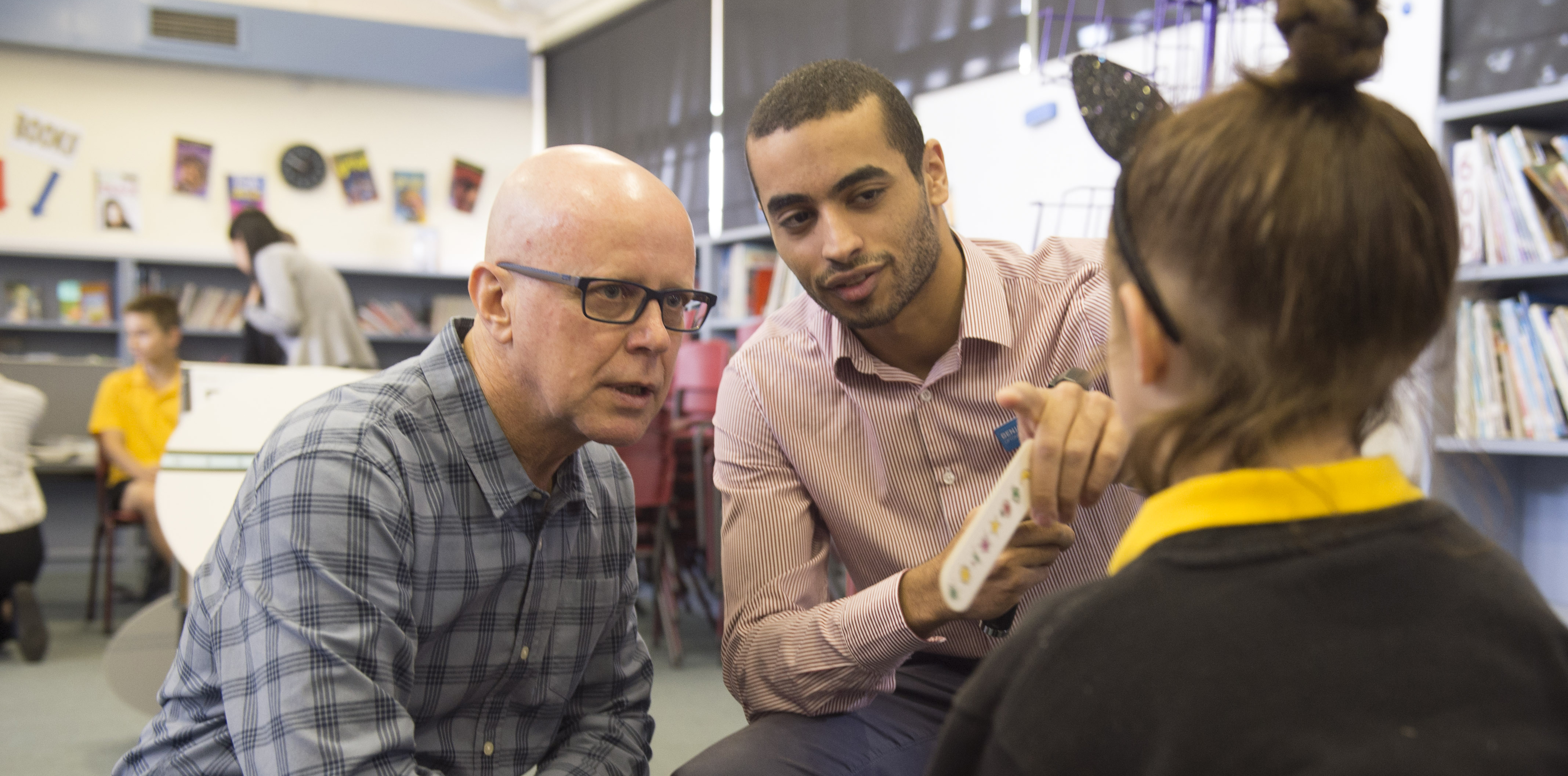 Senior Lecturer in Optometry at Deakin University, Dr Geoff Sampson, left, and optometry student Ben Eskander testing a primary school student
______________________________ 
By Helen Carter
Journalist
One-third of primary school students who underwent vision screening at nine schools in Geelong were referred to local optometrists for further assessment, Essilor Vision Foundation has reported.
CEO of the Australian charity, Greg Johnson, said that, as of July 2018, the foundation had provided free spectacles to 73 of the Geelong students tested. Nationwide the foundation has donated 875 pairs of free glasses to children who took part in the school vision screenings since they started two years ago, and 127 pairs of free aphakic spectacles to babies born with cataract.
Under the program, Deakin University optometry students completed 29 school-based vision screenings and examined 1,181 children.
Mr Johnson said 33 per cent or 392 of these students were then referred to local optometrists at OPSM Waurn Ponds, Eye Gallery Highton, Eyewear on Pako Geelong West, Robinson Family Optometrists Belmont and Surf Sight Optical Torquay for bulk-billed assessment.
'A grant from the City of Greater Geelong Council enabled the foundation, working with final year Deakin University School of Medicine Optometry Program students, staff and Geelong region clinicians, to undertake screening in these nine schools,' he said.
'They included Ashby, South Geelong, Whittington, Belmont and Tate Street primary schools.'
The Deakin students conduct the screenings as part of their clinical placements, supervised by Deakin Senior Lecturer Dr Geoff Sampson and Clinical Skills Teacher in Optometry Ash Chan.
'The optometry practices very kindly take referrals for full exams and order the spectacles from us,' Mr Johnson said.
Dr Sampson said: 'Referrals for full assessment with an optometrist have occurred for a range of conditions including refractive error, sensory and/or motor binocular vision disorders, colour vision deficits and ocular or general health concerns.'
The Essilor Vision Foundation helped establish the program, which was subsequently co-funded by Geelong Council, with Dr Sampson setting-up the Deakin screening program. The university helped fund the initial equipment.
Trial frames and lenses, prism bars, a range of tests for various eye conditions including depth perception, and toys are taken to each screening. Optometry students also bring their own handheld equipment.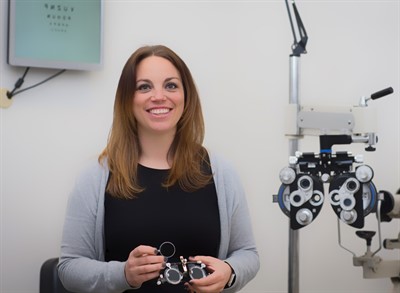 Geelong optometrist Alissa Maillet
Optometrist Alissa Maillet, who lectures in clinical skills and contact lenses at Deakin and practises at Eye Gallery, Highton, has attended some screenings, and seen some of the patients referred from the program.
'It's been very successful and will continue,' she said. 'About 150 students have so far conducted screenings and 60 to 80 new optometry students each year will continue to do so.
'There are huge benefits for the optometry students as the program exposes them to interaction with children.
'So much teaching now is simulated but talking to kids on their level and learning to troubleshoot and deal with poor attention provides practical experience and skills in a real life environment.'
In line with the foundation's goals to enable access for those in need, the primary schools were mostly in lower socio-economic areas.
'Many of the students had never seen an optometrist or had an eye examination. While screening by the optometry students is not equivalent to a full eye examination by an optometrist at a practice, even though all results are checked by one of the staff members, it is still more comprehensive than eye tests given by nurses at schools,' Mrs Maillet said.
Everyone benefits
She said those referred to optometry practices needed further examination and possibly treatment for vision problems.
'Basically they would benefit from a full optometric consultation and they potentially need intervention such as glasses or vision training,' she said.
'Optometrists can also then advise parents about symptoms and eye conditions including whether treatment is needed now or further monitoring is required in future, and can make parents aware that interventions such as reducing screen time and increasing green time may help prevent and delay myopia.'
Another benefit was that other family members including siblings may be exposed to the practice and have eye examinations.
The program also helps to create more community awareness and knowledge about optometrists including that they do more than prescribe spectacles.
Mrs Maillet said screenings helped teachers learn about optometry and symptoms which could indicate children needed their vision checked including excessive blinking, eye rubbing, headaches, tired eyes, difficulty seeing up close or further away, and for young children, avoidance of reading and activities involving focusing.
Council leadership
Mr Johnson said the council was continuing its support of the foundation's school vision screening in Geelong by providing a second grant, to help fund screening at the five campuses of Northern Bay College – Wexford, Tallis, Peacock, Hendy and Goldsworthy.
The grant was provided under the council's Community Investment and Support Fund, Healthy and Connected Communities stream.
He said Winks Eyecare Newtown and GMHBA Corio were taking referrals from this program and Colac optometrist Leigh Plowman from Otway Optical took referrals after screenings at Elliminyt and Birregurra schools.
'The City of Geelong has shown leadership that serves as an example to councils throughout Australia,' Mr Johnson said in a media release.
'What a wonderful legacy under the city's Healthy and Connected Communities stream with more children seeing better at school and potentially achieving improved academic results, plus emphasising the important message to all family members to have regular eye examinations.
'The vision screening undertaken by the foundation and Deakin gives every school parent or guardian the chance to make sure their child has the very best vision available, potentially improving both academic performance and sporting/cultural outcomes.'
Over 1,000 pairs of free glasses for kids
Latest figures show that the Essilor Vision Foundation has donated 1,002 pairs of free spectacles to children who took part in school screenings in NSW, Queensland, South Australia and Victoria, and babies born with cataract.
The foundation has also donated 1,489 pairs of glasses to Indigenous adults, 1,192 to disadvantaged adults, 591 to adult migrants/refugees and 64 pairs to adults with mental illness.
Local optometrists bulk bill for the consultations and the foundation pays for the spectacles.
People overseas have also benefitted with 2,701 pairs of glasses donated to adults in Fiji, Vanuatu and Papua New Guinea.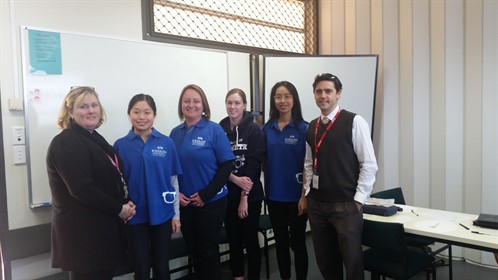 L-R, Chinchilla State High School Head of Student Services, Anne Cardillo, QUT optometry student Ingrid Ng, Essilor Vision Foundation Project Support Officer Marika Mackenzie, QUT optometry students Sarah Hawe and Grace Lee, and optometrist Tom Roger from Eyecare Eyewear Optometrists, Chinchilla.
Rail freight operator funds Queensland screenings
Australia's largest rail freight operator Aurizon has awarded a grant to fund school vision screening in a large part of South-West Queensland under the Aurizon Community Giving Fund.
The Aurizon School Vision Screening Program will target mainly primary schools in Chinchilla, Brigalow, Dalby, Jondaryan, Oakey, Murphy's Creek, Helidon, Ashwell, Grandchester and Wilsonton in Toowoomba.
Aurizon trains pass by these communities daily as they connect miners, primary producers and industry with international and domestic markets.
Screening started in August at Chinchilla, Brigalow and Kogan schools by Queensland University of Technology (QUT) optometry students and volunteer optometrist Tom Roger of Chinchilla.
Mr Johnson said, in a media release, that screening had predominantly been in major cities but Aurizon had given the foundation the opportunity to take screening to places it never thought of visiting.
Final year students at QUT's School of Optometry and Vision Science will undertake screening under supervision of volunteer local optometrists.
Aurizon's Regional Operations Manager based in Toowoomba Kev Taske said the company was delighted to fund the program as Aurizon valued health and wellbeing and understood programs like this were important in identifying potential issues early.
Mr Johnson urged principals of other local schools with an interest in the program to contact him on 0498 015 230 or at greg.johnson@essilorvisionfoundation.org.au
He also urged optometrists to consider donating one day a year to the vision screenings and said those interested could contact him.
The Foundation is a registered charity. People and organisations who would like to make a tax deductible donation to its works can contact Mr Johnson.
______________________________ 
Filed in category:
Patient care & management
Tagged as:
Patient management