Read time:

1:30min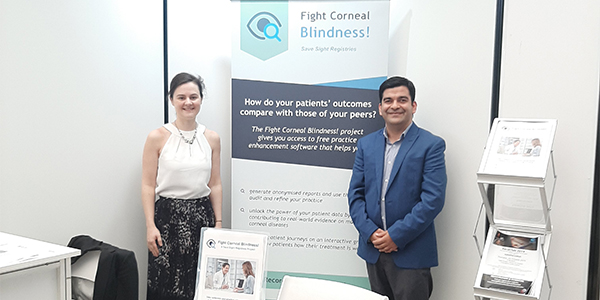 Optometrist Dr Laura Downie and Dr Himal Kandel at the Save Sight Registries booth, ICCLC 2019 Noosa
By Helen Carter
Journalist
Optometrists can now join the world's first online keratoconus registry, The Save Sight Keratoconus Registry, to record and compare outcomes of different treatments for their patients.
Sydney ophthalmologist Professor Stephanie Watson has developed an optometry module for the registry, co-led with chief investigator, Melbourne clinician scientist and optometrist Dr Laura Downie and postdoctoral researcher Dr Himal Kandel.
The optometry module adds to an existing ophthalmology module but has additional fields to track vision and contact lens related outcomes, and enables optometrists to track and share with their patients their own outcomes and benchmark their practice to their peers.
Outcomes of contact lens management for keratoconus can be audited and optometrists can choose to share data with an ophthalmologist and vice versa, providing seamless patient care. Outcome reports with patient progress graphs and benchmarking can also be quickly generated, including for corneal cross-linking.
Organisers are now collecting expressions of interest from optometrists wanting to join and are validating and pilot-testing the optometry module. Logins and training for general use will be provided after the launch date, January 6, 2020.
Ophthalmologists worldwide have been recording data for four years on the registry which is part of the University of Sydney's Fight Corneal Blindness! Project. The project collects real-world data on corneal disease and its treatment with the aim of improving patient outcomes.

Dr Downie is a Senior Lecturer and Research Leader – Downie Laboratory: Anterior Eye, Clinical Trials and Research Translation Unit in the Department of Optometry and Vision Sciences at The University of Melbourne.
'The Fight Corneal Blindness Project allows clinicians to instantaneously show patients their corneal journey,' she said. 'Key treatments, such as cross-linking for keratoconus, can be tracked along with their impact.
'Patient-reported outcomes can also be collected in the registry on the best validated questionnaire for keratoconus. This enables clinicians to see their patients' experiences, both with respect to the eye condition itself as well as its treatment.'
Clinicians who become involved can download and analyse their own data, participate in national and international audits, are acknowledged on publications coordinated by the research team and may receive invitations to co-author publications coordinated by the team.
Outcomes on 4,900 eyes so far
The registry, which started in Australia, is an international registry with sites in Australia, New Zealand, Spain, France, Italy and Switzerland. Currently, there are 76 ophthalmologist users from 68 practices including 53 users from 50 sites in Australia. The registry is growing and data is increasing at 10 per cent per month.
Since the keratoconus registry module launched in 2015, it has collected data from ophthalmologists on more than 23,500 clinical visits including 4,900 eyes from over 2,600 patients with keratoconus. Of these, 2,500 eyes have had crosslinking.
Optometrists and ophthalmologists who join the register receive data collection and practice enhancement software and support free of charge.

The registry:
Records patient outcomes
Generates benchmarking reports to improve your patients' outcomes
Enables statistical analyses needed for national outcome audits to reveal the best treatment regimens and improve patient outcomes
Generates anonymised reports that compare your patients' outcomes with those of your peers to help you reflect on and refine your practice
Facilitates patient education through practice enhancement features to improve patient understanding and compliance with therapy.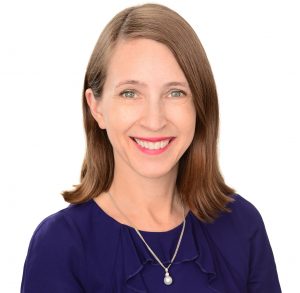 Professor Stephanie Watson, Head of the Corneal Research Unit at the Save Sight Institute, The University of Sydney, Head of the Corneal Unit at Sydney Eye Hospital and chief investigator for the Fight Corneal Blindness! (FCB!) Project
'The registry allows clinicians to audit their own patient outcomes and anonymously compare results with other clinicians. Data entry is simple and quick, all patient and doctor data are anonymous and reports are easily generated in simplified graphical form to illustrate whether management approaches are working relative to the broader population of people affected by keratoconus,' Professor Watson said.
'I am really pleased to have developed the optometry module for the registry. Optometrists have a significant role in caring for patients with keratoconus.'
Benchmarking and data sharing for optometrists and ophthalmologists
'The opportunity to provide a benchmarking system and data sharing for optometry with ophthalmology is truly exciting and I hope that it will lead to further improvements in patient care.'
Dr Kandel, The Kornhauser Research Associate at Save Sight Institute, The University of Sydney, said a booth the registry hosted at the International Cornea and Contact Lens Congress in Noosa recently attracted a lot of interest from optometrists.
'More than 30 optometrists have already expressed their interest to join the registry,' he said. 'As an optometrist, I am particularly excited about the launch of this module.'
A recent study showed that using a registry did not alter total consultation time. The registry is designed so only the most important data is recorded to avoid clinical burden. On average, it takes about 60 seconds for the first visit and about 30 seconds in follow-up visits. The optometry module will take similar time to the original module.
Optometrists can express their interest to join the registry or can learn more by emailing ssi.ssr@sydney.edu.au, phoning 02 9382 7304, or clicking on the green request access tab of http://savesightregistries.org/ A research officer at Save Sight Registries will contact them and if they agree to join, a 30–60 minute training session is organised, and access to the registry is provided.
Filed in category:
Patient care & management
,
Research & surveys
Tagged as:
Contact lenses
,
Other eye diseases
,
Patient management