Read time:

1:30min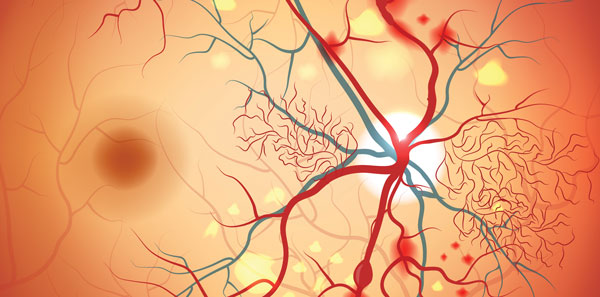 Simon Hanna
BOptom
Professional Development and Clinical Policy Manager, Optometry Australia
The Optometry Australia Diabetes Guidelines Working Group
Diabetes is the fastest growing chronic condition in Australia. As of 2017, around 1.7 million Australians have diabetes. This includes all types of diagnosed diabetes (1.2 million known and registered) as well as silent, undiagnosed type 2 diabetes (up to 500,000 estimated).1  
Each patient is different; each presents with their own combination of factors that can increase their risk of developing diabetic retinopathy. A large percentage of people with type 1 diabetes and more than 60 per cent of those with type 2 diabetes will develop some form of diabetic eye disease within 20 years of diagnosis.3 The 2016 National Eye Health Survey found that 90 per cent of vision impairment in Australia is preventable if detected and treated early enough.4  This highlights the critical role of optometrists in optimising eye health outcomes for many patients. Not only can optometrists increase patient awareness, facilitate early detection and assist in the management of diabetes, optometrists may detect signs of diabetic retinopathy in those previously undiagnosed with diabetes, enabling holistic health management to commence.
Optometry Australia's Clinical guidelines for the examination and management of patients with diabetes provides concise guidance and a convenient point of reference for optometrists. It has been four years since the guidelines were developed, but even in that short time span, there have been advances in imaging technology and treatment regimens for diabetes and diabetic retinopathy. The Optometry Australia Diabetes Guidelines Working Group has revised and updated the guidelines to ensure they accord with contemporary best practice.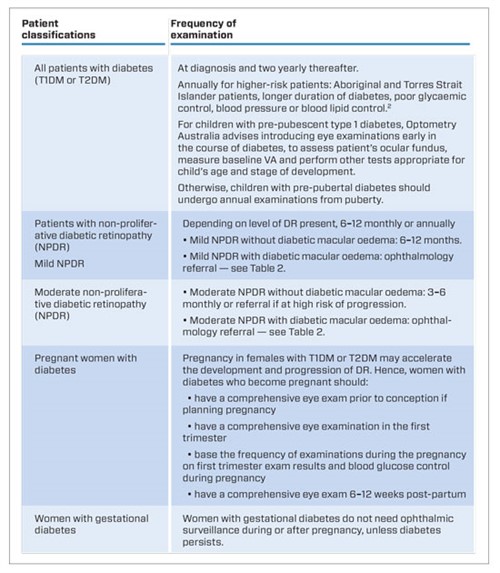 Table 1. Recommended frequency of eye examinations according to patient classifications4
WHAT'S NEW
GP referral and fenofibrate recommendation
General practitioners are often central in the diabetic patient's health care team, and require a complete picture of patient health to optimise health care. Through the revised guidelines, Optometry Australia reiterates the importance of informing the patient's GP of the outcomes of their eye examination. Correspondence with the referring GP should include visual acuities; whether a dilated ocular fundus exam was performed; whether there is presence of retinopathy, and if so, its classification; and the next recommended eye examination. Optometrists may also like to suggest to the GP (based on the patient's medical history and risk factors), that they consider fenofibrate as one option to slow progression of diabetic retinopathy.
Frequency of examination
Optometry Australia's recommendation on the frequency of examinations aligns with recommendations from the National Health and Medical Research Council that if diabetic retinopathy is not present and the patient isn't at high risk,* then a two yearly review is recommended.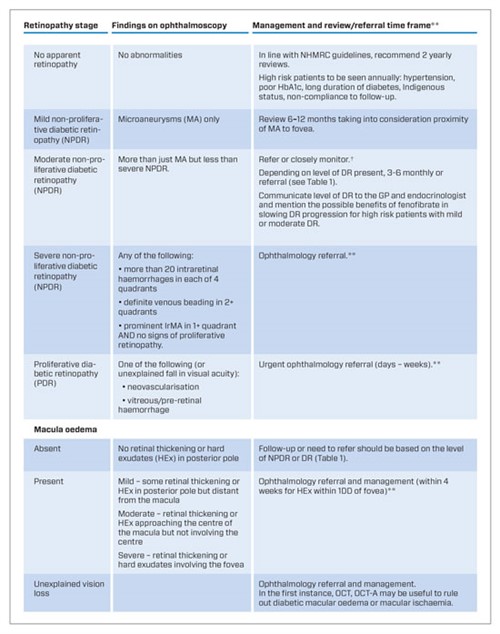 Table 2. International Clinical Diabetic Retinopathy and Diabetic Macular Oedema Disease Severity Scales and recommended referral patterns.5
† Optometry Australia advises optometrists practice within their scope and note NHMRC guidelines state only that 'Patients with any level of DME, severe NPDR or any PDR require prompt care from an ophthalmologist experienced in DR management. Referral is also needed if there is any unexplained loss of vision, or if a screening examination cannot be performed.'
**Optometry Australia recommends that optometrists communicate with ophthalmologists to determine their preferred referral time lines to prevent vision loss.
Classification of diabetic retinopathy
In the past, the modified Airlie House Classification (previously known as the 'Wisconsin system') was recommended as the basis for detailed grading of diabetic retinopathy. To simplify classification of DR and to standardise communication between heath care providers, Optometry Australia now recommends that the International Clinical Diabetic Retinopathy and Diabetic Macular Oedema Disease Severity Scales are used.
Table 2 offers an overview of the five clinical levels of DR and two broad levels of DMO; now recommended.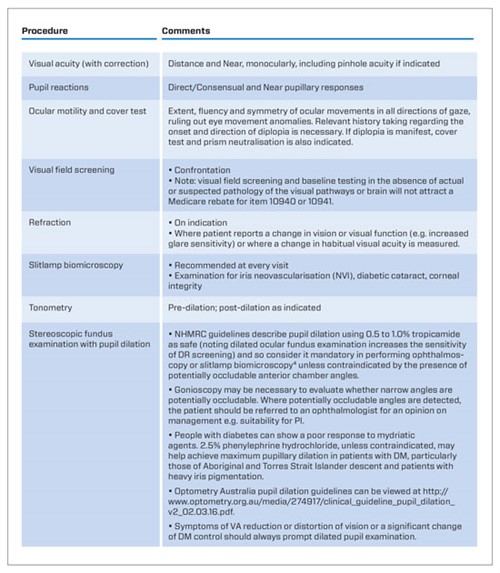 Table 3.  Recommended examination procedures for examining patients with diabetes
WHAT'S NEXT
Low vision referral pathways
Where an optometrist encounters a patient with advanced stages of diabetic retinopathy, a referral to blindness and low vision support providers may be appropriate.
Optometry Australia is collaborating with Vision 2020 Australia in developing a referral pathway for low vision patients to help ensure people with low vision access care to support best visual outcomes and support to maximise independence.
Holistic patient care
When a patient advises they have diabetes, the patient needs to be reviewed holistically. Optometrists should look at educating the patient around their condition, including by asking if they are working with their health care team to support effective chronic disease management and if they have connected with peak bodies like Diabetes Australia, who can offer them more information about their condition. It is useful for patients to learn how the management of their diabetes can effect their eye health and vision. Download Clinical guidelines for examining and managing patients with diabetes from the Optometry Australia website: https://www.optometry.org.au/practice-professional-support/patient-practice-management/clinical-practice-guides/
*For Aboriginal and Torres Strait Islander people in whom no diabetic retinopathy is present, annual eye examinations are recommended in respect of the significantly increased risk of diabetes.
————————–
The members of the Optometry Australia Diabetes Guidelines Working Group: Paula Katalinic, Centre for Eye Health; Roman Serebrianik, Australian College of Optometry; Dr Josephine Li, Australian College of Optometry; David Pye, UNSW Faculty of Science; Lisa Penrose, Eye Health Consultant.
————————–
1.Diabetes in Australia [Internet]. Canberra: Diabetes Australia; 2015 [cited August 2018]. Available from: www.diabetesaustralia.com.au/ diabetes-in-Australia.
2. Barr ELM, Magliano DJ, Zimmet PZ, et al. AusDiab 2005 The Australian Diabetes, Obesity and Lifestyle Study.Tracking the Accelerating Epidemic: Its Causes and Outcomes [Internet]. ,Melbourne: International Diabetes Institute; 2006 [cited August 2018]. Available from: https://www.baker.edu.au/Assets/Files/AUSDIAB_Report_2005.pdf
3. Vision 2020 Australia, Diabetes Australia. The case for an Australian Diabetes Blindness Prevention Initiative [Internet]. Melbourne: Vision 2020 Australia; 2017 [cited August 2018]. Available from: http://www.vision2020australia.org.au/uploads/resource/297/The-case-for-an-Australian-Diabetes-Blindness-Prevention-Initiative.pdf
4. Guidelines for the Management of Diabetic Retinopathy. [Internet]. Canberra: National Health and Medical Research Council; 2008 [cited August 2018]. Available from: https://www.nhmrc.gov.au/_files_nhmrc/publications/attachments/di15.pdf
5.  Wilkinson CP, Ferris FL III, Klein RE et al. Proposed international clinical diabetic retinopathy and diabetic macular edema disease severity scales. Ophthalmology 2003; 110: 1677–1682.
---
Filed in category:
CPD, conferences & events
,
Guidelines & practice notes
,
Member resources
,
Patient care & management
Tagged as:
Clinical practice guides
,
Diabetes
,
Pharma