Read time:

1:30min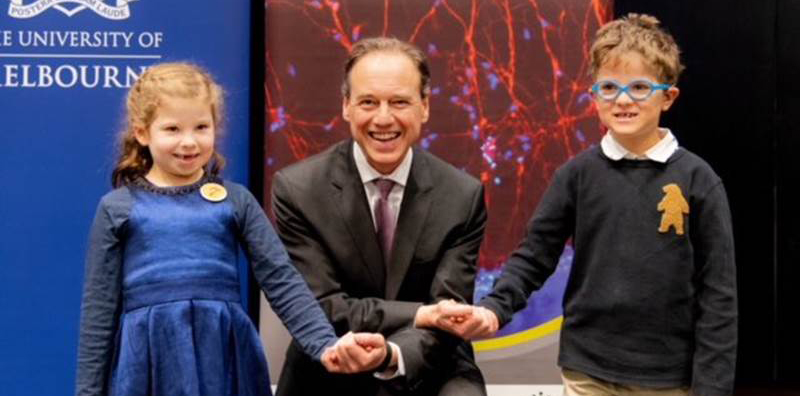 Federal Minister for Health Greg Hunt at the funding announcement with Harry Feller who has Usher Syndrome, and Yve Rumble who has congenital heart disease.
Image: Department of Health
_____________________________
By Helen Carter
Journalist
New government funding will accelerate Australian research aiming to use stem cells to save the sight of children with rare genetic defects that slowly cause blindness.
On 1 August, Federal Minister for Health Greg Hunt announced $3 million in Federal Government funding for two initial projects by Stem Cells Australia.
Joint lead investigator of one of the projects, Professor in Ophthalmology at the Menzies Institute for Medical Research, University of Tasmania, Professor Alex Hewitt, said their project involved taking skin cells from Melbourne boy Harry Feller, aged seven, who has Usher syndrome.
'We have taken a small biopsy of Harry's skin and turned these adult skin cells back into stem cells in the laboratory,' Professor Hewitt told Optometry Australia. 'We are now working on growing retinal cells, which contain photoreceptors, from these stem cells.'
Virus to deliver gene correction
The project aims to modify the mutation in his eye using gene editing tools delivered via a virus injected into the eye. The gene editing tools would alter the genetic mutation destined to cause blindness in Harry during adolescence, and instead avoid vision loss.
They will be using the patient-specific stem-cell derived cells to test the gene editing machinery and virus in photoreceptors in the laboratory before applying it directly to a patient's eye.
'We're aiming to show safety and efficacy to help build the evidence needed so we can get TGA approval to deliver gene-editing machinery to the eye via the virus. Our laboratory tests will determine if this gene-based treatment can work in Harry's photoreceptors,' Professor Hewitt said.
Harry has a rare variant of Usher syndrome where he was born deaf and is likely to go blind in adolescence from retinitis pigmentosa so any gene-editing treatment must occur before degeneration of photoreceptors and blindness occurs.
'His vision is fine now but once degeneration of photoreceptors occurs he will become blind, and this is likely to occur during his teen years,' Professor Hewitt said. 'We have a window of opportunity to develop and prove a treatment but it will take several years' work to prove the safety and efficacy before it can be used.'
If successful the technology could have widespread application in other genetic and congenital diseases.
'The appeal of the technology is it should be able to be fairly easily tweaked to target other well-defined conditions such as retinitis pigmentosa or cone-rod dystrophies,' Professor Hewitt said.
'These conditions also cause structural damage so we would need to diagnose it early and give the therapy before damage occurs.
Optometrists can relay positive news
'Optometrists often see patients for a long time, so for their patients with inherited eye diseases this is of interest,' Professor Hewitt said. 'They can be optimistic as it's an exciting project, things are moving along and there will hopefully be some positive news for the next generation of people with inherited eye disease.'
He said researchers had taken skin samples from about 700 people nationwide with various eye conditions including glaucoma and macular degeneration for stem cell research and to help better understand eye diseases.
The funding will also further a project to repair and reconstruct tissue for children with congenital heart defects.
The Accelerated Research program of the government's Medical Research Future Fund will support national teams of experts to take the research from laboratory to clinic including clinical ophthalmologists experienced in taking novel treatments into the eye working with the charity Genetic Cures Australia.
Stem Cells Australia is hosted by the University of Melbourne and partners with 14 universities and medical research institutes nationally.
Stem Cells Australia Program Leader and University of Melbourne Professor Melissa Little said in a media release: 'We can use stem cells to assess whether a new drug or gene therapy is safe and effective, as well as explore how to repair parts of the body through stem cell therapy.'
Professor Hewitt and his co-lead investigator Professor Alice Pébay explain in a Centre for Eye Research Australia article the potential of stem cells in the study of eye diseases.
Donate to the charity Genetic Cures Australia to help fund the research.
_____________________________
Filed in category:
Patient care & management
,
Research & surveys
Tagged as:
Other eye diseases
,
Patient management
,
Universities