Read time:

1:30min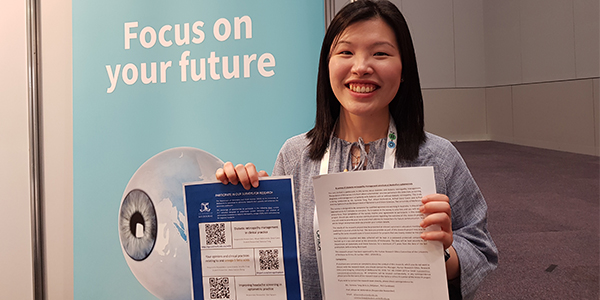 Vanessa Tang launching the survey at the University of Melbourne booth at O=MEGA19
By Helen Carter
Journalist
A survey of optometrists' diabetes practises aims to identify key areas that optometrists can be supported in diabetic eye care delivery and management.
Melbourne optometrist Vanessa Tang is undertaking the short online survey as part of her PhD at the University of Melbourne, Department of Optometry and Vision Sciences.
Vanessa, who also locums at the Australian College of Optometry (ACO), is surveying optometrists on their practice patterns in the detection, screening, diagnosis and management of patients with diabetes with or without diabetic retinopathy.
'The survey will look at current practices to see how optometrists manage diabetes and its overarching aim is to identify key areas that optometrists can be supported in diabetic eye care delivery and management,' she said.
'We hope that this survey will provide us, the research team, with valuable information from members on how they currently provide eye care to their patients with diabetes and how diabetic eye care has evolved within the optometry profession in the last decade.'
Vanessa graduated from Queensland University of Technology in 2016 and while working for the ACO delivered optometric care to diabetes patients.
She was also involved in diabetic screening during several trips to the Northern Territory with the Brien Holden Vision Institute where she saw Indigenous patients, many of whom had diabetes.
Trends and patterns
'My work with diabetes patients led me to view diabetes as a public health issue and something I wanted to explore further in my PhD,' Vanessa told Optometry Australia.
'The optometry landscape has changed a lot in the past decade and there is more technology and equipment to manage diabetes such as OCTs which aid diagnosis of macular oedema.
'Through this survey we will try to identify trends and current patterns in optometric practices and optometrists' opinions so we can inform research on how optometrists can improve screening and diabetes detection, management and treatment.'
Vanessa said results may identify gaps in confidence, knowledge and equipment and may help lead to improved treatment, guidelines and patient care.
The survey asks about diabetic retinopathy management practices, including the utilising of potential clinical tools and risk stratification methods, seeks to investigate the utility of contemporary imaging techniques such as optical coherence tomography or wide-field retinal photography in diabetic macular oedema and diabetic retinopathy, and asks about participants' demographic information.
Vanessa's colleagues from the department also conducting the study are Professor Allison McKendrick, Associate Professor Daryl Guest and Head of Ophthalmology, Royal Melbourne Hospital, Associate Professor Andrew Symons.
The project has University of Melbourne Human Research Ethics Committee approval and a cover letter which outlines information on confidentiality and informed consent also serves as a Plain Language Statement. Participants remain anonymous and the survey takes about six minutes to complete. Click to read the introduction and take part.
Filed in category:
Patient care & management
,
Research & surveys
,
Workplace
Tagged as:
Diabetes
,
O=Mega Vic
,
Patient management
,
Universities