Read time:

1:30min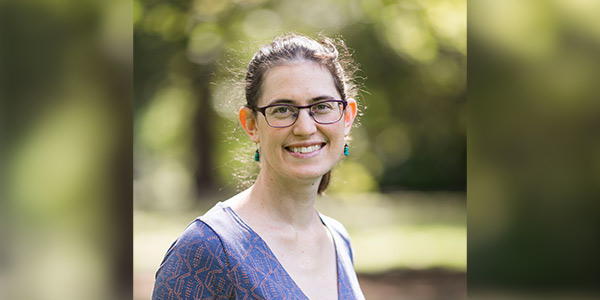 Dr Carla Abbott. Photo, Anna Carlile, CERA
By Helen Carter
Journalist
Dr Carla Abbott from Melbourne is the first optometrist honoured with acceptance into a veski science leadership program for emerging female leaders.
Veski, which stands for Victorian Endowment for Science, Knowledge and Innovation, announced the recipients on September 4.
Dr Abbott was one of 35 women from academia, industry and government STEM roles including 11 University of Melbourne researchers competitively selected as veski inspiring women STEM sidebyside participants in 2020.
She hopes to use insights gained to contribute to the growth and development of the eye health sector and hopes her win will encourage more female optometrists into leadership roles.
The veski inspiring women STEM sidebyside program is a leadership program for a cohort of competitively selected mid-career emerging leaders, that supports women wanting to progress or extend into leadership positions within a STEM (Science, Technology, Engineering and Mathematics) industry.
The program is led by veski with the support of the British Consulate General Melbourne and this year's program is also supported by the University of Melbourne.
With women continuing to be under-represented at leadership levels across Australia, the program goes some way to addressing this challenge, and is designed to support women wanting to progress or extend into leadership positions within a STEM industry enabling them to better foster and generate organisational cultural change and pave the way for future generations.
'I have been accepted into a competitive program to help develop leadership qualities and provide professional development,' Dr Abbott told Optometry Australia.
'The dynamic program of workshops and networking opportunities is designed to empower women at mid-career with the skills, networks and mindset to develop and achieve their career goals. This year the program is mostly conducted in small groups online to be delivered in a COVID-safe mode.
Growth of eye health sector
'I feel very privileged to be selected into the program with 34 other female emerging-leaders from STEM fields. I am passionate about the eye health sector, the importance of research and evidence-based practice and wish to contribute in a meaningful way to the growth and development of the sector into the future,' she said.
'I think one of the great opportunities will be the chance to develop a supportive and positive network with others in different STEM fields and to be able to apply learnings from other sectors to our own.'
The program includes workshops on career strategy, industry networking, leadership skills and developing frameworks to assess impact.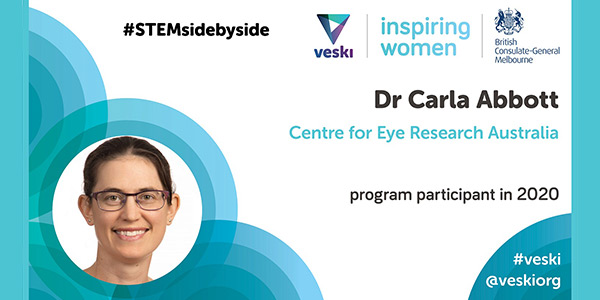 Image, veski
Encouraging more female optometrists into leadership roles
'I hope this encourages more female optometrists to strive for leadership roles,' Dr Abbott said. 'I think that optometrists as primary eye care practitioners have a key role to play in the leadership of the vision and eye health sector as a whole, and it is critical that the diversity of the sector is represented at leadership and senior levels.
'I hope that female optometrists can see that there are many pathways they can follow with their career, and that it is important that women are represented in leadership positions within our sector. Hopefully seeing more women represented at leadership levels will encourage others to step forwards and make their own path.'
Many leadership roles
Dr Abbott, a therapeutically endorsed optometrist who has worked in private optometry practice including in country Victoria, has primarily worked in academia and public health for the past 15 years and has already served in many leadership roles.
She is a joint Research Fellow at the Centre for Eye Research Australia (CERA) and the University of Melbourne Department of Surgery (Ophthalmology), where she conducts translational research studies to find therapies and investigate underlying causes of retinal disease such as retinitis pigmentosa and age-related macular degeneration.
Dr Abbott is serving in her first term as a board member of the Optometry Board of Australia and sits on the Board's Policy and Education Committee.
A sessional optometrist, clinical instructor and Fellow of the Australian College of Optometry, she served as a director of the ACO's Council in 2010 to 2011 and was an auditor of continuing professional development for the Optometry Council of Australia and New Zealand from 2015 to 2017.
As a teaching clinician for over 10 years at the ACO, Dr Abbott has supervised students from different optometry schools in Australia and New Zealand and has been an examiner for the OCANZ overseas-trained optometrist exams.
Within her research unit she is part of the senior management group and responsible for supervising and mentoring students and clinical trial coordinators. As a member of the international Association for Research in Vision and Ophthalmology (ARVO), she mentors early career researchers as part of its Global Mentorship Program.
She serves on the University of Melbourne Department of Surgery Research Committee and Vision2020's Prevention and Early Intervention Committee, is a member of Optometry Victoria/South Australia and was a member of Optometry Australia's age-related macular degeneration clinical practice guide working group (2018.)
Research on bionic eye, AMD and retinal disease
Dr Abbott works in collaborative multi-disciplinary teams to investigate treatments for retinal diseases such as retinitis pigmentosa and AMD and for the past six years at CERA, has been part of a team involved in developing a bionic eye which could help patients with advanced retinitis pigmentosa (RP). Her role has been to test the safety and stability of the device using imaging and functional vision testing.
The young mum has also been part of a team developing a device using retinal stimulation to help slow down retinal cell death in RP and is working together with other CERA researchers to investigate the use of gene therapy and stem cell treatments for retinal disease such as RP and AMD.
Another project is designed to identify biomarkers and novel treatment targets for AMD, work involving researchers from CERA, the University of Melbourne and the Walter and Eliza Hall Institute.
As part of her research training, she completed post-doctoral fellowships at the Save Sight Institute, University of Sydney, and Devers Eye Institute, Oregon, USA.
Veski receives annual funding from the State Government of Victoria which it builds upon through strategic partnerships and collaborations with business, academic and philanthropic organisations. Its vision is to foster an innovation economy and connect, support and inspire the people and organisations needed to grow Australia's innovation culture.
Filed in category:
Members & member initiatives
,
Research & surveys
Tagged as:
Awards - honours - grants-bursaries
,
Leadership
,
Universities