Read time:

1:30min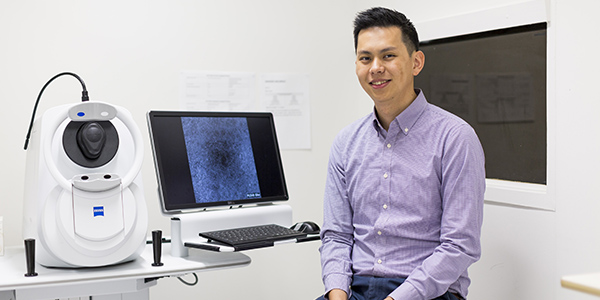 Dr Zhichao Wu. Photo Anna Carlile, CERA
By Helen Carter
Journalist
Melbourne optometrist Dr Zhichao Wu has received a $240,000 grant to research whether a newer version of optical coherence tomography (OCT) can detect factors that determine who is at high risk of AMD progression.
The Centre for Eye Research Australia (CERA) Research Fellow is investigating new methods for better predicting whether a patient's age-related macular degeneration is likely to advance.
His study, entitled Novel prognostic imaging biomarkers for improved risk stratification in the early stages of age-related macular degeneration will investigate if combined OCT and OCT Angiography (OCTA) scans can improve monitoring of the disease. Novel risk factors identified on these scans, as well as those identified by artificial intelligence (computers), will be used for this purpose.
Dr Wu was one of three researchers to share in $600,000 from the Macular Disease Foundation of Australia awarded at Admiralty House, the Governor General of Australia's residence in Sydney, on World Sight Day, 10 October, 2019.
'One in seven people over 50 have early signs of AMD or drusen,' he said. 'One of the tricky things is when an optometrist sees a patient with drusen, they can only provide lifestyle advice (such as diet or smoking), advise them to self-monitor vision with an Amsler grid and, often, to come back in another year to see how it's going,' he said.
'In some people the AMD can advance from this drusen to the wet form of AMD quite spontaneously with bleeding and fluid inside the eyes, and if you are only seeing them every 12 months, you may not have had a chance to detect this change. In that year the AMD could have progressed without the patient realising and be affecting vision.
'We need to know who is at highest risk of this progression in between review visits so we can monitor them more frequently, and also so we can target these people for early treatment trials to delay progression.'
Dr Wu said many optometrists use OCT to scan the back of the eyes for drusen and OCTA enabled practitioners to now see abnormal blood vessels inside the eyes. While only a small proportion of optometrists nationwide currently use OCTA, he suggested that this technology could become increasingly ubiquitous, especially given its potential value in the clinical management of early eye diseases.
Can novel factors determine risk?
'My study will see if novel factors on OCT and OCTA imaging can detect those who are at a higher risk of progression,' Dr Wu said.
OCTA imaging is different from standard OCT imaging, where several scans are taken in quick succession to allow the movement of blood cells inside the eyes to be seen.
'These scans can help us see the growth of abnormal blood vessels before disease progresses to vision loss,' he said. 'These subtle differences might be crucial risk factors for faster progression.
'While treatments for wet AMD work well if initiated quickly, these complications are often detected too late.'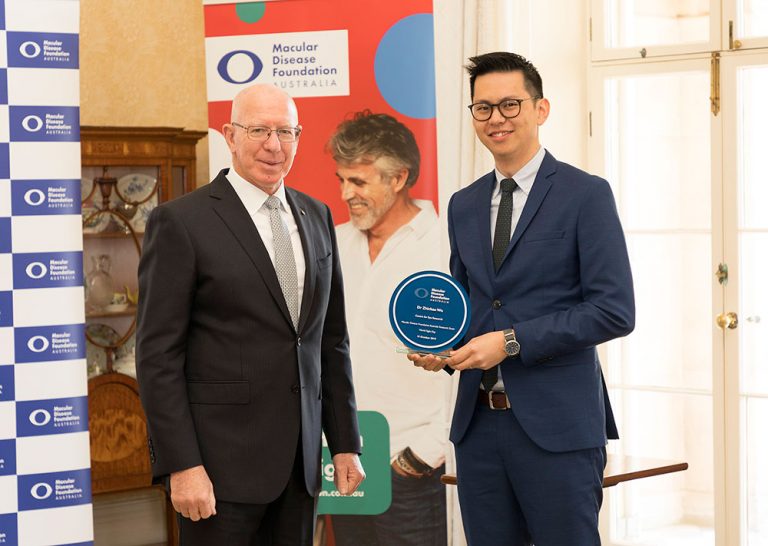 His Excellency the Honourable David Hurley, Governor-General of Australia awarding the MDFA grant to Dr Zhichao Wu at Admiralty House, Sydney, on World Sight Day. Photo, MDFA.
Over three years, Dr Wu and his colleagues will collect OCT and OCTA scans at six monthly intervals from 200 people with intermediate AMD. These patients will then be reviewed to determine the development of late AMD, including wet AMD.
He has recruited a pilot cohort of patients and the new funds will enable another 200 to be recruited and studied.
'These scans are full of rich information but sometimes artificial intelligence – computers – can pick up what even experts cannot. In this project, computers will review scans to see if there is information they can detect which might be a risk factor and indicate those people should have more frequent monitoring,' he said.
'It's more feasible to target only those at high risk of progressing with increased monitoring and treatment.'
Dr Wu said CERA is also currently conducting many treatment trials and studies for people with various stages of non-neovascular AMD, including treatments trials for those with late, dry AMD, for which there is currently no treatment. CERA has established a website called web sight where people with AMD can register their details and interest in trials. Optometrists can also directly refer those with non-neovascular AMD into the Macular Research Unit, CERA for whom there will likely be a trial or study to help expedite the discovery of treatments for this disease.
CPD session on OCT in AMD
Dr Wu will also be running a face to face CPD session on November 11, attracting six CPD points, to help teach optometrists more generally about interpreting OCT scans in AMD management.
'Any optometrist, especially those who use OCT imaging in their practice, would really benefit from this session. It will include learning how to identify risk factors that they would not have seen traditionally on an eye exam and also how to detect the early signs of late wet or dry complications of AMD,' he said.
'This is information that we have gathered over the past seven years of research in this area that we think would be really helpful for practitioners to be aware of because it has shaped our practice.
'There will also be a component telling optometrists in Victoria about research studies that are ongoing at CERA so they are aware that they can refer their patients here to join our collective efforts in reducing the burden of this disease through research, either ones such as this to help improve risk stratification to other ones like early treatment trials or trials for the late dry AMD complication.'
Register for the CPD session via Optometry Australia's Institute of Excellence CPD calendar.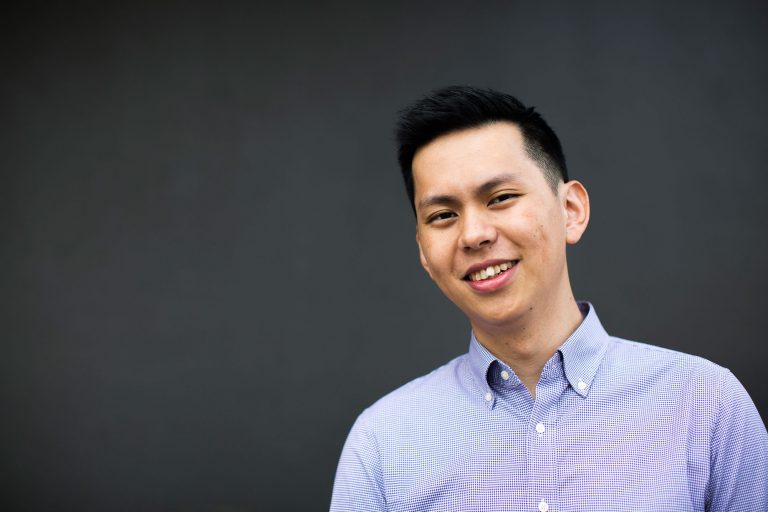 Dr Zhichao Wu. Photo, Anna Carlile, CERA
To learn more about OCT, its application in your day-to-day practise and proposed future uses, read Clinical and Experimental Optometry's May special issue on OCT, available as a PDF download on our website and through the Wiley Online Library https://onlinelibrary.wiley.com/toc/14440938/2019/102/3).
Filed in category:
Members & member initiatives
,
Patient care & management
,
Practice equipment
,
Research & surveys
Tagged as:
AMD
,
Awards - honours - grants-bursaries
,
Eye examinations
,
Patient management
,
Practice equipment