Read time:

1:30min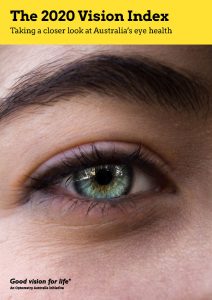 To mark the start of 2020: the year of good vision for life, Optometry Australia today released the 2020 Vision Index Report, designed to cover the importance that Australians place on their eyes, as well as their understanding of eye health.
In November 2019 Optometry Australia commissioned research to survey Australians about their approach to eye health and their attitudes and habits with regard to their eyes. The resulting report covers many topics such as glasses, contact lenses, eye conditions, disease, nutrition, workplace, driving, sport and digital behaviour.
Three quarters (76%) of all Australians consider their eyesight to be their most important sense, with three in five Australians stating they're worried about the quality of their eyesight.
Lyn Brodie, CEO of Optometry Australia says that the 2020 Vision Index Report highlighted that the
majority of Australians understand the benefits of an annual regular eye examination (57%), one third of Aussie's don't undertake regular checks (35%), and an alarming one in eight Aussies have never seen an optometrist in their life (12%).
Exploring the nation's habits, beliefs and attitudes towards their eye health, the report also found that
14% of Australians fear wearing glasses and one in two contact lens wearers don't wash their hands
before inserting them, leaving their eyes open to developing a range of nasty eye conditions.
Additionally, one in three Australians (31%) believe eating carrots will improve their eyesight when in fact, a variety of different but good nutrients may contribute to healthier eyes.
While the report takes a birds-eye look at the eye health of Australians, it also aims to highlight the
intrinsic link between eye health and preventable chronic diseases, conditions and their risk factors,
underscoring the significant extent to which eye health affects general health and wellbeing.
"The launch of the 2020 Vision Index will help us to shine a light on the importance of regular
eye examinations and help encourage more Aussies to focus on their vision in 2020", added Lyn Brodie.
Read the full report here
Filed in category:
General news
,
Research & surveys
Tagged as:
Good vision for life