Read time:

1:30min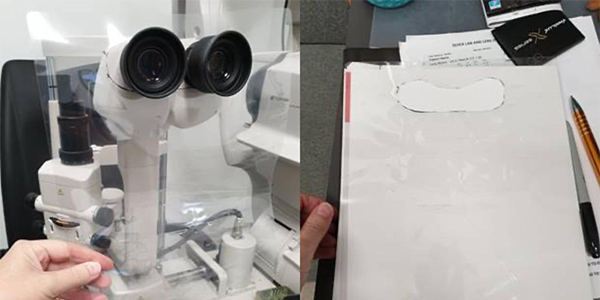 Optometry Queensland and Northern Territory member Helen Flohr made this cheap and effective breath shield above for her slit lamp by putting an empty sheet through the laminator then cutting a hole for the slit lamp eye pieces. It is significantly larger than many conventional breath shields
By Helen Carter
Journalist
Australian optometrists increased their use of slit lamp breath shields nearly six-fold during the COVID-19 pandemic, according to preliminary results of an infection control survey being released at Optometry Virtually Connected & Product Showcase this weekend.
But one concerning finding was that nearly half of those surveyed (48.3 per cent) reported use of 70 per cent isopropyl wipes to disinfect tonometer probes, despite this contravening best-practice advice.
Only five per cent and 4.3 per cent reported use of high-level disinfection for tonometer probes as recommended – dilute bleach and TristelDuo respectively. However the survey was done in January 2021, before Optometry Australia's revised infection control guidelines were published on March 21, 2021 including a comprehensive section on coronavirus.
The survey also found that 53.6 per cent reported use of disposable tips and 41.1 per cent used non-contact tonometry.
The e-poster detailing results will be on display with other e-posters in a virtual poster room at OVC, which starts at 2pm AEST tomorrow Friday, 18 June and concludes Sunday 20 June at 5.20pm AEST.
The survey which asked Australian optometrists about their infection control during COVID-19 elicited responses from 407 optometrists but after responses with incomplete data were removed, there were 302 responses in the final analysis.
It revealed that optometrists had changed their infection control practice since COVID-19, increasing their use of slit lamp breath shields, Personal Protective Equipment (PPE) and triage.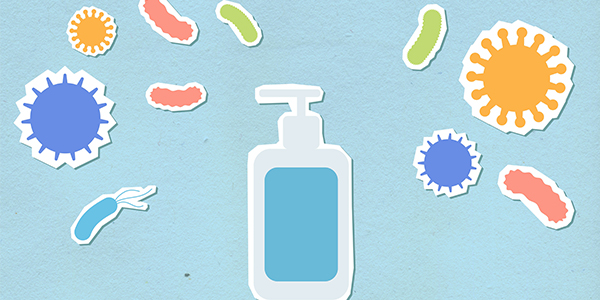 Image by Gabby K on Pexels 
Preliminary results include:
The rate of slit lamp breath shield use increased 5.8 times; telehealth optometry use increased 11.9 times; and triage use increased 4.1 times.
When the patient had respiratory symptoms, optometrists' face mask use increased 4.4 times and physical distancing in the waiting room increased 4.6 times.
During the height of the pandemic, the procedures most commonly avoided were direct ophthalmoscopy and contact lens fitting, followed by contact tonometry and gonioscopy; and the PPE most commonly used was a face mask.
Nearly everyone answered correctly that the doorknob of the consulting room should be cleaned daily.
Three-quarters of those surveyed reported at least one barrier to providing best practice infection control with insufficient time being the most frequently identified barrier.
'Although of a generally high standard, there is room for improvement in optometrists' knowledge and practice behaviours, particularly in relation to transmission-based precautions,' the researchers also concluded.
The survey authors were Optometry Australia's Policy and Standards Advisor and Clinical Editor of Optometry Connection, Kerryn Hart, Professor Fiona Stapleton and Dr Nicole Carnt from UNSW, Ka-Yee Lian from EyeQ Optometrists, Camberwell and Dr Alexandra Jaworski from Deakin University.
Some e-posters, including the infection control survey results, have also been converted to narrated powerpoints. Other audios include patient education materials for AMD from the Centre for Eye Health and UNSW (Elisa Wang et al), and preparing students for the future of optometry – a pilot program to assess telehealth interpersonal skills from the University of Melbourne and National Vision Research Institute (Bao Nguyen et al.)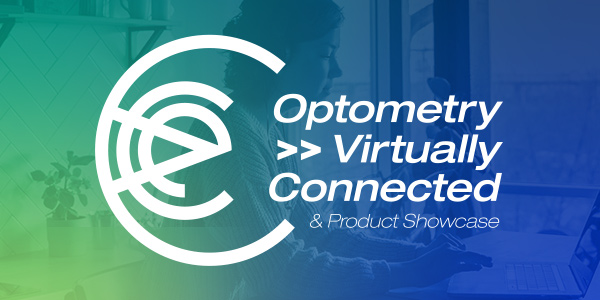 Optometry Virtually Connected & Product Showcase starts Friday.
Filed in category:
Coronavirus
,
Patient care & management
,
Practice equipment
,
Research & surveys
Tagged as:
COVID-19
,
Patient management
,
Practice equipment