Read time:

1:30min
Anna van Koeverden in the Melbourne Brain Centre laboratory
_____________________________
By Helen Carter
Journalist
Optometrists should consider cardiovascular disease when evaluating a patient's risk profile for glaucoma, according to optometrist Anna van Koeverden.
The University of Melbourne PhD student believes optometrists should give more consideration to a patient's cardiovascular status when evaluating their risk of glaucoma. She was commenting after her study in rodents was published in the Nature journal Scientific Reports on May 8, providing insights into blood pressure and how it influences glaucoma risk.
Ms van Koeverden works part-time as a clinical optometrist and is studying her PhD at the university's Department of Optometry and Vision Sciences. The paper is the result of work she undertook in her MPhil degree which she completed with the department in 2016.
'The take home message is that while optometrists routinely consider the relationship between cardiovascular disease and retinopathy by checking for hypertensive retinopathy in hypertensive patients, and diabetic retinopathy in diabetic patients, we should also think about cardiovascular disease when evaluating a patient's risk profile for glaucoma,' she told Optometry Australia.
'We should be routinely asking about any cardiovascular disease as part of the normal patient history and it is important to know disease duration and whether the condition is well managed.
'I wouldn't go so far as to inform patients who have hypertension that they have a heightened risk of glaucoma, especially as our study does not directly show this, more it shows that hypertension did not provide the protection against raised intraocular pressure that it theoretically should.'
Long duration hypertension not protective
Ms van Koeverden said previous rodent studies had shown increased blood pressure to be protective of the retina against high intraocular pressure, but with longer periods of hypertension (one hour versus four weeks), the protective effect was weakened.
'In our study, we extended the period of hypertension to 12 weeks, and used a chronic rodent glaucoma model, and found that systemic hypertension gave no protection against raised IOP,' she said.
'Our study forms another piece of the jigsaw puzzle regarding the role of pressure in glaucoma.'
She said optometrists had previously primarily been concerned with intraocular pressure but, "riding the wave of evidence" that optic nerve blood supply is critical in glaucoma development, they should think about perfusion pressure when considering glaucoma risk.
Consider perfusion pressure status
'Our study, and a number of recent population-based studies suggest that we should take another step, and consider perfusion pressure status, which encompasses not only the perfusion pressure itself, but also the degree of compromise to the blood vessels, particularly the ability of the ophthalmic blood vessels to cope with changes in perfusion pressure,' Ms van Koeverden said.
'We believe that the "status" component of perfusion pressure status is largely driven by the severity and chronicity of cardiovascular diseases such as hypertension, and therefore optometrists should give more consideration to a patient's cardiovascular status when evaluating glaucoma risk profiles of their patients.'
She said she embarked on the research because the role of systemic hypertension in glaucoma risk was equivocal, owing to lack of concordance amongst epidemiological studies.
'Several large scale population studies show hypertension reduces glaucoma risk, while a number show it increases glaucoma risk,' she said.
'Theoretically hypertension would promote better blood supply to the optic nerve head and surrounding tissues, as it increases ocular perfusion pressure.
'However, longstanding periods of blood pressure elevation are suggested to cause detrimental changes to the ophthalmic blood vessels, such that the beneficial effect of increased perfusion pressure (the difference between blood pressure and intraocular pressure) is gradually eroded with increasing chronicity of the disease.
'These detrimental changes render the blood vessels on the eye unable to cope with the normal fluctuations in perfusion pressure that occur many times throughout the day.'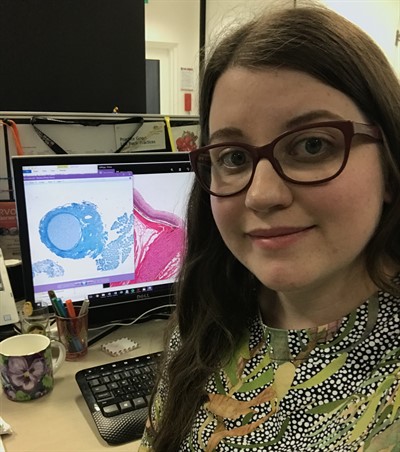 Anna van Koeverden analysing histology images
Ms van Koeverden wrote in the journal: 'While IOP is the most well documented glaucoma risk factor, many patients develop and/or show progression of glaucoma in its absence. It is now thought that in some instances, ocular perfusion pressure (blood pressure – intraocular pressure) may be as important as intraocular pressure alone. Thus, systemic hypertension would be protective against glaucoma.
'Epidemiological studies, however, are inconclusive. One theory of why hypertension may not protect against elevated intraocular pressure in spite of increasing ocular perfusion pressure is that with time, morphological changes to the vasculature and autoregulatory failure outweigh the benefits of improved perfusion pressure, ultimately leading to poor retinal and optic nerve head blood supply.
'In this study we showed the presence of increased wall: lumen ratio and wall area of the ophthalmic artery in rats with chronic hypertension in addition to failure of retinal autoregulation in response to acute modification of ocular perfusion pressure.
'Subsequently we found that in spite of dramatically increasing ocular perfusion pressure, chronic systemic hypertension failed to protect retinal structure and function from a rodent model of glaucoma.'
_____________________________
Filed in category:
Patient care & management
,
Scope of practice
Tagged as:
Glaucoma
,
Patient management