Read time:

1:30min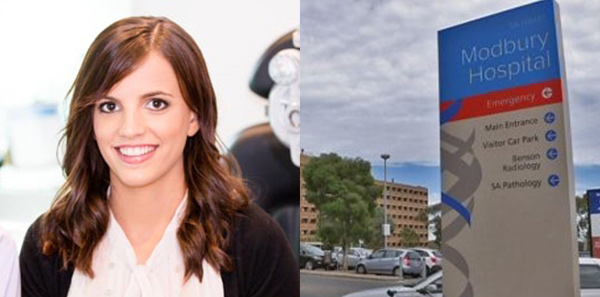 By Helen Carter
Journalist
Optometry South Australia has had a big win negotiating a position for member Jacqueline Warren to triage and manage general ophthalmology referrals in a public hospital in South Australia.
It is the first time that an optometrist will triage and manage general ophthalmology referrals in a public hospital in the state.
Jacqui started on April 1 working one to two days a week in the Ophthalmology Clinic at Modbury Hospital with ophthalmologists Sudha Cugati, Tim Gray, Neena Peter and Swati Sinkar. The optometry pilot is until the end of June with the Northern Adelaide Local Health Network keen to continue beyond this.
Optometry Australia Member Support and Policy Advisor Ben Hamlyn will continue to work with the hospital and Jacqueline during the trial phase to ensure the system is working optimally. Ben was involved in negotiations as a former member of the Optometry SA Board.
Optometry SA CEO Libby Boschen said: 'Optometry SA has pushed hard to ensure that the position description secured professional autonomy for the optometrist and reference to industry-approved guidelines for management.
'In the main, Jacqui will be taking a look at presentations referred by GPs and optometrists that do not meet pre-agreed criteria.
'These patients will be diagnosed and either returned to community optometrists for ongoing management or monitoring or where necessary, worked up and referred to the hospital ophthalmologists.
'She will also assess treated glaucoma until stable and ready for referral back to the patients' optometrist for ongoing monitoring.
'We are hopeful that this will be the beginning of further opportunities for members in the SA public health system.'
Jacqui graduated from the University of Melbourne in 2012 and since then has worked for Laubman and Pank in Adelaide and part-time teaching clinical skills to optometry students at Flinders University.
'I have always had an interest in ocular health and see the need for optometrists in the public hospital setting to help reduce waiting times. I jumped at this opportunity to improve patient flow in the public health system,' she said.
Five years of advocacy
Optometry SA, led by Libby and Ben, fought hard for five years to secure the position with persistent lobbying of various changes of government and hospital teams. Planning began in 2014 when the organisation spotted an opportunity for members after an independent report stated patient flow through hospital ophthalmology clinics in SA was not working.
The Optometry SA President at the time, Elise Pocknee-Clem and Libby met with the health minister and senior health policy advisors, offering a solution.
Libby said: 'The fundamental issue is that there is a waiting list of several years for a patient to even secure their initial appointment with the hospital ophthalmologist. About 50 per cent of cases seen by the ophthalmologists could and should have been diagnosed and managed by community optometrists.'
Libby and Optometry Australia's Professional Development and Clinical Policy Manager Simon Hanna met with Dr Michael Yapp at the Centre for Eye Health in Sydney to see first-hand how its team of optometrists successfully triage eye referrals to the Prince of Wales Hospital.
Optometry SA secured the seeds of an agreement with the Northern Adelaide Local Health Network project team on the proposed optometrists' position description, salary and roster, in addition to referral policies and an agreed continuum of care within the Ophthalmology Department.
Libby said: 'While OSA members Gavin O'Callaghan and Tony Phillips have been providing contact lens expertise at the Royal Adelaide Hospital, Flinders Medical Centre and the Women and Children's Hospital for many years, this is the first time that optometrists will be used to triage and manage general ophthalmology referrals in a SA public hospital.'
Optometry SA sat on the pay negotiation panel to determine where the optometry role sat in the hospitals' workplace agreement and was on the SA Health selection panel.
Ben said that while this is fantastic for the optometrists involved, those who will benefit the most will be the community of the northern suburbs by reducing waiting times for hospital-based eye care.
Filed in category:
Members & member initiatives
,
Scope of practice
Tagged as:
Stakeholders & partners