Read time:

1:30min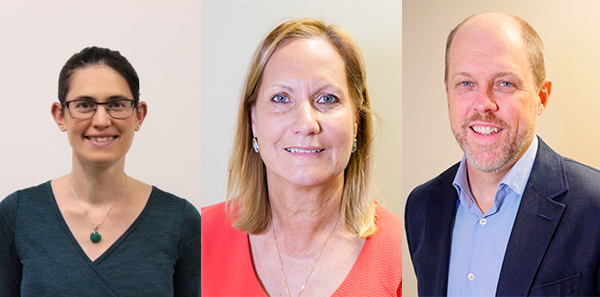 L-R, Dr Carla Abbott, Judy Hannan and Stuart Aamodt
By Helen Carter
Journalist
The Optometry Board of Australia has appointed three new members, optometrists, Dr Carla Abbott, Stuart Aamodt and Judy Hannan who is also simultaneously standing for NSW State Parliament.
They were appointed to the OBA in October for thee-year terms after the Board farewelled three practitioner members who had served for the maximum nine years each – Jane Duffy, Garry Fitzpatrick and Derek Fails.
Judy found out about her OBA appointment at the same time as she decided to run as an independent candidate for Wollondilly in the NSW state election next March.
She believes being elected to parliament would help raise the profile of optometry and health professions generally.
A practising optometrist with 38 years' experience, Judy has served on the local council for 12 years and been the Mayor of Wollondilly for the past two years.
'I have been an optometrist for a long time so nominated for the optometry board because I feel it is time to give back to the profession,' she told Optometry Australia. 'The profession is changing and I'm keen to help young optometrists adapt and receive mentoring and help the older ones stay up to date with newer changes.
'I am interested in the regulation of the profession, and would like to serve the wider community in the interests of public health.'
Judy locums several days a week but previously owned several optometry practices, and was both employee and employer in corporate and private practice.
She graduated from the University of NSW in 1980 and ran and worked in three practices, Judith Irvine Optometrists, in Guildford, Lidcombe and Granville for 25 years before implementing succession plans and selling them in 2007.
Dr Carla Abbott
Carla is a research fellow at the Centre for Eye Research Australia (CERA) within the macular research unit, working on translational research projects including the bionic eye for retinitis pigmentosa, retinal neuroprotection strategies, and investigating treatment options for AMD.
She is also a teaching clinician at the Australian College of Optometry (ACO) and an optometrist in the AMD clinics at CERA.
'I would like to positively contribute towards policy including national practice standards such as continuing professional development and scheduled medicines endorsement,' Carla told Optometry Australia. 'I also feel strongly about the importance of good communication with the community about optometry's capabilities to serve the public.'
Carla graduated with a BOptom from the University of Melbourne in 2003 and completed a PhD and a Postgraduate Diploma in Ocular Therapeutics there.
She worked in public health at the ACO and locumed in private practice in Melbourne and regional Victoria. In academia she has worked mainly in assessing the structure and function of the retina and optic nerve in disease, including high myopia, glaucoma, AMD and retinitis pigmentosa.
Carla completed postdoctoral fellowships at the National Vision Research Institute in Melbourne, Save Sight Institute in Sydney and Devers Eye Institute in Portland, Oregon, USA.
She recently provided expert advice to Optometry Australia regarding standards and policy.
Stuart Aamodt
Stuart is practice owner of SpecSavers Willetton, WA, where he has worked for seven years.
He has a Bachelor of Economics from the University of Western Australia and started his working life as a credit analyst in a financial institution before going back to university to study optometry and graduating from the University of Auckland with a Bachelor of Optometry about 15 years ago.
Since then he has worked in public, private and corporate practices, completed a Graduate Certificate in Therapeutics and recently started working in an ophthalmology practice in a clinical role.
'I'm going to mix that up with Board work and trips to the Kimberley with Lions Outback Vision,' Stuart said.
'When I was applying to study optometry, I was asked whether I had considered what I could give back to the wider optometry profession after I had graduated.
'That question stuck and I have always tried to get involved outside of my day to day work. This includes remote and outreach optometry, student supervision and Optometry Australia Board work.
'When working with previous OBA member Garry Fitzpatrick talking to him gave me a better understanding of the board functions and my interest generated from there.
'I'd like to come away with a good understanding of the complex regulatory framework that is AHPRA and be part of the collective decision-making that improves board functions. I feel privileged to be on the board with leaders within professions and outstanding educators.'
_____________________________
Filed in category:
Sector news
Tagged as:
Leadership
,
Stakeholders & partners