Read time:

1:30min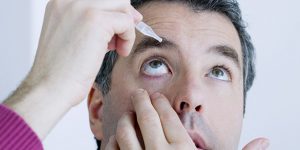 By Helen Carter
Journalist
A new dry eye treatment – ciclosporin – which treats the underlying inflammation of the disease is now available in Australia.
The Therapeutic Goods Administration (TGA) approved Cequa (ciclosporin 0.9 mg/mL) in February 2020 for Australian optometrists to prescribe as a private prescription. The drug is not PBS approved.
The aqueous immunosuppressant is indicated for the treatment of moderate-to-severe dry eye (keratoconjunctivitis sicca) and is the first TGA approved immunosuppressant indicated to increase tear production in patients with moderate-to-severe dry eye, where prior use of artificial tears has not been sufficient.
Optometry Australia's Chief Clinical Officer Luke Arundel said the move was welcome news for patients and optometrists as previously 'off the shelf' ciclosporin eye drops were not readily available in Australia and the drug had to be made by a compounding pharmacy or specially imported under the brand name Restasis or Cequa via the TGA's Special Access Scheme.
Cequa works by reducing inflammation and increasing tear production so the eyes are better lubricated. One drop is administered twice daily (about 12 hours apart) into each eye.
Cequa should not be used in people who have an allergy to any medicine containing the active substance ciclosporin or any other ingredients in Cequa. It should also not be used in patients with active or suspected ocular or peri-ocular infection or patients with ocular or peri-ocular malignancies or premalignant conditions.
Precautions should be taken when using it in patients who have a potential for eye injury or contamination, patients with infections, severe keratitis and patients who use contact lenses.
Use in the elderly showed no difference in safety or effectiveness, and its safety and efficacy has not been established in patients below the age of 18.1
Dry eye affects more than seven per cent of the Australian population2 and is one of the most common reasons for seeking medical eye care.3
About one in five patients with dry eye are dissatisfied with their overall treatment due to lack of symptom relief, the time taken to relieve symptoms, and treatment side-effects.4
The condition can significantly compromise vision, quality of life and work-related productivity. Symptoms include discomfort, visual disturbance, burning, stinging, grittiness, foreign body sensation, tearing, ocular fatigue, redness, light sensitivity and dryness.
Dry eye is becoming increasingly common, especially in younger people, due to increased digital screen time. Exposure to air conditioning, ceiling fans and forced air heating systems in indoor environments can all lower humidity and exacerbate tear evaporation, causing dry eye symptoms.
For more information on prescribing medicines in optometry, visit the Prescribing Medicines & PBS section of our website.
Reference – Therapeutic Goods Administration. CEQUA Ciclosporin Consumer Medicine Information. 2020 Feb, 2020]; Available from: Sun Pharma by calling 1800 726 229.
Gayton, J.L., Etiology, prevalence, and treatment of dry eye disease. Clinical ophthalmology (Auckland, N.Z.), 2009. 3: p. 405-412.
Zeev, M.S.-B., D.D. Miller, and R. Latkany, Diagnosis of dry eye disease and emerging technologies. Clinical ophthalmology (Auckland, N.Z.), 2014. 8: p. 581-590.
Reference – Malhotra, R., et al., Effect of OTX-101, a Novel Nanomicellar Formulation of Cyclosporine A, on Corneal Staining in Patients With Keratoconjunctivitis Sicca: A Pooled Analysis of Phase 2b/3 and Phase 3 Studies. Cornea, 2019. 38(10): p. 1259-1265.
Filed in category:
Patient care & management
,
Therapeutics
Tagged as:
Dry eye
,
Patient management
,
Therapeutics