Read time:

1:30min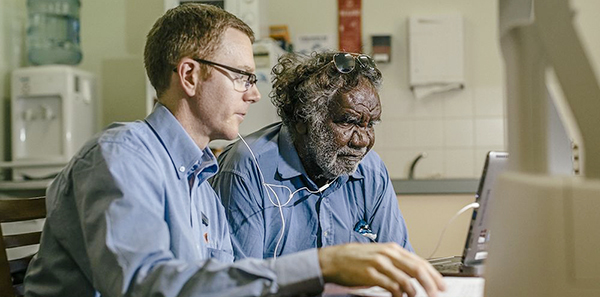 Optometrist Stephen Copeland conducts telehealth consultations with Indigenous patients, linking to Associate Professor Angus Turner at the Lions Eye Institute in Perth     
Photo: Alan McDonald
______________________________
By Helen Carter
Long-term advocacy delivers results
Two new MBS items for optometrists announced in the Federal Budget covering corneal foreign body removal and telehealth consultations are likely to be introduced on 1 September.
After extensive lobbying by Optometry Australia, a Medicare Benefits Schedule item for removal of imbedded corneal foreign bodies and MBS items giving optometrists access to telehealth rebates will be added.
Optometry Australia CEO Genevieve Quilty said Optometry Australia had worked hard on these submissions over several years.
'We have already been consulting with the government regarding the details of these items and are seeking more information including pricing and a starting date,' she said.
'We welcome the announcement of new Medicare items for optometrists to support patients in video consultations with ophthalmologists.
'We believe this will support better access for patients in rural and remote areas to specialist eye care, and that such telehealth consultations benefit from the skills, expertise and technology of optometrists.'
Optometry Australia national policy manager Skye Cappuccio said the organisation had been lobbying for telehealth items for some time and last year supported a submission by the Lions Eye Institute to the Health Department and participated in meetings with government to urge it to extend GP telehealth items to optometrists.
'GPs have several telehealth items for different consultation times in supporting patients in eligible areas consulting with specialists via video consultation,' she said.
'We understand these will be adapted to optometrists so optometrists can support a patient in a video consultation with an ophthalmologist. It is likely the optometry telehealth items will support consultations under 15 minutes and those over 15 minutes.'
Ms Cappuccio expects patients eligible for optometry MBS telehealth items will include those in rural and remote areas accessing ophthalmology advice from a specialist more than 15 kilometres away, and those in residential aged-care facilities and Aboriginal medical services.
'We know that people living in regional and rural areas have higher unmet need for eye care than those living in metropolitan regions. Extending telehealth services under Medicare to optometrists is a logical step to support better access and co-ordination of eye-care service,' Optometry Australia national president Kate Gifford said.
Optometry Australia spent more than four years campaigning for a corneal foreign body item.
Ms Cappuccio said that when implemented, it was likely to be a stand-alone item.
The Medicare Services Advisory Committee (MSAC) recommended to the government that the item be listed at $72.15 (100 per cent scheduled fee.) Optometry Australia is waiting to hear details.
MSAC recommended an item number for removal of imbedded corneal foreign bodies, lodged in the sub-epithelial or intra-epithelial corneal layers, for any person presenting to an optometrist.
In its submission, Optometry Australia estimated that optometrists perform about 35,000 corneal foreign body removal procedures in Australia every year.
Optometrists currently claim the service under a non-specific attendance fee item (10900, 10913, 10916).
Under current arrangements, ophthalmologists and general practitioners can bill for removal of an imbedded foreign body from the cornea or sclera under MBS item number 42644. The current scheduled fee for item 42644 is $72.15. Medicare statistics show item 42644 was claimed 26,457 times in 2010-2011.
Patients can also access the service at hospital emergency departments and 84 such procedures were performed in emergency in 2009-2010, according to the National Hospital Morbidity Database.
Filed in category:
Uncategorised