Read time:

1:30min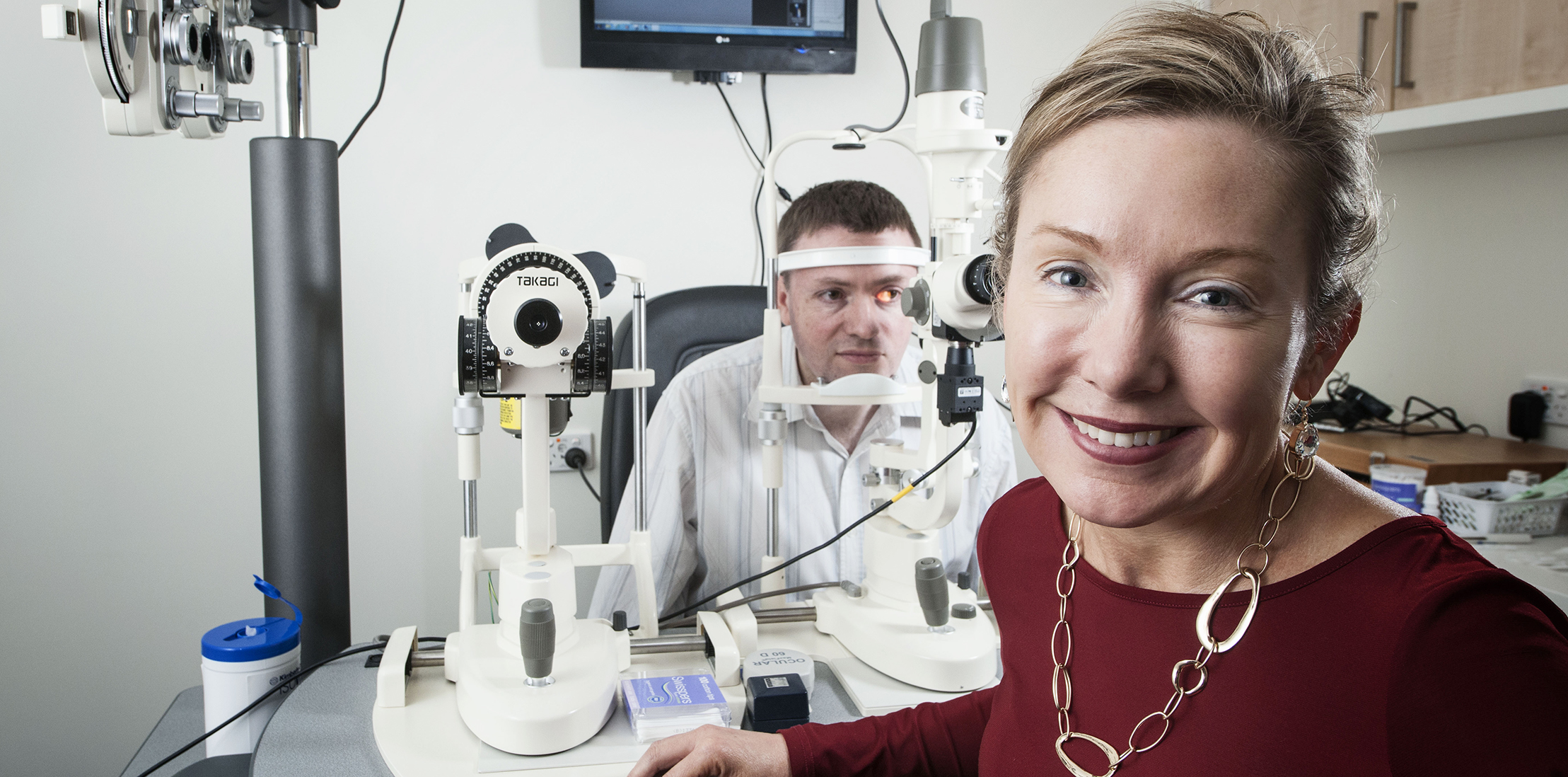 Optometrist and researcher Dr Julie Albietz
______________________________
By Helen Carter
World first trials in Australia are comparing antibacterial honey eye-drops with standard treatment for dry eye.
Queensland University of Technology optometrist Dr Julie Albietz (above) will lead two clinical trials evaluating the effectiveness of honey eye-drops compared with conventional eyelid hygiene, lubricant drops and other treatments for the management of dry eye symptoms.
One study involves contact lens wearers who are struggling to remain in contact wear due to dry eye symptoms and the other, people with meibomian gland dysfunction.
Dr Albietz from QUT School of Optometry and Vision Sciences and clinic optometrist at QUT's Dry Eye, Red Eye and Chronic Eye Disease Clinic, pioneered the use of honey-based treatments for dry eye and other ocular surface diseases as part of her post-doctoral research.
She said her studies over more than a decade had shown the use of honey offered significant benefits in treating dry eye.
Her research led to Therapeutic Goods Administration licensed Australian company, Melcare Biomedical, developing and commercialising two regulated products for eye care, which will be included in the clinical trials.
They are the first therapeutic honey products regulated as a medical device for professional eye care in Europe and Australia.
Melcare chief executive Anthony Moloney said the products were available to all optometrists for over the counter sales.
Optimel Manuka Dry Eye Drops (16% Leptospermum spp. honey) is a Manuka honey saline drop which has just gone on the market and is available at pharmacies and from optometrists and ophthalmologists. It is indicated for mild to moderate dry eye disease.
Optimel Antibacterial Manuka Eye Drops (98% Leptospermum spp. honey gel) is indicated for moderate to severe dry eye disease, contains a concentrated level of honey and is available only from optometrists and ophthalmologists.
The drops contain a mix of honeys from Australian Leptospermum, commonly called Manuka or Jelly Bush, selected for their high and consistent level of antibacterial benefits.
'Bacteria cannot grow in concentrated honey solutions due to its acidity and high glucose concentration,' Dr Albietz said. 'Also inflammation is a key factor in dry eye and the drops have demonstrated a reduction in inflammatory markers on the ocular surface.
'With the concentrated honey gel, a clinic-based demonstration of application and an instillation trial are required so patients are educated on the appropriate use of the product and expected side-effects of temporary redness and stinging on instillation,' she said.
Dr Albietz is principal investigator in the meibomian gland dysfunction trial and her associate researcher is Associate Professor Katrina Schmid from QUT School of Optometry and Vision Sciences. The contact lens intolerance trial is a Master of Optometry student research project led by Dr Albietz and Professor Schmid.
Researchers are in the data collection phase for the prospective controlled non-cross-over meibomian gland dysfunction treatment study, which includes 180 participants in five treatment arms and a control arm.
'This project is being undertaken to investigate the effectiveness of eyelid hygiene procedures, therapeutic eye-drops—antibacterial medical honey and lipid containing lubricants—and clinic-based treatments—including intense pulsed light therapy, eyelid warming and meibomian gland expression devices—in the management of dry eye disease associated with meibomian gland dysfunction,' Dr Albietz said.
'The randomised controlled cross-over design contact lens intolerance study requires 60 subjects and will be completed and analysed by mid-2015.
'Its primary aim is to evaluate the efficacy of the honey drops in controlling symptoms and signs of dry eye in contact lens wearers. The secondary aim is to determine if the drops are as effective in controlling dry eye symptoms and signs in contact lens wearers as lubricant eye drops.'
Dr Albietz said one in three or four adults reported symptoms related to dry eye, tear film and ocular surface dysfunction and about 10 per cent were diagnosed with dry eye based on clinical signs.
'Our research and clinical experience has indicated that Standardised Leptospermum sp. antibacterial honey use in external eye disease is a safe, non-toxic, non-preserved, cost-effective primary or adjunctive management option for a range of chronic dry eye, tear film and ocular surface disorders including aqueous tear deficiency and meibomian gland dysfunction, anterior blepharitis and corneal epithelial erosions,' she said.
'We have not experienced any significant adverse events with topical use of honey although some temporary stinging, redness and epiphora occur due to its low pH, which is minimised by eye closure.
'Clinically we observe a less inflamed ocular surface and reduced lid margin inflammation. Immunohistochemically, there is reduced expression of some inflammatory markers in the tears and on the ocular surface in human and animal studies.
'At this stage, I recommend that optometrists prescribe Optimel products only for TGA approved indicated uses—chronic dry eye disease due to aqueous tear deficiency and meibomian gland dysfunction, blepharitis and corneal epithelial erosions.
'Use in moderate to severe ocular surface disease should be managed under the supervision of an eye-care professional. For any reaction other than transient stinging and redness, patients should be advised to cease use and contact their eye-care professional.
'Optimel should not be recommended or prescribed for any patient who is hypersensitive to honey or bee products or food gums. Currently, Optimel products should not be instilled while wearing contact lenses. Wait at least 30 minutes before inserting lenses,' Dr Albietz said.
Designs For Vision supplies the products to optometrists, contact 1800 225 307
1800 225 307. See also www.melcare.com.
Filed in category:
Uncategorised