Read time:

1:30min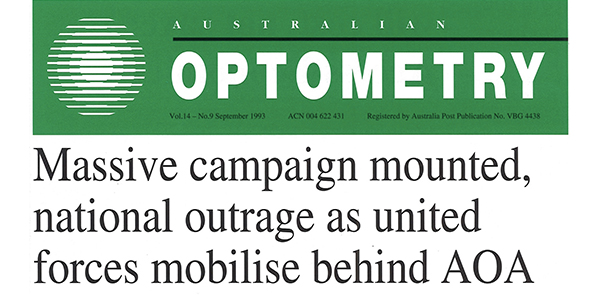 By Helen Carter
Journalist
In February 1980 the Australian Optometrical Association launched Australian Optometry, the nation's first newspaper dedicated purely to reporting news for and about optometrists.
Australian Optometry has changed over the past 36 years but as we move to exclusively digital publication, we still pride ourselves on bringing you the most relevant and important optometric news.
Former CEO Joe Chakman joined the association in December 1979 and with a Bachelor of Science and a degree in English literature, he was well suited to become the newspaper's founding editor.
His brief was to separate into two publications the journal that had carried news. The reporting of professional news and information had been published in the Australian Journal of Optometry and its predecessors since 1919. When Australian Optometry was launched, the journal became a purely scientific, peer-reviewed publication.
The first editorial told its readers: 'We want to give you a chance to express your opinions, to debate the issues you think are important and help you develop a spirit of fellowship with the other optometrists in Australia.'
Australian Optometry was published every second month until 1986, when it became a monthly newspaper. It was less costly to produce and generated more advertising revenue than the journal, enabling the newspaper to subsidise the journal.
For a profession our size, the newspaper is outstanding and our publications are better than those of many richer organisations.
The newspaper won international awards and expanded its repertoire to include detailed coverage of specialist areas in our supplement magazines. These included Pharma, Equipment, Practice, Contact Lenses, Ophthalmic Lenses, Frames and Guide4Grads.
Australian Optometry's longest serving editor, Sandra Shaw, has been at the helm of this newspaper for 28 years and is responsible for digital and printed communications to members.
She has reported on and edited stories covering significant change in the optometric profession since 1987.
Ms Shaw served a cadetship at The Age where she worked for seven years. Her supervision and direction of reporting are behind the high-quality writing and production standards in our communications to members, and she has mentored a score of young journalists at Australian Optometry.
In our last issue in print, we highlight some of the major events that have been reported in Australian Optometry over 36 years, and look forward to the next stage of communicating with you through our exciting digital channels.
Milestones on our front page mark the progress of a great profession
February 1980: Australian Optometry launched. Front page news is the first national poll of members rejecting moving the association's headquarters from Melbourne to Canberra.
April 1980: AOA policy calls for a reduction in the number of students entering optometry, believing Australia is 'fast reaching an over-supply of optometrists'.
June 1981: Health Department allocates provider numbers to identify participating optometrists in the health insurance Participating Optometrists Scheme.
December 1983: Dr Patricia Kiely becomes the first Australian female optometrist to receive a PhD, paving the way for other women.
February 1984: Medicare begins, providing optometric benefits for permanent residents. Optometry is the only profession apart from medicine covered.
August 1985: Following association lobbying, changes to Veterans' Affairs optometric arrangements mean veterans may now attend optometrists without prior medical approval.
June 1986: Australian Optometry goes monthly.
September 1986: ACT optometrists join colleagues in NSW and Victoria in being legally allowed to administer diagnostic drugs. They were followed in September 1987 by Queensland optometrists and in January 1992 by WA optometrists.
March 1988: Proposed South Australian legislation aims to make it illegal, with penalties of fines and gaol, for optometrists to examine vision in children under eight, unless they first have an ophthalmologist examination. In April 1988, massive association lobbying prevents the proposal.
1988: Supplements on topics including low vision, spectacles, sunglasses and slitlamps are included and later become separate magazines. One magazine is distributed each month with the newspaper.
September 1989: The new optometric marketing and buying group Australia's Independent Optometrists (later ProVision) is launched. Victorian optometrists are to be prohibited from practising in the same premises as optical dispensers.
January 1990: The Newcastle earthquake destroys Peter Woolf's practice.
June 1991: In the first therapeutic drugs move, AOA pushes for legislative change to allow optometrists to use topical ocular drugs to treat anterior infections and other minor disorders.
September 1991: Medicare is to pay the same benefit for spectacle prescription consultations, whether by an optometrist or an ophthalmologist.
January 1992: Brian Layland becomes the first Australian named International Optometrist of the Year.
July 1992: AOA wins court case against RACO after litigation over Medicare legislation.
April 1993: AOA mounts its biggest campaign ever to fight the Keating Government's Federal Budget decision to exclude optometry from Medicare, with exceptions for age pensioners and health card holders.
October 1993: Labor Caucus overturns the decision to exclude optometry from Medicare.
May 1994: WA wins right to use mydriatic and cycloplegic drugs in children younger than eight years.
July 1994: SA optometrists permitted to use diagnostic drugs.
October 1994: Medicare introduces the short consultation item 10906.
July 1995: Australian Optometry wins best newsletter, Clinical and Experimental Optometry wins best journal and Australian Optometry Magazine wins third place for best newsletter for second year in Optometric Editors Association International competition at the American Optometric Association annual congress. The publications repeat their wins in 1997.
October 1995: The registration boards of Australia and New Zealand establish the Optometry Council to examine and accredit schools of optometry. Australia's first integrated eye-care centre opens in Brisbane where optometrists, GPs and ophthalmologists practise.
December 1995: Ophthalmologists agree to educate optometrists, after RACO drops bylaws preventing its members from teaching them.
December 1996: Victoria becomes the first state to legislate to let optometrists use and prescribe S4 drugs and to allow orthoptists to prescribe spectacles.
January 1998: Australian Optometrical Association changes its name to Optometrists Association Australia. UK optometrists are allowed to practise in Australia without competency tests.
July 1998: The federal government recognises optometrists' role in reducing the diabetes toll by including optometry in the national diabetic retinopathy advisory group.
September 1998: $100,000 OAA campaigns targeting consumers, schoolchildren, GPs and pharmacists aim to boost optometric patient numbers by 460,000 in five years.
November 1998: In the most significant change to optometry since Medicare, Victoria approves a list of 41 therapeutic drugs for use by optometrists.
May 2000: Tasmanian law enables practitioners to use and prescribe therapeutics.
July 2001: OPSM takes over Laubman and Pank, giving OPSM about 400 OPSM, Budget Specs and Laubman and Pank stores nationwide. A five-year Bachelor of Optometry course starts at the University of Melbourne.
July 2002: The NSW Optometrists Bill passes, after a 17-year fight to change the state's act and granting therapeutics access.
February 2003: The new Cooperative Research Centre at the University of NSW dedicated to vision will receive $32 million federal government funding to 2010.
June 2004: Northern Territory practitioners gain access to ocular therapeutics.
November 2005: There are four new MBS items: 10943 for children's vision assessment and 10931, 10932 and 10933 provide additional loading for domiciliary care visits.
April 2006: Report shows the number of Australians consulting optometrists has quadrupled in two decades, from one million in 1984-1985 to four million in 2004-2005.
October 2006: Increase announced in MBS scheduled fee from 85 per cent to 100 per cent for Department of Veterans' Affairs optometric consultations, covering 300,000 war veterans and widows.
December 2006: Victoria's first therapeutically qualified optometry graduates leave the University of Melbourne to join the workforce.
February 2007: The UK's largest optical retailer Specsavers announces plans to establish itself as a supplier to the Australian market, with moves into retailing and dispensing expected. Associate Professor Fiona Stapleton becomes first female head of an optometry school in Australia at the University of NSW.
April 2007: ACT legislation gives optometrists the right to prescribe therapeutic treatments.
July 2007: A giant of Australian optometry, Emeritus Professor Josef Lederer, dies.
October 2007: Legislation passes to include optometric prescriptions in the PBS. Medicare's Easyclaim starts.
November 2007: The first optometrists are granted authority to prescribe therapeutic drugs in NSW.
January 2008: Optometrists' pharmaceutical prescriptions are included on the PBS.
March 2008: Optometry Pharma launched.
February 2009: Topical glaucoma medications prescribed by optometrists are to be included on the PBS from March.
March 2009: The Health Department endorses shared-care guidelines for optometrists prescribing glaucoma medications. The first SA optometrists are authorised to prescribe ocular therapeutics.
April 2010: Private billing is approved for 11 non-MBS services so practitioners may charge a patient privately for a service if no OMBS item covers that service.
July 2010: The Health Practitioner Registration National Law Bill 2009 comes into effect. An Australian study shows for first time that orthokeratology slows myopia progression in children.
December 2010: WA optometrists get access to prescribe therapeutic medications after amendments to WA Poisons Act. Queensland grants access by amending its ocular therapeutics protocol.
October 2011: After a decade of lobbying by the association, six more drugs are listed on the Optometric PBS.
May 2012: Genevieve Quilty appointed OAA CEO.
July 2012: The University of Melbourne pioneers a new chapter in optometric education by launching the Doctor of Optometry course.
October 2013: Optometry celebrates 100 years of registration in Tasmania.
April 2014: Emeritus Professor Barry Collin celebrates 20 years as editor of Clinical and Experimental Optometry.
June 2014: Optometrists Association Australia changes its name to Optometry Australia. The Federal Budget announces the Medicare fee cap will be removed and rebates will reduce from 85 to 80 per cent.
November 2014: OBA and AHPRA settle a dispute with ASO and RANZCO before a scheduled Supreme Court case.
April 2015: Optometry Australia launches Heat Maps showing eye health needs nationwide.
September 2015: Brien Holden Vision Institute CEO Professor Brien Holden dies.
November 2015: Anna Burke tables in Parliament the Optometry Australia patient petition with 18,000 signatures, urging lifting of freeze on indexation of Medicare and reversal of five per cent cut to rebates.
Filed in category:
Uncategorised