Read time:

1:30min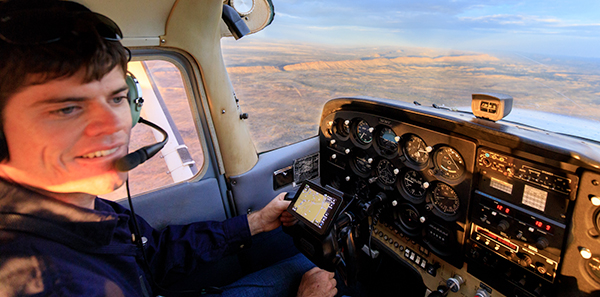 Jo Murphy   Image: Rohan Edmonds-Wilson
______________________________
By Philip Ritchie
Journalist
Jo Murphy from the Northern Territory has won the 2017 inaugural Roger Connellan Award for Excellence in Aviation for providing eye care to rural Australians.
Jo Murphy is a practising optometrist in Alice Springs. He also travels and works in remote areas and occasionally checks the vision and eye health of nursing home residents and organisations' employees.
In 2013, he completed a Bachelor of Vision Science and Master of Optometry at the Queensland University of Technology and gained his private pilot licence. 'The two were just a few weeks apart. It's not work when you're having fun,' Jo said.
'On finishing high school, I wasn't sure which direction I wanted my life to take, so I did an apprenticeship in fitting and turning. I enjoyed working in the trade but felt that, long term, I would be better suited to a profession that helps people. I looked at all the different health professions and decided optometry had a good combination of helping people, science and career opportunities.
'I have to thank several independent optometrists who showed me just how broad and interesting the scope of the practice can be, even though we specialise in eyes,' he said.
The $10,000 aviation award will help Jo to upskill his flying, enabling him to better access remote areas. The award was created in memory of Eddie Connellan's son Roger Connellan, which aims to provide financial support to pilots living in rural Australia. The Connellan Airways Trust has provided over $3 million to rural Australians with grants and scholarships.
In a media release, the trust chairman Gavin Carpenter, OAM, said: 'Jo's vision for better health care outcomes stands with the trust in supporting people from the outback.'
Before settling in Alice Springs, Jo began his work as an optometrist in rural South Australia where he encountered cases involving pathology and therapeutics. Next, he travelled to various locations across the state, New South Wales and to remote Indigenous communities in the Northern Territory with the Brien Holden Vision Institute.
'I decided that I would like to continue the work with Indigenous communities, but would prefer to operate from a permanent base where I could refine my skills in certain areas of optometry including contact lenses and myopia control,' Jo said. That's when he started working for Eyecare Plus Optometrists in Alice Springs, in 2015.
'The work in Alice Springs has enabled me to become proficient in all areas of full-scope optometry including complex contact lens fitting, orthokeratology, children's vision, amblyopia management and using the latest technology to diagnose and manage ocular pathology,' he said.
'Since then, I have split my time between working in private practice and providing services to remote Indigenous communities.
Jo travels by car or aircraft to reach remote locations, where he conducts eye examinations and refers patients to ophthalmologists as required. He also supplies patients with spectacles.
'We regularly see conditions that you just would not see in the city. I've lost count of the number of Indigenous people in remote communities who have bilateral light perception cataracts, being led around by family members.
'My work structure is very rewarding and has seen me work in over 50 locations. Our accommodation ranges from luxurious resorts to sleeping in a swag,' he said.
Instrument rating
Jo plans to use the award funding to undergo a private instrument flight rating and night endorsement. Together, they will hone his skills and provide greater flexibility in reaching remote areas.
'Being located in Alice Springs and having the ability to fly enables me to efficiently reach locations not only in the Northern Territory but in east Western Australia, north South Australia and west Queensland, if opportunities were to arise in those locations.'
Jo is prepared to take the next step and service those locations directly, flying himself, having acquired clinical experience including three years with the Brien Holden Vision Institute.
Jo wants other optometrists to know they too can create their own dream job.
'The job that I'm currently doing was not advertised. It's what I thought I'd like to do, so I approached Bill Robertson at Eyecare Plus and the Brien Holden Vision Institute, and now have an arrangement that is beneficial for all involved,' he said.
'I thank the Connellan Airways Trust for providing me with this award and assistance for the next stage of my flight training.'
Filed in category:
Uncategorised