Read time:

1:30min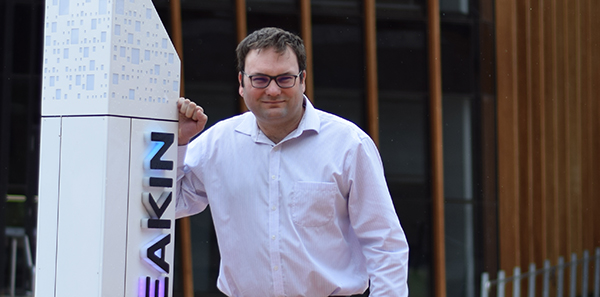 Dr David Hammond
______________________________
By Helen Carter
Journalist
From working in a grocery store to employment in a microbiology pathology laboratory, David Hammond has had an interesting path to becoming an optometrist, lecturer and a journal associate editor.
Dr Hammond is a lecturer in optometry and vision science at Deakin University, and is among a group of young optometrists who have become associate editors of Optometry Australia's leading scientific journal Clinical and Experimental Optometry.
He believes being an associate editor is a way of giving back to the profession that has given him so much, and advancing the sharing of knowledge.
'I have been fortunate to have fantastic mentors, starting with Professor Joanne Wood at Queensland University of Technology, then Professor Christine Wildsoet at UC Berkeley, Professor Konrad Pesudovs at Flinders and now Professors Alex Gentle and Craig Woods at Deakin,' he said.
'There is one unifying thing between all of my role models and career mentors; they don't do it for personal gain or recognition but to give back to our profession, and advance optometry and vision science research for all.  Being an associate editor for CXO is essential to me becoming a successful researcher and academic who can act as a role model for the next generation of researchers.'
Dr Hammond grew up in Brisbane and fancied himself as a mathematician. He started a double degree in electrical engineering and information technology at QUT in the mid-1990s.
'It became apparent that engineering math was not my forte and after taking an early life sabbatical working at a grocery store, I realised that my interest lay in the biological sciences,' he recalled.
A science major studying microbiology and biotechnology led to him qualifying as a clinical microbiologist.
Why is it so?
'I have fond memories of some fantastic lecturers who engaged my thirst for knowledge.  During my studies I had worked as a technician in a microbiology pathology lab which was interesting but didn't scratch my itch to unravel why certain phenomena I observed in the lab occurred,' he said.
'Realising I was starting to become Julius Sumner Miller to my colleagues and asking all too often "Why is it so?" I took my first steps into research, starting a full-time honours research project which blossomed into a PhD project where I discovered a new mechanism of genetic mutations that led to expanded spectrum beta lactam resistance in bacteria. 
'Research was unbelievably rewarding when I discovered something new and crushing when I couldn't reveal the mechanism behind a phenomenon.
'I was still working part-time night shift as a clinical microbiologist, and realised I was becoming more interested in the cases behind the clinical samples I was analysing.
'I had become the lab specialist for analysing the samples from the local ophthalmologists, and remember getting a sense of satisfaction when involved in interesting cases, such as a boy with cornea lacerations from an emu egg that exploded in his face when blowing out the contents.'
Dr Hammond ventured into optometry because he was attracted to the patient interaction and primary care aspect which he witnessed first-hand from his older brother Stephen Hammond, an optometrist with his own practice, Hammond Optometry in Nambour, Queensland.
Mexico outreach
While studying optometry and after graduation, Dr Hammond took part in outreach missions in Mexico then worked in several practices in Brisbane, from outer lower-socio economic regions to inner-city boutique fashion practices.
'The variety of patients and conditions was fantastic and kept me busy but I looked forward to seeing more challenging patients,' he said.
'I wanted to spend more time following up interesting cases and understanding why things occurred and investigate what were the most effective treatment paradigms.
'Being an optometrist, I realised I could strike a balance between direct patient care and laboratory-based research and use all the skills I had acquired to answer those why and what questions.'
He says he has been very fortunate to have excellent role models when starting in vision science research, as a research assistant to Professor Wood and during his postdoctoral fellowship with Professor Wildsoet.
'Leading by example, they both showed me the path to becoming a well-rounded academic and researcher,' he said.
Relationship with CXO
Dr Hammond's relationship with Clinical and Experimental Optometry began as a student member of the then Optometrists Association Australia.
'I used to receive CXO in the mail and would look forward to reading through it over breakfast each morning,' he said. 'I enjoyed learning about new conditions I didn't know existed and the theme issues were great and helped put everything in context.
'Now as an optometrist the same still happens. I'm still learning about new conditions, theories of pathophysiology or therapies by reading CXO but now on my iPad.'
His invitation to be an associate editor came by surprise, during a busy time moving from Flinders University to Deakin University and he was honoured to accept the role. The voluntary, unpaid role, which he began in August 2014, involves reading allocated papers and finding reviewers. He generally spends three to four hours a week on these tasks.
Dr Hammond's areas of expertise include mechanisms of emmetropisation and from his postdoctoral work, the molecular signalling of the eye growth cascade.
'I get a few myopia papers but I also deal with a plethora of papers on varied topics which are interesting. I am enjoying the role, we never stop learning and seeing such diverse papers. I learn something new from every manuscript I manage,' he said.
'Having both academic and clinical hats means I can look at a manuscript from both angles and ask: would this be useful to someone pursuing this research and would an optometrist seeing patients in primary care garner useful information to guide their practice?
'Given my background as a clinical microbiologist, I am interested in incorporating ocular infections and bacterial resistance in ophthalmic settings into my future research direction.'
Filed in category:
Uncategorised