Read time:

1:30min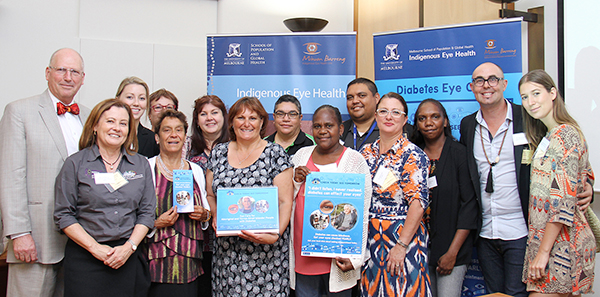 Professor Hugh Taylor and optometrist Lisa Penrose (both far L) from The Institute for Urban Indigenous Health, with representatives of the University of Melbourne Indigenous Eye Health team and Aboriginal communities
______________________________
By Helen Carter
Journalist
The gap in Indigenous vision can be closed within the next four years, provided there is continued and full government support at all levels and key stakeholders work together, Professor Hugh Taylor has said.
The University of Melbourne Indigenous Eye Health Laureate Professor was speaking at the launch of the 2015 Annual Update on the Implementation of the Roadmap to Close the Gap for Vision. Federal Minister for Rural Health, Fiona Nash launched the update at Parliament House on 23 November.
'By implementing the Roadmap's recommendations we can close the gap in Indigenous eye health and over the next 10 years save 32,000 Indigenous Australians from vision loss,' Professor Taylor said.
'It is really achievable, it is the low hanging fruit and it will close 11 per cent of the overall Indigenous Australian health gap,' he said in a media release.
'The next steps are to ensure every Aboriginal and Torres Strait Islander person with diabetes gets an eye examination once a year, to develop regional eye-care services and to eliminate the remaining hotspots for trachoma.'
The 2015 update shows trachoma has fallen nationally from 14 per cent in 2009 to 4.7 per cent in 2014, and regional implementation of the Roadmap now covers more than one-third of the Indigenous population.
'The Roadmap shows that Australia could close 11 per cent of the health gap for Indigenous people essentially overnight,' Professor Taylor said. 'You give someone glasses, they will see right away; give them cataract surgery and they will see the next day.'
Minister Nash also launched the University of Melbourne Indigenous Eye Health's Check Today, See Tomorrow resources to assist health workers to deliver eye health messages to Indigenous patients with diabetes.
Almost 37 per cent of Aboriginal adults are affected by diabetes and about 13 per cent have lost their vision from the disease.
Diabetes, along with cataract, refractive error and trachoma, accounts for 94 per cent of Aboriginal and Torres Strait Islander vision loss. Despite national guidelines recommending all Indigenous people with diabetes have a yearly eye check, only 20 per cent have done so. Of those requiring treatment for diabetic retinopathy, only 37 per cent have received it.
The Value of Indigenous Sight report by PricewaterhouseCoopers and The University of Melbourne, released in September, found the Roadmap required $28 million additional funding per year. This would save the sight of more than 32,000 Aboriginal and Torres Strait Islander people over 10 years, costing about $7,000 per person to prevent each going blind.
This report found closing the gap in eye health could generate close to $900 million in economic benefits from 2015 to 2024, and a net benefit of $321 million.
Evidence based
Senior Research Fellow at Indigenous Eye Health, optometrist Mitchell Anjou said the Roadmap was a sector-endorsed, evidence-based policy platform of 42 recommendations to close the gap in eye health of Indigenous Australians. The 2015 Update demonstrates significant progress is being made in all 42 and seven have been fully implemented.
Mr Anjou said two-thirds of required funding was delivering only one-third of care needed.
'Increased funding will allow significant efficiency gains in the delivery of care, will stop Aboriginal people from going blind and suffering vision loss, and return significant net benefit to the community,' he said.
'There is tremendous work going on in Aboriginal eye care across Australia, with optometry often taking the initiative and providing needed services and support. I encourage optometrists working in Aboriginal eye care to look at the new community developed Check Today, See Tomorrow diabetes eye-care resources that are freely available online.
'Despite these improvements, there remain significant inefficiencies in the broader eye-care system.
'When optometrists provide care and prescribe glasses or refer for ophthalmology or hospital care, it is critical that those glasses and ophthalmological services are provided in a timely and cost appropriate way,' Mr Anjou said.  
'Additional investment in Indigenous eye care will have positive impact in reducing current inefficiencies and provide more and better care to more people. It is possible to close the gap for vision and the 2015 Update provides evidence of the great progress that is being made.'
The Roadmap Update and Check Today, See Tomorrow diabetes resources, developed in partnership with Indigenous communities in the Grampians Victoria, Looma Western Australia and Deception Bay Queensland, and the PwC Value of Indigenous Sight report are available at www.iehu.unimelb.edu.au.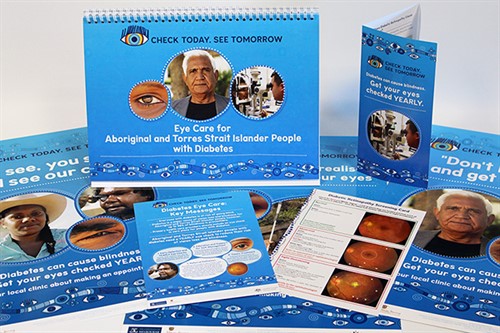 Filed in category:
Uncategorised