Read time:

1:30min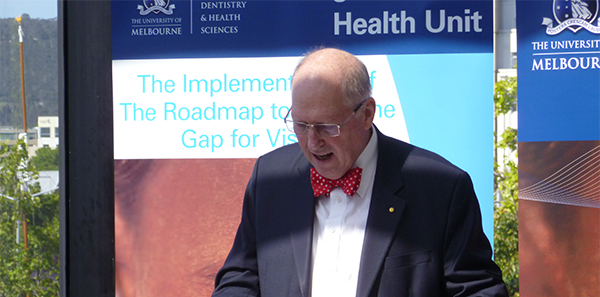 ______________________________
Leaders in optometry had a strong presence as speakers at the RANZCO Annual Scientific Congress on 2-6 November in Tasmania.
Optometrists Association national CEO Genevieve Quilty spoke at a symposium on 5 November.
The symposium titled 'Indigenous eye health: a national perspective' was jointly chaired by Professor Hugh Taylor, ophthalmologist Dr Ashish Agar, and Vision 2020 CEO Jennifer Gersbeck.
It was supported by Optometrists Association, the Royal Australian and New Zealand College of Ophthalmologists, Vision 2020 Australia, National Aboriginal Community Controlled Health Organisation, and the Indigenous Eye Health Unit at the University of Melbourne.
The symposium reviewed recent activities directed at providing and supporting eye care services to Aboriginal and Torres Strait Islander people, showcasing current successes and highlighting the recommendations for the future development of eye-care services.
It brought together a diverse range of speakers from the community-controlled sector, ophthalmology, optometry, government, non-government and public health fields.
Ms Quilty spoke about the power of collaboration in developments in indigenous optometry. Mitchell Anjou from the Indigenous Eye Health Unit presented information learned from regional implementation; Dr Angus Turner from the Lions Eye Institute spoke about diabetic pathways: increasing coverage, telehealth and 'other good ideas'.
Ms Quilty was invited to attend the launch of a 'Close the Gap' update, also on 5 November and held during the RANZCO Congress in Hobart.
Professor Taylor, chairman of Indigenous Eye Health Unit at the University of Melbourne, presided over the launch, officially called the 2013 Annual Update on the Implementation of The Roadmap to Close the Gap for Vision.
In another meeting, optometrists Dr Genevieve Napper and Anna Morse gave presentations on behalf of the Optometrists Association Aboriginal and Torres Strait Islander Eye Health Working Group, as part of the RANZCO Rural and Indigenous Special Interest Group meeting on 2 November.
They provided an overview of models of service provision to Aboriginal and Torres Strait Islander people, and opportunities and challenges to enhance indigenous access to eye care, including through enhanced collaboration with specialist services.
Also during the congress, Dr Nitin Verma gave the Hollows Lecture about the East Timor Eye Program in which optometrists have been involved.
Filed in category:
Uncategorised