Read time:

1:30min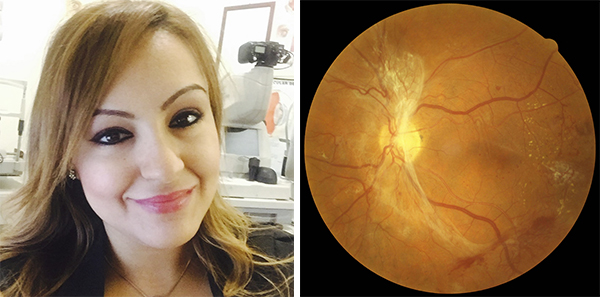 Image: Amira Howari (L), Dr Bogna Zborowska, Burwood Eye Specialists, Sydney (R)
______________________________
By Helen Carter
Journalist
As an optometrist with type one diabetes, Amira Howari has a unique insight into the condition, viewing it as a patient and a health practitioner.
The Sydney optometrist will call on her personal and professional experience with the condition to give her colleagues valuable tips on improving management of diabetic patients, at Western Australian Vision Education WAVE17 in Perth on 12-13 August.
Ms Howari has lived with diabetes for 23 years, having been diagnosed with diabetes at the age of nine years. She recently became a Diabetes Australia Ambassador, spreading the message about the importance of eye checks for people with diabetes.
'Collaborating with Diabetes Australia has allowed me to share my insights as both a health professional and as someone who has lived with diabetes for most of their life. Our aim is to promote eye health using various platforms including social media, magazines and conferences,' she said.
'The eye is such an amazing organ. It will take on so much before it eventually bails out on you. This is why eye diseases can go unnoticed and undiagnosed because there are often no symptoms until much later.'
Ms Howari is a former Optometry NSW/ACT director. She has worked in independent and corporate optometry, pharmaceutical settings, professional affairs and clinical education roles, at UNSW as a clinical supervisor and with ophthalmology group Personal Eyes where she founded the PEACE conference which is in its seventh year.
She has also spoken at public and industry platforms on diabetes, optometry career development and contact lenses.
Self-belief and comanagement
Ms Howari believes that optometrists have the scope to be more involved in comanagement after referring their diabetic patients, and share useful information about the patient.
'When optometrists refer patients with diabetic retinopathy for assessment and management, a crucial decision needs to be made by the ophthalmologist on which treatment option would yield the best results given a patient's presentation and circumstances,' she said. 
'Patients with diabetes see their optometrist far more frequently and optometrists have a lot of "intel" they can share with ophthalmologists and GPs that can really guide and assist in the decision-making process.
'Patients will often confess more to their optometrist than they would to their endocrinologist or ophthalmologist, sometimes because they feel they are not under as much scrutiny or that they would otherwise be letting their specialist "down" by admitting non-compliance or lack of good blood glucose control.
'By utilising our role as primary eye-care providers to the best of our abilities, we have an opportunity to communicate suggestions to the ophthalmologist and GP, whether it be the need for the patient to have a dietitian on board or to simply express the patient's anxiety about commencing eye injections or laser photocoagulation in fear of side-effects.'
Ms Howari says involving all relevant health-care professionals in an open three-way communication channel allows for a more effective management plan.
Share 'intel'
'Optometrists have a crucial role when communicating with the ophthalmologist. Patient compliance is one of the many factors ophthalmologists consider when choosing the most appropriate treatment option for patients,' Ms Howari said.
'Comanagement and communication are key in these instances. Optometrists can inform ophthalmologists of their patient's compliance history including whether they are compliant with appointments, management plans and their tendency to cancel appointments.
'This gives an ophthalmologist an opportunity to have an honest and open discussion with the patient so that false expectations are minimised and an effective management plan can be put in place. The last thing we want is for a patient to attend one treatment session only to never be seen again due to anxiety or lack of compliance.'
Ms Howari says it is important that optometrists follow up with patients between treatment appointments with their ophthalmologist.
'It is only when a patient undergoes a treatment session that you can gauge whether they are comfortable enough to endure the complete treatment plan,' she said.
'It's important that they receive support early on so that if they are uncomfortable, an open discussion can take place with the treating ophthalmologist and all options can be explored. It's also a great opportunity for optometrists to see and monitor positive changes between treatments.'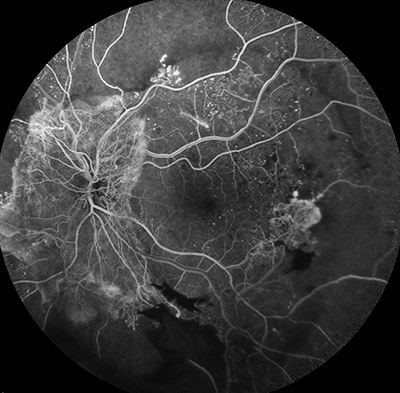 Fluorescein angiogram of diabetic retinopathy   Image: Dr Bogna Zborowska, Burwood Eye Specialists, Sydney
Hba1c results
Ms Howari encourages optometrists to ask more in-depth questions of diabetes patients than the standard 'Do you have diabetes?' and 'Is it controlled?'
'Nine out of 10 diabetes patients will say it's fine whether it's good or bad,' she said. 'We need to ask more quantitative questions including asking for their last Hba1c. They should have this test every three to six months to determine how well controlled their blood sugar has been over the past three months.
'If patients haven't heard of it or don't know their level, this may be a sign that the patient is not under an endocrinologist or diabetes managing GP. Optometrists should be writing to their GP or endocrinologist, advising them and suggesting the patient be tested.
'Hba1C can potentially forecast future complications including visual implications. If diabetes is not well managed, up to 80 per cent of diabetic patients can develop some form of diabetic retinopathy within eight to 10 years of diagnosis.
'Optometrists have a great opportunity within their scope to reinforce positive goals for their patients. We have all seen it work wonders, whether you are trying to quit smoking or become fitter and healthier.
'Providing a fine balance of positive affirmations with every step in the right direction, while being realistic and practical in disclosing the risks of inaction, gives the patient the drive, especially when it's not all doom and gloom. It's part of treating diabetes patients holistically, rather than treating diabetic retinopathy in isolation and just treating and managing what we see.'
Ms Howari encourages optometrists to explore the differences between anti-VEGF injections because even though the ophthalmologist injects the therapy, patients often return to optometrists for a second opinion.
'Diabetes is a condition with many facets to be explored. It's up to us to expand our mind and knowledge and most importantly to read between the lines in order to widen our scope of primary eye care.
'By 2030 there will be about 552 million diabetic patients in the world and half will be walking around undiagnosed'.
New sessions for practice staff
WAVE will be held at the Rendezvous Hotel, Scarborough Beach. It will feature Saturday clinical workshops, lectures on both days offering up to 46 CPD points (42T), a ProVision breakfast presentation on the Sunday and a trade display. Register for WAVE17 
ECO17, a half-day lecture program on 11 August for early career optometrists, offers eight CPD points.
The new Practice Staff Professional Education Program costs $50 per employee if their practice's optometrist is a member of Optometry WA, or $150 if the optometrist is not a member. The program will run from 8:00 am to 1:00 pm on 13 August.
Filed in category:
Uncategorised