Read time:

1:30min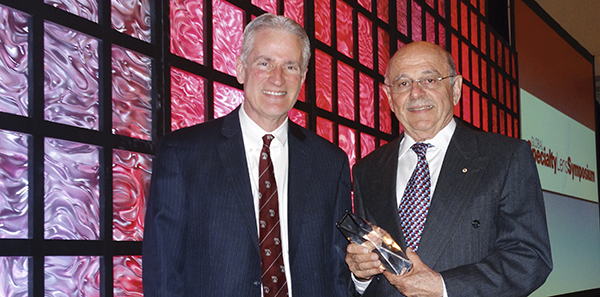 Don Ezekiel (R) receives his award from Dr Ed Bennett, a member of the Global Specialty Lens Symposium education committee
__________________________
By Helen Carter
Contact lens innovator Don Ezekiel from Western Australia has been honoured as a scleral lens pioneer at the 2015 Global Specialty Lens Symposium in the USA.
The GSLS Award of Excellence is given annually to distinguished clinicians, scholars and scientists to recognise their life-long achievements in the field of contact lenses, especially as they relate to speciality contact lenses.
Mr Ezekiel, an innovative contact lens practitioner and manufacturer, was a leader in the contact lens industry for more than 40 years and in 1997 was made a Member of the Order of Australia in recognition of service to the optometric profession and to the development of scleral contact lenses.
Three others who also received scleral lens pioneer awards at the symposium this year were Ken Pullum from the United Kingdom, Rients Visser from The Netherlands and American ophthalmologist Perry Rosenthal who described Mr Ezekiel as the father of gas permeable scleral lenses.
Mr Ezekiel's daughter Sasha who attended the ceremony said her father had been introduced as 'the man who epitomises the word pioneer in the contact lens industry'.
'When I presented a paper on the gas permeable lens in 1983 at the annual meeting of the British Contact Lens Association in Harrogate, the write-up in the optical press was that no one believed the results I showed of 43 patients wearing the lens,' Mr Ezekiel said. 'It was the first time RGP scleral lens fitting had been described.
'It was most satisfying that some 80 per cent of papers at the recent symposium meeting were on GP lenses.'
Mr Ezekiel graduated in optometry in 1957 and later went to Sydney to be taught scleral lens fitting by Lloyd Hewett. In 1963 he travelled to London to complete an advanced contact lens degree before returning to Perth to work in the family practice founded by his father Elias and uncle Abraham.
Mr Ezekiel established his own practice in Perth in 1970, specialising in contact lenses. As he could not source the contact lenses he wanted, he began designing and making them for his patients.
He started his own contact lens manufacturing company, Western Australian Contact Lens Manufacturing, later renamed Gelflex Laboratories. He sold the company four years ago and is semi-retired but still consults.
Filed in category:
Uncategorised