Read time:

1:30min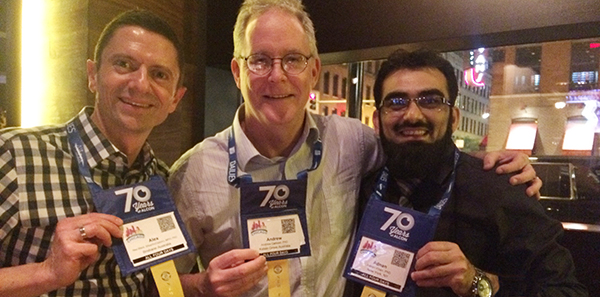 (L-R) Dr Alex Black, Dr Andrew Carkeet and Associate Professor Adnan Khan at the Fellows ceremony in Chicago
______________________________
By Helen Carter
Journalist
Seven Australian optometrists were made Fellows of the American Academy of Optometry at its annual meeting in Chicago this month.
They were Dr Alex Black and Dr Andrew Carkeet from Queensland University of Technology's School of Optometry and Vision Science; Angelica Ly and Elizabeth Wong from the Centre for Eye Health, Sydney; Vincent Khou from Specsavers Nowra Stockland; Anthony Tran from Sydney; and CSIRO Health and Biosecurity Postdoctoral Fellow, Dr Cirous Dehghani from Melbourne.
Adnan Khan, who completed his PhD at QUT, also became a Fellow. Dr Khan is an assistant professor at Khyber Medical University, Pakistan and now a Research Fellow at Weill Cornell Medicine, Cornell University, New York.
The eight were among 256 people made new Fellows at the academy's 96th annual meeting in Chicago on 11-14 October.
Dr Carkeet, who teaches therapeutics to optometry students at QUT, said he attended his first academy meeting in 1987 and joked that it took him 30 years to become a Fellow.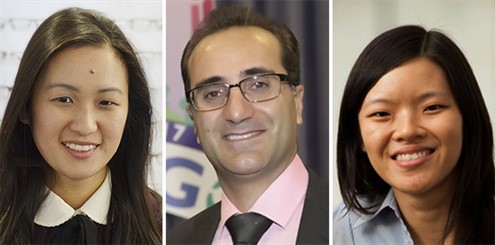 (L-R) Elizabeth Wong, Dr Cirous Dehghani and Angelica Ly
Fellows of the academy must complete a candidacy process that includes submitting written work demonstrating their skills as an optometrist or vision scientist, and sitting for an oral examination at the annual meeting.
Optometrists, scientists, educators, librarians, administrators and editors are eligible to become Fellows, earning the right to use FAAO after their name.
The meeting was the largest meeting in the academy's history with 7,692 registrants, including 4,799 optometrists and vision scientists, and 1,206 students.
Attendees engaged in continuing education sessions, learned about the latest in vision research, and saw new products and technologies in the exhibition hall.
Dr Robert Sergott from the Wills Eye Hospital, Dr Christopher Hudson from the University of Waterloo School of Optometry, and Dr Marina Bedny of Johns Hopkins University delivered the plenary session entitled 'Today's research, tomorrow's practice: the eye as a mirror of the brain.'
They covered cutting-edge research on visual cortex adaptation, the eye's involvement in central nervous system processes and its potential prognostic value in disease detection. 
Filed in category:
Uncategorised