Read time:

1:30min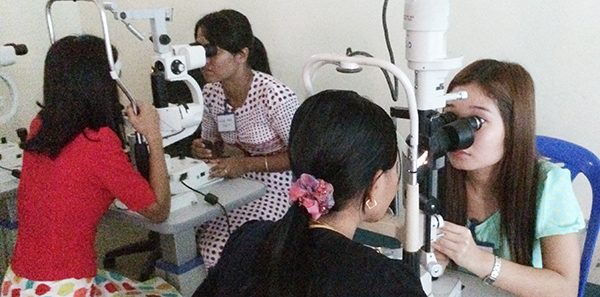 By Rhiannon Riches
Assistant Editor
Steve Zantos has given a class of nine refractionists in Myanmar an introduction to optometry and their first hands-on experience using a slitlamp and ophthalmoscope.
'In July, I had the opportunity to visit Yangon Eye Hospital as a volunteer optometrist. The program was one of several being conducted by Sight For All, an Adelaide-based charity organisation which raises funds to deliver eye health-care projects free of charge to various partner countries in South East Asia,' Mr Zantos said.
He explained that a different optometrist from Australia would be visiting Yangon Eye Hospital each month, for a one week stay, over the course of one year.
'At the end of that period it is anticipated that the refractionists will themselves be ready to start upskilling the next generation of refractionists, so that the program can become self-sustaining.
'The purpose of this program is to upskill the refractionists who work in the out-patient clinic, primarily performing refractions to complement the eye health and post-surgical assessments which are conducted by the ophthalmologists,' Mr Zantos said.
Up to 350 patients are seen each morning in the clinic, and about half of those require a refraction.
'No appointments are made, and so people arrive from 8 am and just wait their turn. The waiting area definitely has an exciting, noisy, crowded atmosphere about it.
'As refractionists in a very busy clinic it was interesting to see how efficiently they work using a trial frame and lens set and retinoscope. When it comes to neutralising spectacles, they even prefer to eyeball the specs using trial set lenses rather than to use an autolensometer,' he said.
'The aim of the upskilling program is to teach the refractionists how to perform additional clinical procedures so that they can take on more of the work required to look after so many patients.
'The Brien Holden Vision Institute has generously provided a comprehensive set of teaching modules in the form of slide presentations, which we can use to supplement the hands-on training that we provide as visiting optometrists,' Mr Zantos said.
Steve Zantos is a director of Optometry Australia.
Information about Sight For All
Filed in category:
Uncategorised