Read time:

1:30min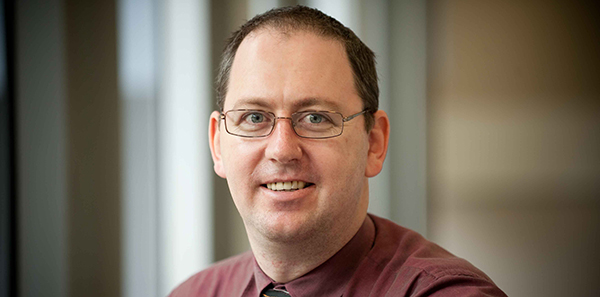 Dr Andrew Whatham   Photo: Centre for Eye Health
______________________________
By Helen Carter
Journalist
The UNSW School of Optometry and Vision Science has this year initiated a student prize honouring its first Centre for Eye Health principal optometrist, Dr Andrew Whatham.
Dr Whatham, who died on 25 September 2014, started as principal staff optometrist at the Centre For Eye Health, University of New South Wales, when it opened in 2009 and remained in the position for five years.
Centre director Professor Michael Kalloniatis said his colleagues wanted to do something in Dr Whatham's memory to reward students who excel in clinical placement and academic excellence at the centre.
'Andrew was critical at the inception of the centre for not just putting in place clinical protocols but for the academic side of things, working out how to solve problems, and was instrumental in running the electrophysiology unit,' Professor Kalloniatis said. 'He was loved by staff and the students he taught for five years.'
UNSW final-year optometry students undertake a six week clinical rotation at the centre.
The inaugural Dr Andrew Whatham Prize for Stage 5 CFEH Clinical Excellence, comprising $1,000 and a plaque, will be awarded at the UNSW graduation on 20 June.
His mother Mrs Whatham and the CFEH are sponsoring the prize, which rewards the student with the best performance in stage five placement, covering academic performance, clinic service, growth of knowledge, research, punctuality and interaction.
Oxford University
After graduating from North Sydney Boys High School, Dr Whatham entered the Bachelor of Optometry program at UNSW and graduated with first class honours in 1994, receiving the award for Best Academic Record in the Bachelor of Optometry Course.
Following a year in private practice in Tasmania, he was accepted into the postgraduate program at Oxford University, UK.
He graduated with a Doctor of Philosophy degree in 2000 following completion of his thesis, 'The effects of optical and pharmacological perturbation of focus on refractive development and ocular growth in the common marmoset.'
After a six-month post-doctoral research position in the physiology laboratory at the University of Oxford, he moved to Switzerland where he was a research fellow in the University of Geneva Ophthalmology Department for six years, focusing on reading strategies in low vision subjects with a central scotoma.
He returned to Sydney in 2006 and worked in several clinical and research positions within the UNSW School of Optometry, Brien Holden Vision Institute and in private optometric practice.
In 2009, Dr Whatham completed his Graduate Certificate in Ocular Therapeutics at UNSW.
Over the course of his career he produced 19 peer reviewed papers and reviewed numerous articles for Optometry and Vision Science, Investigative Ophthalmology and Vision Science and Vision Research. He presented nearly 20 abstracts at national and international conferences.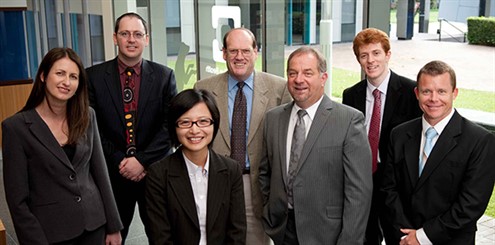 CFEH team (L-R): Paula Katalinic, Dr Andrew Whatham, Agnes Choi, Associate Professor David Pye, Professor Michael Kalloniatis, George Rennie and Michael Yapp  
Photo: Centre for Eye Health
Filed in category:
Uncategorised