Read time:

1:30min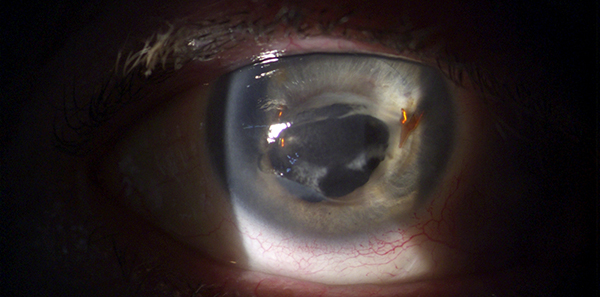 Case AB: non-healing corneal ulcer on initial presentation   Image: Heidi Hunter
______________________________
By Helen Carter
Journalist
Bandage contact lenses can make the world of difference to patients with difficult to heal eye conditions and more optometrists should consider them, a conference will hear in August.
Newcastle optometrist Heidi Hunter says one patient was so happy with the results, including resolution of pain and improved quality of life, after using bandage lenses that they said they 'felt like skipping' into her practice.
Mrs Hunter, co-owner of Custom Eyecare, will present patient case studies demonstrating reasons to consider bandage contact lens fitting and practical tips on prescribing them, at the West Australian Vision Education conference on 13-14 August.
She says bandage contact lenses are mostly usual contact lenses, used in unusual ways. 'Soft contact lenses are the most commonly used but any high DK lens material, rigid or soft, makes for a pretty safe and effective option for suitable patients. It's a bit of a specialist area but is not difficult,' she said.
Aims
Mrs Hunter says the main aims are relief of ocular pain, promotion of corneal healing, mechanical protection and support, visual rehabilitation, drug delivery, and maintenance of corneal epithelial hydration or prevention of corneal dehydration.
'With an ageing population, bandage contact lens indications will become more prevalent as with age the likelihood of dry eye increases and really dry eyes is one indication. Also menopause and certain medications such as blood pressure medications can induce dry eyes,' she said.
'Bandage contact lenses can prevent dry eye or settle the cornea and stop friction. They are normally used for rehabilitation and when rehabilitating, this can indirectly improve the sight.'
Mrs Hunter says that some corneal dystrophies can cause recurrent erosion, erode the eye surface and cause eyelids to stick but wearing bandage contact lenses longer term could help.
'Most of the pain is on waking so patients wear monthly bandage contact lenses overnight to prevent stabbing eye pain on waking. This pain can go for two minutes and vision can be affected for a few hours,' she said.
For people with severe dry eye, the lenses act like a protective layer over the eye and help keep moist eye-drops in the eye longer, Mrs Hunter says. They also protect the eyes longer if people go out in windy conditions.
'If there is a scratch on the cornea that is slow to heal, the eyelids constantly blinking on it can slow the healing process but bandage contact lenses act like a band-aid and can aid healing,' she said.
Case reports
Case studies include a woman, AB, with a non-healing corneal ulcer 2.5 years after cataract surgery and a retinal tear. After seven more operations, injections and failed Botox therapy which led to a drooping eyelid for 18 months, surgeons were considering removing her eye or sewing it shut to allow it to heal.
'It was a massive open wound like a leg ulcer but on her cornea. She was in extreme pain with a throbbing eye,' Mrs Hunter said. 'Her ophthalmologist referred her to me and from week one of wearing a bandage contact lens she called it her life changer. By three months the ulcer had healed and the corneal tear was healing, and she felt like skipping into my room.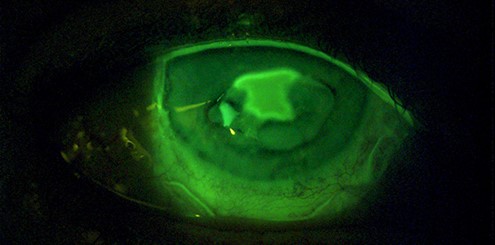 Case AB: open wound on cornea   Image: Heidi Hunter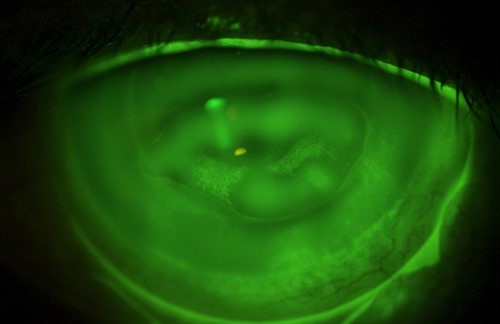 Case AB: healing after three months of bandage contact lens wear   Image: Heidi Hunter
'Another patient, CD, a lawyer with bullous keratopathy and a white eye from a swollen cornea, had corneal cysts rising to the surface and bursting, causing explosive eye pain. Surgeons were talking about removing his eye but bandage contact lenses mean he now has no eye pain while wearing the lenses.'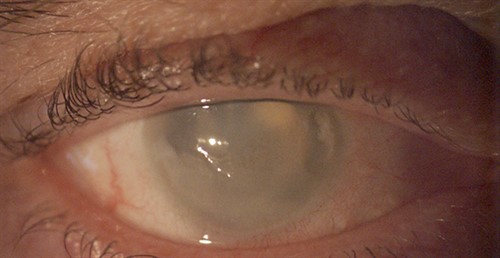 Case CD: bullous keratopathy on initial presentation; the cornea is so swollen it is nearly opaque   Image: Heidi Hunter
A third patient, aged 85 years, was housebound but now visits friends and goes shopping with his family due to bandage contact lenses.
'For patients such as these, bandage contact lenses can be a life-changer,' Mrs Hunter said.
WAVE
For the first time WAVE will be held on the Western Australian coast at a new venue on the Indian Ocean, the Rendezvous Hotel, Scarborough, in an entertainment precinct. Up to 46 CPD points including 31.5 therapeutic points will be offered.
The program on the Saturday includes workshops on foreign body removal, convergence insufficiency and orthokeratology. Lectures on both days include presentations by return speaker from the University of Melbourne, Dr Bang Bui, and newcomers Jason Holland and Margaret Lam.
There will be a trade display with 30 exhibitors and an evening drinks event, the CR Surfacing Sundowner, on Saturday.
On the afternoon of Friday 12 August, the Optometry Western Australia Graduate Group will run CPD lecture presentations attracting eight CPD points including four therapeutic points.
Register for OWAGG lecture series
Filed in category:
Uncategorised