Read time:

1:30min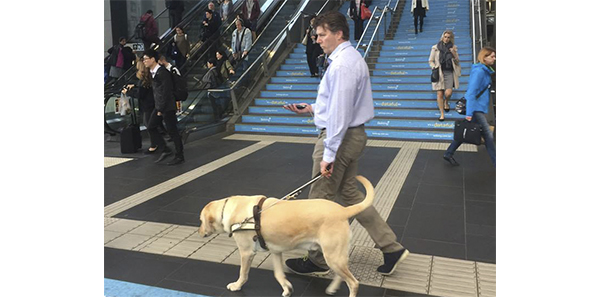 David using the BlindSquare app at Southern Cross Station   Image: Guide Dogs Victoria
______________________________
By Philip Ritchie
Journalist
New beacons using Bluetooth will allow easier navigation in Victoria's public spaces for people who are blind or have low vision.
Led by Guide Dogs Victoria in collaboration with Public Transport Victoria and the City of Melbourne, the initiative will make use of an app called BlindSquare. Users can get a description of an area, such as broken escalator warnings and directions to facilities, by syncing the app with Bluetooth from beacons set to be placed around Melbourne.
The initiative is in the pilot phase with Southern Cross Station the first to receive beacons over the next month.
Alastair Stott, general manager of Guide Dogs Victoria, said International White Cane Day — a celebration of independence for the vision-impaired — was the motivation to start the pilot.
'Our interest is in ensuring that people with blindness and low vision can access any location and get the quality information that they need,' he said.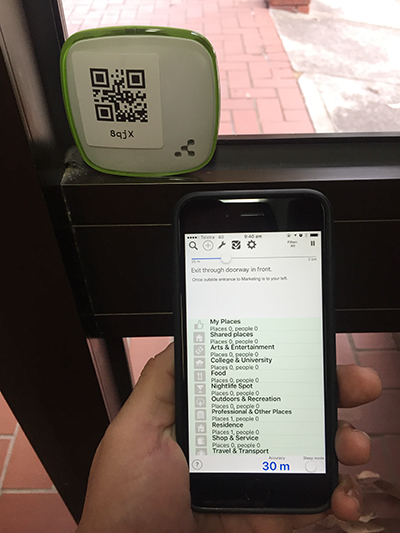 Image: Guide Dogs Victoria
Initially, the pilot won't be available to everyone who walks into the station as it's a trial to see how well it functions, before expanding the project. Vision-impaired people who would like to take part could Contact Guide Dogs Victoria to sign up, Mr Stott said.
'What we want to do is get feedback from the users on how well it worked and if they have any suggestions for improvement. The pilots will demonstrate how cost-effectively it makes these locations accessible for people with low vision.
'Once we've demonstrated that it's effective, we'll be recommending that Public Transport Victoria installs them right through all the station networks.'
The National Disability Insurance Scheme has funded the Southern Cross Station pilot, with individual beacons costing around $40. Mr Stott said most of the funding would go into evaluating the effectiveness and optimising the beacons' cloud-based system, which updates in real time.
Plans to also conduct the pilot in Melbourne Zoo, schools and the Grand Prix are in place, and Mr Stott said applications for funding a number of other locations were underway. After an eight-month pilot period, more beacons might be installed in places including hospitals, universities, libraries and cinemas around Victoria.
'This is a solution that has been successfully piloted in other countries. It works both indoors and outdoors, which has been one of the limiting factors to app solutions. GPS doesn't work indoors,' Mr Stott said.
'Users can have confidence that when they go from one location to another, the quality of direction and information they receive stays the same.
'It works out what direction the person is moving in and gives the relevant information for that direction. If one of the escalators breaks down, that information can be immediately uploaded to the cloud and the next person who moves through will actually get the advice that the escalator is broken,' he said. 'It really does replace all those visual cues.'
App users navigating beaconed areas can expect to hear comments such as 'approaching three escalators on left followed by set of stairs'.
With each beacon lasting up to five years, Mr Stott said it's a cost-effective way of using technology for a great outcome.
The BlindSquare app is available to download here.
Filed in category:
Uncategorised