Read time:

1:30min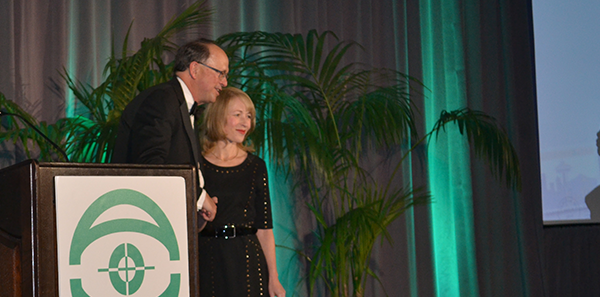 ______________________________
The convenor of the Optometrists Association Low Vision Working Group, Dr Sharon Bentley, has become the fourth Australian to receive a Low Vision Diplomate from the American Academy of Optometry.
She became a Research Diplomate of the Low Vision Section of the academy at the academy's annual meeting in Seattle in October.
Dr Bentley, a senior lecturer in optometry (vision sciences) at Deakin University's School of Medicine, Faculty of Health, hopes the award will encourage other Australian optometrists interested in low vision to follow her example.
Diplomate status in the Low Vision Section is a recognition of academic and practical achievement by academy fellows in the assessment and management of the rehabilitation needs of people with impaired vision.
The objectives of the Clinical Low Vision Diplomate Program are to develop and maintain a core group of fellows who have demonstrated broad expertise in the care of the visually impaired.
Fellows with expertise in low vision who are primarily researchers can become a Research Low Vision Diplomate.
'It was very nice to be at the dinner with other Australian awardees, Alan Johnston, who has been a Diplomate of the Low Vision Section for many years, and Ian Bailey, who was especially supportive of my application,' Dr Bentley said.
'Alan was my PhD supervisor many years ago and has been my mentor in low vision since.'
Ian Bailey, an expatriate Australian and Professor of Optometry and Vision Science, University of California, Berkeley, was the first Australian to receive the Diplomate in 1977.
He was followed in 1985 by Dr Johnston, a Melbourne optometrist specialising in low vision.
In 2003, Queensland University of Technology Adjunct Professor Jan Lovie-Kitchin gained the Research Diplomate.
'It is my hope that other Australian optometrists interested in low vision will follow suit,' Dr Bentley said. 'We have many dedicated and talented low vision clinicians and researchers in Australia.'
Dr Johnston said that about 50 Americans were Low Vision Diplomates, and four of the six Low Vision Diplomates from outside America were Australians.
Deakin University School of Medicine (Optometry) senior lecturer in visual functions, Dr James Armitage became a Fellow of the Academy at the meeting.
Filed in category:
Uncategorised