Read time:

1:30min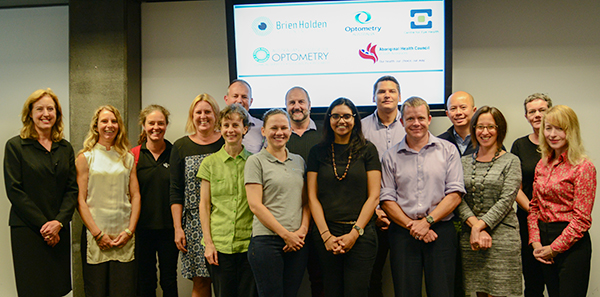 Consortium organisation representatives met in Sydney on 20 April
______________________________
By Kirsty Machon
Acting CEO
Optometry Australia will be a part of a federally funded program led by Brien Holden Vision Institute and the Australian College of Optometry to support and deliver eye health training in Indigenous health services across Australia.
A consortium of five organisations has been contracted by the federal Department of Health, following a successful tender bid, to provide equipment including retinal cameras and slitlamps to more than 100 sites, and to train and support the health services using that equipment.
Alongside Optometry Australia and the two leading organisations, the other members of the consortium are Centre for Eye Health in NSW, and the Aboriginal Health Council of South Australia, a peak body leading on Indigenous health issues in communities in South Australia.
Optometry Australia will work with the BHVI and the ACO to support the co-ordination of optometrists providing training at the sites, and assist and advise in the development of training and other resources for the program.
The three-year program will fund the purchase and installation of retinal cameras, and is aimed at increasing the rates of screening of Indigenous patients with diabetes, and supporting referral to primary comprehensive eye care. Some of the locations will also be provided with funding and training for slitlamps.
Optometry Australia national president, Andrew Hogan, said he was thrilled to learn that the consortium had been successful, and that optometrists delivering outreach programs and involved already in the important work of providing eye care in Indigenous community settings would play a key role in supporting and training health-care workers.
'There are many members of Optometry Australia who are already doing tremendous work, daily leading the effort to ensure that all Indigenous Australians are getting equality of access to comprehensive primary eye care,' Mr Hogan said.
'Harnessing that knowledge and experience is crucial, and this federal initiative highlights the importance of optometry's contribution and leadership in Indigenous eye health. We congratulate Brien Holden Vision Institute and the Australian College of Optometry on their initiative and hard work in bringing this partnership together, and we hope that together we will make further inroads in reducing avoidable blindness among Indigenous Australians.'
Mitasha Yu, regional director for Asia Pacific, BHVI, said the organisation was greatly motivated by the opportunity to support Aboriginal health workers and Aboriginal community controlled health organisations through this program. 
Filed in category:
Uncategorised