Read time:

1:30min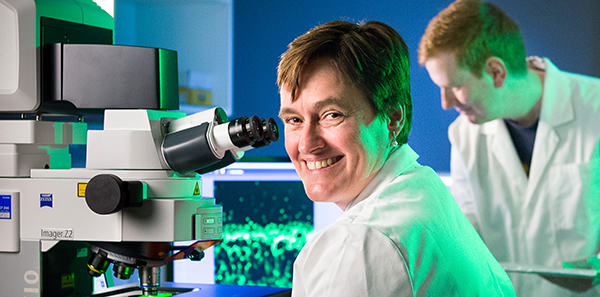 By Helen Carter
Journalist
Melbourne optometrist and neuroscientist Professor Erica Fletcher is working on a blood test to detect those at high risk of AMD progression and treatment to boost the immune system to fight the disease.
The Macular Disease Foundation Australia announced today, on World Sight Day, that Professor Fletcher's team would receive a grant of $180,000 over two years to advance its unique research into the immune system and age-related macular degeneration (AMD).
The team includes Centre for Eye Research Australia deputy director, ophthalmologist Professor Robyn Guymer, Dr Ben Gu from the Florey Institute of Neuroscience and Mental Health, and Professor Fletcher and Dr Kirsten Vessey from the University of Melbourne's Department of Anatomy and Neuroscience. Dr Vessey received her PhD from the Department of Optometry and Vision Sciences.
'We have been working on this for five years, and this new grant will enable us to see if we can translate findings to a clinical setting,' Professor Fletcher told Optometry Australia.
'Looking at the mechanism of early AMD we found that immune cells in the retina are vitally important, particularly the way they remove waste seems very important in the development of drusen and early signs of AMD.
'With the new funding, we will try to determine if the 50 per cent of patients with large drusen whose AMD progresses have problems with the way their immune cells work, and if the way the cells remove debris is the cause of progression.
'We will measure the way the immune cells work in blood and how the disease progresses.'
The project, entitled targeting monocyte phagocytosis to reduce progression of AMD, builds on Professor Fletcher's previous work funded by the NHMRC and the Macular Disease Foundation Australia.
The research showed that the failure of certain immune cells called monocytes to remove accumulation of waste products or drusen under the retina in phagocytosis may be a major contributor to development of early and dry AMD.
She will examine whether measuring the phagocytic function of these cells can be used as a diagnostic blood test to identify people at greatest risk of disease progression. She will then test several newly discovered proteins to see if they can improve the ability of monocytes to remove the waste products, as potential treatments to slow or stop disease development.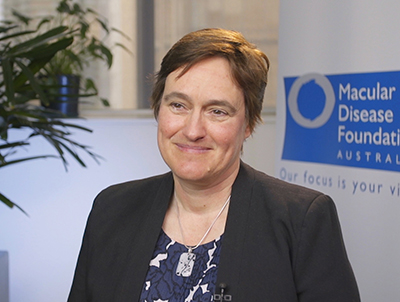 Professor Fletcher at the grant announcement Image: Macular Disease Foundation Australia
Potential peptide treatment
The team developed a peptide in in vitro and pre-clinical models and will study if and how the   peptide changes immune cells to boost the way the cells remove debris. The funding will enable the team to trial the peptide.
Professor Fletcher said immune cells generally gobbled up debris and bacteria. The research aims for the peptide to improve the function of immune cells which are not removing debris.
'We don't know if this is why half of people with large drusen progress rapidly and the other half don't,' she said.
AMD is a disease of ageing, and Professor Fletcher said people's immune cells did not efficiently remove waste as they aged.
'Our research is trying to boost immune cells to remove this waste,' she said.
A treatment, if developed from the research, could possibly be a medication injected into the eye or delivered to the back of the eye.
About half of people with large drusen in early AMD are at high risk of progression.
'We want to target those fifty per cent who progress. A biomarker, basically immune cells isolated from a blood test, will hopefully pinpoint those at high risk of progression who clinicians including optometrists would then need to follow carefully,' she said.
The researchers have recruited 150 AMD patients for the study and will now study their blood, isolating and analysing immune cells from the retina and looking at the function of the immune cells. The second part of the study aims to determine feasibility and efficacy of developing a treatment from the peptide to boost non-efficient immune cells.
Professor Fletcher co-ordinates neuroscience teaching in the Department of Anatomy and Neuroscience and teaches University of Melbourne medical students all about the eye.
$10 million in 10 years
The grants were among $600,000 in research grants announced in the Macular Disease Foundation Australia's fourth round of funding. 
Other recipients were CERA Associate Professor Alice Pebay who is investigating developing a new model for testing dry AMD using human retinal cells derived from stem cells, and Dr Fred Chen from Lions Eye Institute for his work on finding new genetic mutations in Stargardt's disease and preparing patients for clinical trials.
Foundation CEO Julie Heraghty said the latest round brought the foundation's commitment to $3.6 million in research grants since the program launched in 2011.
'The foundation has a target of raising $10 million in ten years to invest in macular degeneration research,' she said in a media release.
More than 1.2 million Australians have evidence of AMD and thousands have lost vision. Given the high prevalence, the foundation wants the Australian Government to elevate AMD to priority level for funding in its Research Future Fund.
Filed in category:
Uncategorised