Read time:

1:30min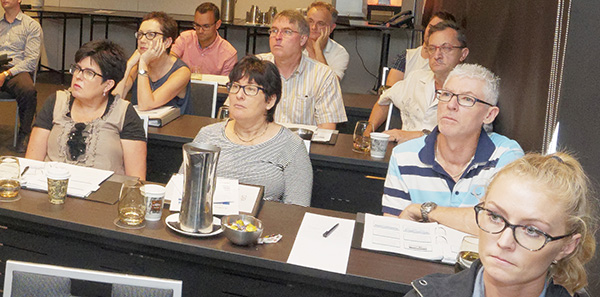 Optometrists attend the CASA Credentialed Optometrist Certification course in February 2015 Photo: Neil Murray
______________________________
By Ashleigh McMillan
Journalist
Forty-seven optometrists attended the first Civil Aviation Safety Authority (CASA) credentialed optometrist refresher course, held in conjunction with the Southern Regional Congress in March.
Lectures on the day included presentations on how visual fields impact pilot performance, and industry changes to colour vision testing. The attendees received 12 CPD points.
CASA credentialed optometrist Anne Weymouth said the lecture about CASA's online Medical Records System, which came into effect on 21 March 2016, was especially important. 'CASA has recently changed its electronic medical filing database, so it was particularly useful to have some specific detail around its new online database and its updates to that,' she said.
There are currently 154 CASA credentialed optometrists in Australia.
Ms Weymouth, who works at Essendon Retina in Melbourne, became credentialed in 2011 at Melbourne's first CASA course.
'I'd had some degree of experience with the colour vision testing before, so because I'd done that for a few years prior to the first course I thought it would be worthwhile being a formalised credentialed optometrist and doing the eye assessments as well,' she said.
Ms Weymouth sees a pilot every couple of weeks, primarily for Farnsworth Lantern Testing and diagnostic colour vision testing. Usually these pilots are referred by ophthalmologists after they fail the colour vision test of their eye examination.
She said the process for a pilot to be tested by a CASA certified optometrist was usually streamlined.
'Pilots appreciate having a service that is efficient because their applications require a lot of paperwork and testing,' she said. 'Particularly for tests that have a big impact on their careers, they appreciate access to an efficient service in terms of getting appointments and having their reports expedited to CASA.'
The next CASA refresher course is expected to be held at AVC in 2017.
Information about CASA accreditation can be found on the Optometry Australia website.
Filed in category:
Uncategorised