Read time:

1:30min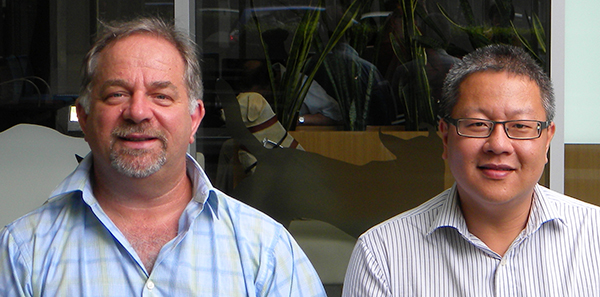 Professor Michael Kalloniatis (L) and Dr Sieu Khuu
______________________________
By Ashleigh McMillan
Journalist
University of New South Wales researchers are using existing visual field analysers to detect vision loss from glaucoma four years earlier than standard testing can. 
A study of 13 glaucoma patients by Professor Michael Kalloniatis and Dr Sieu Khuu has been published in July 2016 issue of Ophthalmic and Physiological Optics.
Professor Kalloniatis says that earlier research by both Dr Tony Redmond from Cardiff University and Professor Roger Anderson at the University of Ulster confirmed that test stimuli size was important when considering the eye's spatial summation. These earlier studies had not applied the results using the visual field analyser commonly used in clinical practice.
The UNSW team then spent 18 months creating a normative database across more than 70 test points on the typical visual field analyser, which they compared to threshold values using test stimuli at or close to complete spatial summation using glaucoma patients.
'We were quite pleased that effectively every single glaucoma patient out of the 13 showed a bigger deficit if we used test stimuli carefully chosen to be at or within complete spatial summation. In effect, we used smaller test size stimuli for most of the central locations,' Professor Kalloniatis said.
'The technique effectively uses the current visual field analyser, so it doesn't require a new piece of equipment, but what is unique is modifying the test size at different locations. Once you do that, what we're estimating at least from our preliminary studies is that you should be able to detect anomalies in glaucoma patients on average four years before the standard technique,' he said.
UNSW PhD student Agnes Choi is researching whether the technique can be effective in diagnosing changes in age-related macular degeneration patients. UNSW PhD students Jack Phu and Nayuta Yoshioka are expanding the glaucoma study using additional patients from the glaucoma management clinic (GMC).
Professor Kalloniatis says the Centre for Eye Health glaucoma management clinic, which is run in collaboration with the Prince of Wales Hospital ophthalmology department, has new patients agreeing to join the study each week.
'It's topical in the fact that with the changes in the law with collaborative care, we're collecting data in the clinic that are within the collaborative care model, so it's one of the very positive outcomes,' he said.
'What we're really looking at now is expanding it, so we now have a research group here with 25 new glaucoma patients. We are going to add to the cohort, but what we'd love to do is a large multi-centre clinical trial with hundreds of glaucoma patients.
'Part of the exercise is to make sure that people are aware of this, and hopefully it will develop into a large clinical trial, because then we can have change in the way clinicians manage their patients,' Professor Kalloniatis said.
Filed in category:
Uncategorised