Read time:

1:30min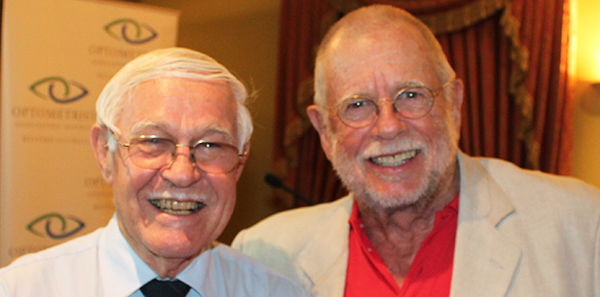 Graham Fist (L) with Digby Knapp, grandson of founder August Knapp
______________________________
By Helen Carter
Journalist
Optometry Western Australia this year celebrates 100 years of serving the state's optometrists and promoting the eye health of Western Australians.
Its annual member conference, WAVE in August, will feature a centenary theme at the CR Surfacing Sundowner evening drinks function on 13 August.
Optometry WA CEO Tony Martella said the organisation had achieved 100 years of support, membership and working together. 'We have almost 400 members providing services throughout the state,' he said. This is a far cry from the membership base in 1939 of just 21 members.
Coupled with increased scope of practice, the state's optometrists have been able to deliver a high standard of eye care to the Western Australia community over this time.
Mr Martella said there had also been many achievements and innovations. These include the Homeless Connect program with the City of Perth and St Patrick's Homeless Eye Clinic, a postgraduate ocular therapy course through the University of New South Wales, and continuing professional development education including the annual WAVE conference and recently expanded regional CPD program.
Other achievements include Optometry WA employment and locum services for students and optometrists, the Optometry WA office and secretariat, owning the property in West Perth in which the office is located, and hosting Optometry Council of Australia and New Zealand competency examinations since 2006.
Support, training and recruitment for the WA Regional Outreach Optometry Service and more recently assisting establishment of the Optometry Western Australian Graduate Group have been other achievements.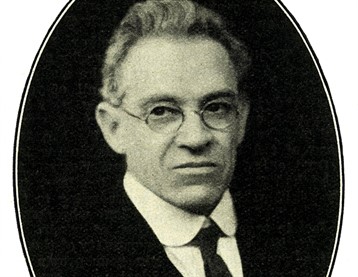 August Knapp   Image: Comm Optom 1926; 8: 7: 230
August Knapp founder
Optometrist August Knapp founded the Western Australian Optical Association in 1916 and was its long-serving president. He was president from 1925 to 1937, his son Karl Knapp was president from 1946 to 1954, and his grandson Digby Knapp was president from 1973 to 1974.
The organisation has changed its name four times since its inception. In 1939 the Western Australian Optical Association changed its name to the Western Australian Optometrical Association after the first national conference of the state associations recommended the associations change their names to include optometrist or optometrical.
In 1955 it became the Australian Optometrical Association (Western Australian Division), in 1998 Optometrists Association Australia, Western Australian Division then in 2014 Optometry Western Australia.
August Knapp was a man of forceful personality, strongly held views and a live-wire, according to Emeritus Professor Barry Cole in his book A History of Australian Optometry, available from Optometry Australia's Online Store.
'The Western Australian Optical Association did not attend the first AOA national conference in 1918 at which it was agreed to form the Australasian Optometrical Association and it did not seek to be a member until 1927. August Knapp attended the 8th AOA conference of 1927 at which WA became a member. He immediately wanted to change its rules and constitution,' Professor Cole wrote.
A profile in the Commonwealth Optometrist in 1926 stated that August Knapp had been born in England in 1873 and migrated to Australia with his school-teacher parents when he was eight years old.
They settled in Brisbane and Knapp left school aged 14 years to work with Flavelle Brothers and Roberts Brisbane optometrists. Arnold Clarke, an optometrist in the practice, migrated to WA in 1897 during the gold rush to establish an optometry practice in Perth and Knapp accompanied him.
'Clarke and Knapp established their practice as ophthalmic opticians and spectacle makers in Royal Arcade, Perth. Clarke returned to England after a few years but the Knapp practice has continued over four generations of the Knapp family,' Professor Cole wrote in his book.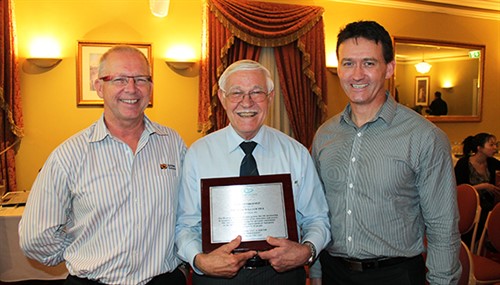 Graham Fist (centre) receiving his Life Membership in 2013 from Optometry WA director Gary Crerie (L) and president Darrell Baker
Graham Fist 55 years a member
Perth optometrist Graham Fist has been a member of Optometry WA for 55 years, longer than any other member. He previously served as a councillor of the Optometrists Association WA Division.
'He regularly attends events and is actively involved in attending CPD evenings that we hold,' Mr Martella said. 'Graham is well regarded and admired by Optometry WA members.
'It's not uncommon to also have his wonderful wife Noelle in tow at our CPD events as she has long been a regular attendee, even though she's not an optometrist.
'Although he's closer to the finishing line than the starting line, he's still as active and engaged with optometry as someone half his age. He's a testament to providing patient care and enjoying what he does both professionally and in private pursuits.
'Graham is a very worthwhile Life Member and role model for doing good deeds and helping others,' Mr Martella said.
In December 2013, Optometry WA awarded its fourth life membership to Mr Fist who graduated with a Diploma of Optometry in 1958 from the University of Western Australia.
As a passionate advocate for Indigenous health issues, Graham Fist visited remote Aboriginal communities on missionary work with the Methodist Church and for nearly 20 years was a visiting optometrist throughout the north-west including around the Kimberley with the Margie O'Neill North West Optometry Program. He also served at the Association for the Blind WA Low Vision Clinic.
Filed in category:
Uncategorised