Read time:

1:30min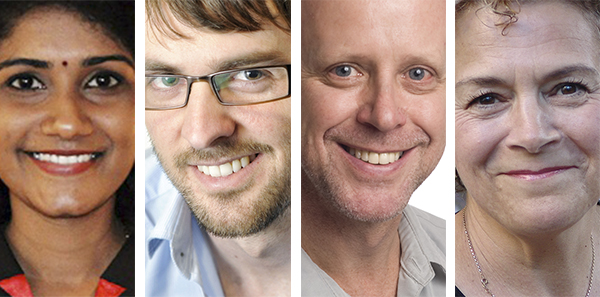 (L-R) Sumithira Narayanasamy, Stephen Vincent, Geoff Sampson and Joanne Wood
______________________________
By Rhiannon Riches
Assistant Editor
Authors of a paper on visual demands in primary school classrooms have received the 2017 J Lloyd Hewett Award for the best article published in Clinical and Experimental Optometry in the past three years.
The authors were Dr Sumithira Narayanasamy from National University of Malaysia Optometry and Vision Sciences; Professor Joanne Wood and Dr Stephen Vincent, from Queensland University of Technology School of Optometry and Vision Science; and Dr Geoff Sampson from Deakin University School of Medicine (Optometry).
The authors studied 33 classrooms from eight Queensland schools. It was the first study to provide a comprehensive evaluation of the visual skill levels required by children in modern primary school classrooms.
Their findings indicated that 70 per cent of a school day's learning activities involved visually-based tasks.
Professor Wood said the results of the study demonstrated that modern classrooms had relatively high levels of visual demand even at primary school level. 'Importantly, the findings reinforce the importance of screening visual acuity, refractive error and binocular vision in children entering school,' she said.
The authors concluded that the results of their study demonstrated that higher than expected levels of visual acuity, contrast demand and sustained accommodative and vergence ability were required to perform efficiently in the modern Australian primary school classroom.
'This study provides new evidence regarding the importance of a well-developed overall visual system for children in primary schools. It further serves to justify the need for early identification and treatment of common visual problems, such as uncorrected refractive error and binocular vision anomalies, which may adversely affect academic performance. In addition, these findings are important for determining evidence-based prescribing guidelines for children and guiding the development of more comprehensive and thorough paediatric vision screening protocols,' the authors wrote.
The paper 'Visual demands in modern Australian primary school classrooms' was published in May 2016, Volume 99 Issue 3 of Clinical and Experimental Optometry. View PDF
Filed in category:
Uncategorised