Read time:

1:30min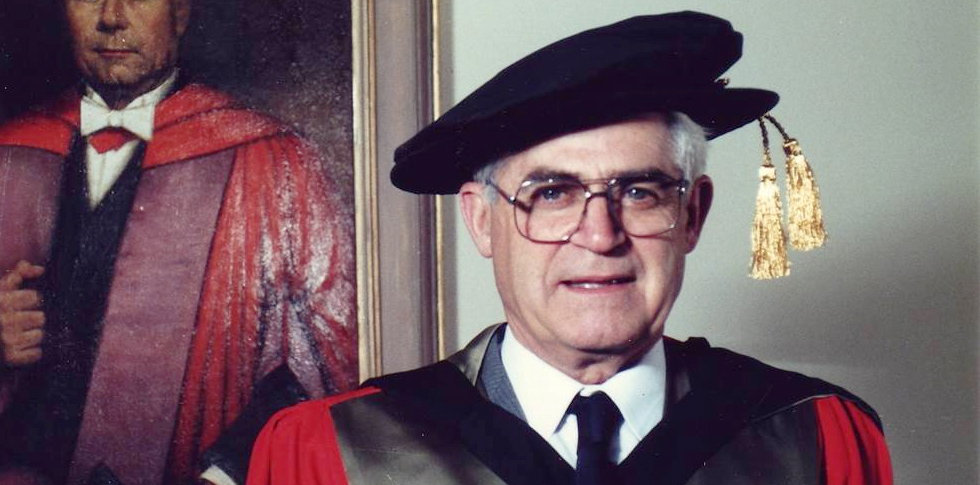 Dr David Cockburn receiving his Honorary Doctorate, 1987   Photo: Kett Optometry Museum, Australian College of Optometry
______________________________
By Helen Carter
Journalist
Dr David Cockburn, a Melbourne optometrist who changed the face of Australian optometry, has died aged 91.
Dr Cockburn, OAM and JP, died peacefully at home in Melbourne on 26 September.
His close friend, Emeritus Professor Barry Cole, described him as an 'educator, entertainer, innovator and legend' in a profile in Optometry Australia's journal Clinical and Experimental Optometry in 2003.
'David was a distinguished clinical teacher and researcher for 40 years. He changed the face of optometry by expanding the scope of things we did,' Professor Cole told Australian Optometry today.
'What he did in practice, teaching hands-on in clinics and as a lecturer and tutor, and influencing the next generation of optometrist leaders, such as Brien Holden, set the new way of thinking that optometrists should be much more involved in the diagnosis and management of diseases of the eye, and that optometrists should take on an expanded role in managing patients with diabetes and vascular disease. David Cockburn was in the forefront of these things that are now an accepted routine part of contemporary optometry.
'David was a leader of change in optometry for the whole of his career and had a profound influence on the development of the profession from 1955 to 1995.'
Dr Cockburn wrote the mini abstracts for Clinical and Experimental Optometry for more than 20 years, was a member of its editorial board and was still writing the abstracts at age 90 when he contributed his last column in July 2015.
At age 75, he retired from his private practice in Hampton, which continues as Gutteridge, Douglas and Wells Optometrists. 'He enjoyed practising enormously,' Professor Cole said.
'In 1987, he received an Honorary Doctorate of Science by the University of Melbourne, the first awarded to an optometrist by that university, in recognition of his extraordinary contributions to teaching, research and the profession.
'He was one of the first optometrists to receive a Medal of the Order of Australia. In 1982 he received the medal for his services to optometry including being co-founder of the National Vision Research Institute, an Adjunct Associate Professor at the University of Melbourne and a leader of continuing education.
'David did so much for optometry and was an inspirational teacher, a good chair-side clinical researcher with 40 papers to his credit, and the NVRI foundation chairman for 15 years.'
CPD founder
Professor Cole said Dr Cockburn pushed the idea of mandatory continuing education, despite much opposition, and oversaw its introduction to the Australian College of Optometry for fellows and then for members. With national registration, regular CPD became compulsory for all optometrists.
'He set up the first formal year-long program of CPD in Australia in 1976 and was foundation chairman of the Australian College of Optometry's Board of Continuing Education for 17 years. He was a pioneer in the field and changed the whole culture to CPD in Australia,' Professor Cole said.
Teaching and tonometry
For 40 years, Dr Cockburn spent one day a week teaching at the ACO and in 1957 decided students should, for the first time, be taught tonometry, making him a pioneer in the introduction of tonometry to optometrists.
He also challenged practitioners to conduct binocular indirect ophthalmoscopy and gonioscopy, and used gonioscopy from the 1970s.
He pioneered foreign body removal as his practice was near industry and he was 'always digging out' foreign bodies from workers' eyes, then began teaching foreign body removal to students, Professor Cole recalled. He laid the cultural and skill foundations necessary for optometry to use therapeutics.
Dr Cockburn instigated lacrimal lavage and promoted optometry's role in the detection of systemic disease, writing about diabetic retinopathy assessment in 1974. 'The idea that practitioners should be involved in early detection of disease such as diabetes is standard now,' Professor Cole said.
Retinal photos
David Cockburn was the first optometrist in Australia to take retinal photos and show that they could be taken by adapting a Bausch and Lomb binocular ophthalmoscope. He wrote about it and gave talks and demonstrations in Melbourne in 1956 and Sydney in 1957.
He was also among the first optometrists to prescribe and fit contact lenses.
He worked in Alfred Hospital's ophthalmological out-patients clinic and was prolific in research, including glaucoma and the interface between the eye and systemic disease. He was awarded a masters degree for research on anterior angle assessment.
A local councillor and mayor of Sandringham, he was also a Justice of the Peace, a competitive sailor, dedicated family man and last year was still fighting the local council on environmental issues.
Born in 1925 in Swan Hill, his parents were soldier settlers in the Mallee before moving to Melbourne. After obtaining his leaving certificate from Melbourne Grammar, he worked as a laboratory assistant in an explosives factory but later completed a chemistry diploma.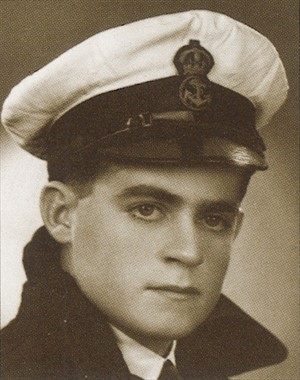 David Cockburn as a teenage sailor in the navy in the Second World War
He enlisted in the Navy in 1943 aged 17 years and due to a colour vision deficiency, served in the supply branch on HMAS Rockhampton, being discharged aged 21. His deuteranomaly steered him to learn adaptive behaviours while studying optometry, ensuring his clinical practice remained unaffected.
After commencing studies in industrial chemistry, he transferred to the optometry course provided by the ACO, following a chance meeting with a former school mate who was studying optometry.  He completed his Licentiate of Optometric Science at the ACO in 1950, one of the first LOSc graduates of the ACO.
He established the Optometrical Students Society in 1948 and was its first president and later honorary life member. In his first year of practice he became a councillor of the Victorian Division of the Australian Optometrical Association, was later appointed to the Optometrists Registration Board and was on the ACO council for 13 years.
A visiting professor to the University of California at Berkeley, he was in great demand at professional conferences throughout Australia.  
He is survived by two sons, Richard and Scott, daughter Sally, five grand children and two great-grand children. Dr Sally Cockburn is a GP who lectured with David at the Australian College of Optometry in the 1990s and spoke at Optometry South Australia's SA Blue Sky Congress in 2014.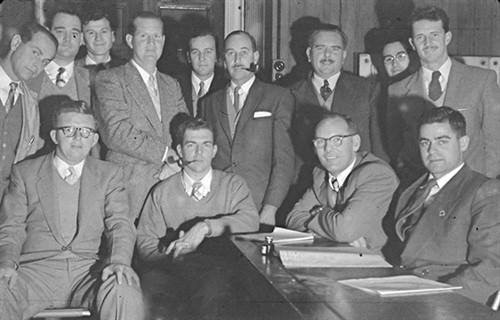 David Cockburn (seated right) and Sydney optometrists who attended his 1957 demonstration of retinal photography using an adapted Bausch and Lomb binocular ophthalmoscope. Optometrists include Brian Layland, later a national president of the Australian Optometrical Association (seated left), Penrhyn Thomas, leader in contact lenses in the 1960s and 1970s (standing middle with pipe) and Josef Lederer, then senior lecturer in optometry at the University of New South Wales and later professor of optometry (standing third from right).   Photo: Kett Optometry Museum, Australian College of Optometry
Filed in category:
Uncategorised