Read time:

1:30min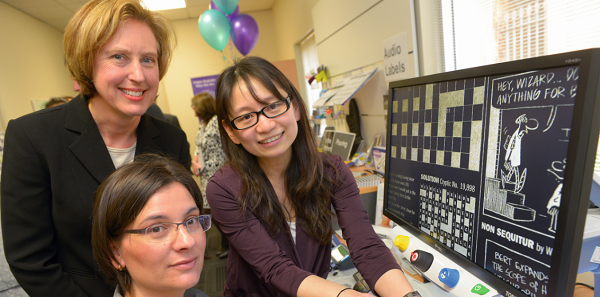 ______________________________
A new Low Vision Clinic at the Australian College of Optometry in Carlton is meeting a need for services to equip a growing ageing population with optimum visual acuity and independence.
Low vision patients will benefit from the clinic ­dedicated to providing a full service to meet their specific needs, including eye health care and occupational therapy.
The clinic is a partnership between the Australian College of Optometry and Vision Australia. Patients of any age can attend, either by referral or directly.
Speaking at the launch on 10 October, CEO of the Australian College of Optometry, Maureen O'Keefe, said it was fortunate to open the new Low Vision Clinic on World Sight Day.
She said one of the clinic's goals was to be multiprofessional, and to provide open access, making the services freely available for all low vision patients.
'The clinic also aspires to two-way referral pathways, a strong research component, and to review and develop evidence-based services,' Ms O'Keefe said.
ACO secured an $11,000 research grant from the Eric Ormond Baker Charitable Fund, to focus on improving quality of life for low vision patients.
Head of clinical services at the college, Jonathan Jackson said the new venture provided a very important opportunity for the ACO and Vision Australia to expand the provision of state of the art low vision services for Victorians.
The ACO has run a monthly low vision pilot clinic since July last year; the new joint partnership clinic will operate weekly.
Iris Huang, acting lead optometrist low vision services, said that in late 2012 the ACO and Vision Australia commenced strategic discussions with a view to establishing a joint low ­vision service at the college in Carlton.
The new clinic will provide specialist care and advice to patients with low vision, including a comprehensive range of programs through shared referral pathways.
Patients will be advised on how to perform daily activities such as reading, writing, shopping and cooking with low vision aids.
An optometrist and an occupational therapist will assess patients attending the clinic.
Consultation fees are bulk-billed to Medicare. Glasses and magnifiers are provided at subsidised rates for patients with a Health Care Card or Pensioner ­Concession Card. Equipment to help with daily activities will be supplied at affordable prices.
CEO of Kooyong-based Vision Australia, Ron Hooton, and Ms O'Keefe were appointed to their roles in January and March, respectively, this year and have invested their energy to bring the Low Vision Clinic to fruition.
The weekly clinic started operating on 15 October.
Filed in category:
Uncategorised