Read time:

1:30min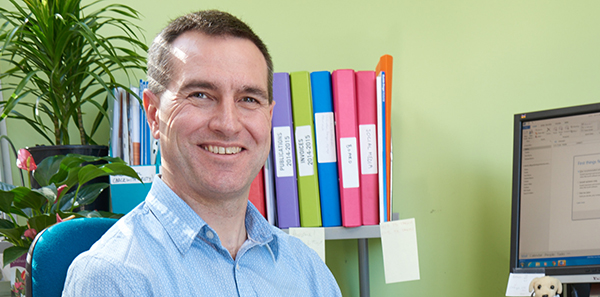 David Simmonds   Image: Dialogue in the Dark
______________________________
By Rhiannon Riches
Assistant Editor
David Simmonds has an unusual job. As lead workshop facilitator at Dialogue in the Dark, David, who is blind, leads sighted people through a series of activities in total darkness.
Dialogue in the Dark was founded by social entrepreneur Andreas Heinecke in Hamburg in 1988, after an encounter with a blind journalist. Now a trademarked initiative operating in 41 counties, Dialogue in the Dark partnered with Guide Dogs Australia to bring it to the Docklands, Melbourne, in June 2017.
There are two parts to the experience: an immersive exhibition tour, where people with sight experience everyday activities in the dark, and a half-day business workshop of individual and team activities, also conducted in complete darkness.
David leads the workshops.
'I was already working for Guide Dogs Victoria in the role of business development and advocacy manager, so was present during the planning and build-up to the opening of Dialogue in the Dark and decided that this was something I definitely had to be a part of,' he said.
'It's such an amazing concept and social enterprise that has had such an impressive impact to more than nine million participant's world-wide and employs more than 10,000 individuals who are either blind or have low vision.
'I was very fortunate to be selected to be the lead workshop facilitator at Dialogue in the Dark and really enjoy facilitating workshops to individuals in complete darkness, challenging participants to tap into their other senses to complete a number of very hands-on activities and projects,' he said.
Workshop participants are led into complete darkness with the aid of a cane and a guide. It can be a confronting experience.
'Participants do experience a wide range of emotions during our tours and workshops. At the commencement of a tour or workshop, emotions of participants typically range from anxiety through to being comfortable and curious about the complete darkness they find themselves in.
'It certainly doesn't surprise me that some individuals are a little anxious or a little confronted at the commencement of one of our experiences. I think that would be a fairly normal reaction; however, for most individuals, this feeling fades when they are met and led through their experience by their tour guide or workshop facilitator who themselves is either blind or has low vision,' David said.
'Aside from our workshop facility being an incredibly powerful learning environment, workshop participants also find it to be very enjoyable. It is very satisfying for me to hear teams of individuals having so much fun while participating in an experience that will stay with them forever.
'It is quite amazing how the complete darkness aids participants to focus more closely on their communication, teamwork and decision-making. I have been known on odd occasions to have a quiet chuckle to myself in the dark at the hilarious antics of some of the participants,' he said.
Personal story
David was diagnosed with retinitis pigmentosa in 1987 at the age of 15 years.
'With the dream of driving cars and riding motorcycles within my grasp, this was a particularly cruel blow for someone of such an age with such little appreciation for the enormous number of individuals who were worse off than I,' David said.
'Initially my night vision seemed to be the only area I had real difficulty with and I proceeded to obtain my driver's licence. Given my time over, perhaps I would have acted differently but history cannot be rewritten. Despite numerous close calls I survived driving, as did the general public, and I voluntarily gave up driving in my mid-20s. Although I was still able to successfully read the eye chart at Vic Roads, I knew myself that my peripheral vision and night vision were nothing short of dangerous and I definitely shouldn't be on the road,' he said.
'My remaining useful functional vision faded by my early 30s to the point I am at now. I have minimal residual light and dark perception to the point where if I am outside I could tell you if it was day or night but that's about the extent of it.
'I am quite philosophical about losing my sight. I am of the belief that your life journey is full of incidents and events that have a bearing on what direction your journey through life takes. I feel I have had an amazing life and I wouldn't have travelled the same life journey without having retinitis pigmentosa so wouldn't want it any other way,' he said.
David has a guide dog and uses technology, an area that is advancing in the digital age, to assist his mobility.
'People don't realise that only about 30 per cent of the services Guide Dogs Victoria provides are related to its amazing guide dogs. The other 70 per cent of their services are non-dog related and include services such as orientation and mobility, occupational therapy, orthoptics and support co-ordination.
'I was the fortunate recipient of an incredible guide dog, Merlin, my first guide dog, in 2007 and haven't regretted the transition from long cane mobility to guide dog mobility. My long cane sometimes makes a special appearance; however, my personal preference for safe and efficient mobility is definitely a guide dog. For me it takes a lot of the stress and anxiety out of navigating busy and often hazard-filled environments.
'I now have guide dog Zinnia. She is essential for me to get to my local bus stop, find an empty seat on the bus, and find the platform at my local train station before finding her way out of Southern Cross station to find the Bourke Street tram stop.
'Technology plays a big part in my mobility but my primary mobility aid is Zinnia, who allows me to safely navigate the various environments that I move through during my frequent travels. My daily travel is extensive, from regional Victoria to Harbourtown Docklands, where Dialogue in the Dark is located.
'My smartphone and paired watch act as a really powerful source of secondary mobility. On the occasions I'm travelling somewhere that my guide dog doesn't know, I can give my smartphone a verbal command to provide me with walking directions to the desired destination. I can then listen to the instructions from my phone while providing my guide dog more generic directions such as forward, straight on, left, right et cetera until we reach our destination.
'I see "electronic beacons" as being a really interesting technology that has potential to be widely used in situations where satellite-reliant GPS systems are not able to be utilised. A trial of this technology was recently launched at Southern Cross station, by Guide Dogs Victoria, and pending the outcome of this trial I am optimistic of beacons being more broadly rolled out across our public transport network,' he said.
RELATED: Beacons make public spaces more accessible for vision-impaired 
More information
A journalist from The Guardian shares her experience of the immersive exhibition.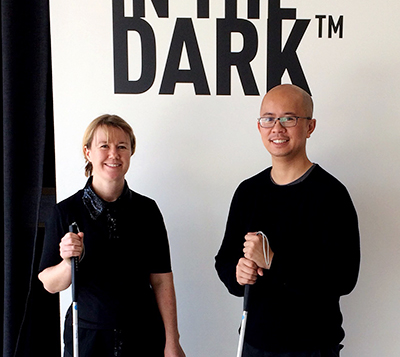 Rhiannon Riches and Tin Nguyen
Optometry Australia staff members Rhiannon Riches and Tin Nguyen were guests of Guide Dogs Australia at a half-day Dialogue in the Dark workshop in October.
Filed in category:
Uncategorised