Read time:

1:30min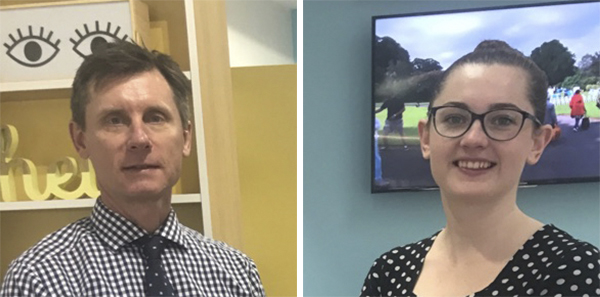 Andrew Young and Courtney McEntee
______________________________
By Ashleigh McMillan
Journalist
Western Australian optometrist Andrew Young has received a government subsidy for an optical dispensing trainee in his practice.  
Courtney McEntee began her traineeship at Eyeconik in Osbourne Park in July, after working at the practice for just under three months.
There is currently no optical dispensing training provider or TAFE in Western Australia. To be eligible for a government subsidy, traineeships must be undertaken in the same state as their education provider, or a training provider that agrees to provide support within the same state needs to be sought.
Those eligible for the government scheme receive a subsidy of $1,500 six months after the course is started, and a further $2,500 on completion.
Mr Young says the idea for the traineeship was born out of a conversation with Reny Frighetto, ProVision's human resources and education manager.
'We were trying to find a dispenser to employ and we just couldn't get any quality applicants. The right person just would not turn up, so I decided we should get someone young, give them a go and train them instead.
'It was quite a complex system, and there are a lot of rules around who is eligible for a subsidy. An organisation called MEGT which provides training wasn't sure if it could be done in Western Australia, but they helped us fill out the paperwork and in the end Courtney was eligible,' he said.
To be eligible for the subsidy, trainees need to have not worked at the practice where they undertake the traineeship for more than three months, and cannot have undertaken a traineeship elsewhere.
Mr Young, who opened Eyeconik with his wife Lee in 2015, says that while the government subsidy was a bonus for his young business, the ability to hire the right person was the catalyst for pursuing a traineeship.
'Any time you're going to have something which offsets some of your costs in a business, particularly when you're starting out, is great, but that wasn't the lynchpin for the decision; I would have still gone ahead with training someone.
'I've been doing this job a while, and I think that a lot of the things that people need to do in terms of the actual dispensing can be taught, either formally or informally.
'The critical thing for independent business is that you've got to get the right person, someone who is helpful and friendly, so the dispensing is kind of secondary to that in my opinion,' he said.
Filed in category:
Uncategorised