Read time:

1:30min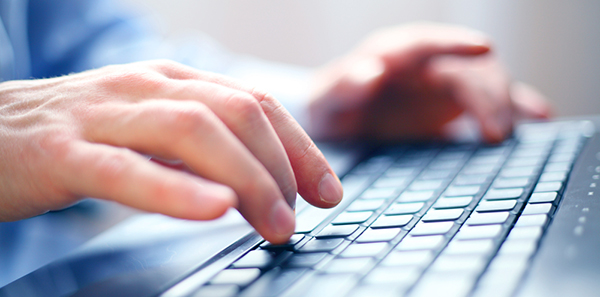 By Rhiannon Riches
Using a company's or government organisation's logo on your website without authorisation, or referring to yourself as a 'specialist' can put you in breach of national laws.
Placing testimonials on your website is also prohibited.
Two optometrists, one in Queensland and one in Victoria, have been cited for advertising offences in the past financial year, according to the Australian Health Practitioner Regulation Agency Annual Report for 2013-2014.
Both cases were resolved without prosecution.
Many optometrists may not be aware that using the green and gold Medicare logo on a website without authorisation, as an example, is a breach of the laws. The Medicare name and logo are protected under the Human Services (Medicare) Act 1973.
Knowing the law when promoting a practice online or advertising in local media could avert hefty legal fees.
National professional services manager Luke Arundel warned optometrists to be vigilant about using logos like Medicare on their own websites.
'We need to make sure optometrists are doing the right thing. They can still indicate on their website that they offer Medicare services, but there is a right way and a wrong way of doing this,' he said.
Authorisation for use of Medicare trademarks by non-government organisations are occasionally given but are strictly controlled. If authorised, non-government organisations' use of the Medicare trademark is usually only to show formal endorsement by or partnership with the organisation.
The Department of Human Services has advised that as an alternative, the Medicare name can be used as part of a descriptive sentence. For example 'Medicare bulk-billing is available' and 'Medicare Benefits Schedule available here' are acceptable, provided the word 'Medicare' is not illustrated with Medicare logo elements.
Specialist
Use of the title 'specialist' is another trap that can catch unsuspecting health-care providers.
In September last year, the Optometry Board of Australia released a statement noting it had observed an increasing use of the word 'specialist' by some optometrists to define or describe a particular area of optometric service to the public.
The OBA emphasises that the use of the title 'specialist' or any derivative is protected under the National Law and its use is restricted.
The specialist titles recognised under the National Law relate only to medical, dental or podiatric specialists.
The OBA suggests optometrists consider promoting areas of proficiency or expertise in optometric practice to the public and to not refer to an area of speciality optometric practice.
The OBA's Guidelines for advertising regulated health services is a useful document that sets out optometrists' obligations to laws regulating advertising, and the consequences if found to be in breach.
The guidelines, updated in May 2014, stipulate that a court may impose a penalty up to $5,000 for an individual and $10,000 for a body corporate if their advertising breaches the National Law. The guide also covers advice on advertising qualifications or memberships, use of titles in advertising and advertising price information.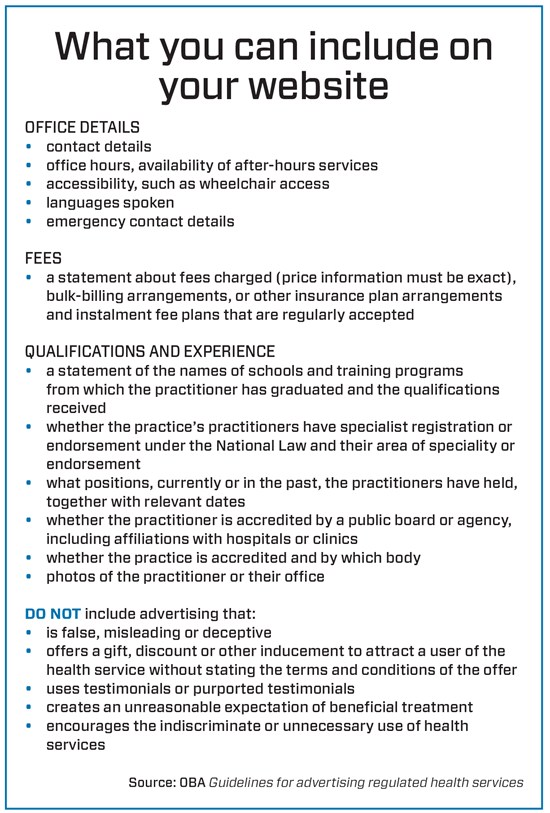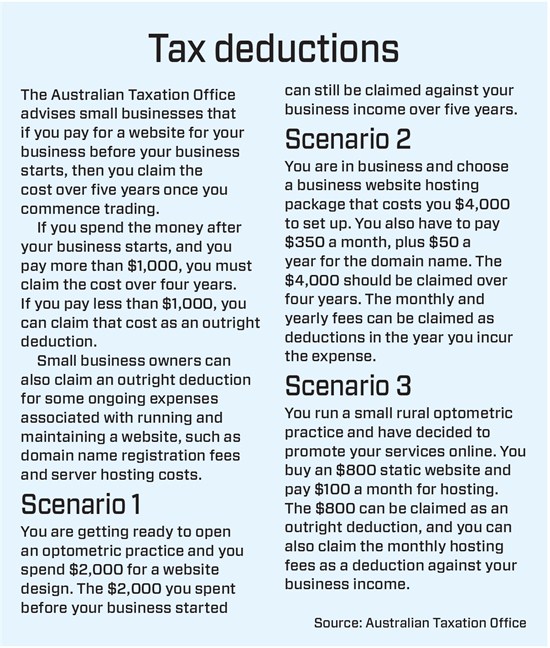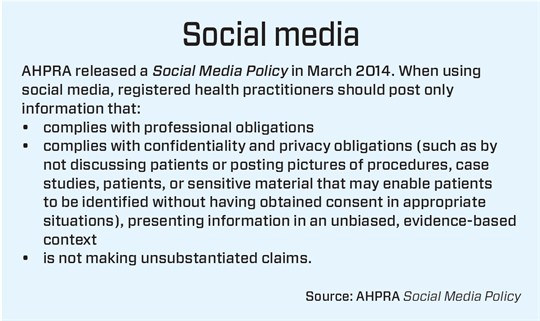 Filed in category:
Uncategorised