Read time:

1:30min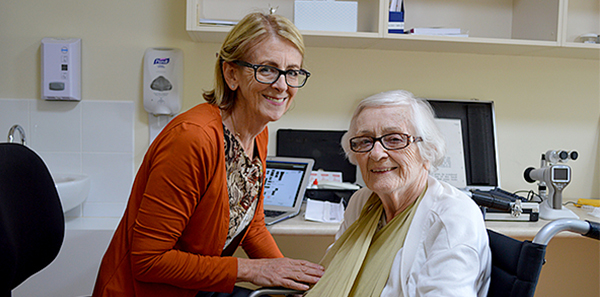 Optometrist Susan Kalff with domiciliary care patient Nina    Photo: Helen Carter
______________________________
By Helen Carter
Optometrists Association will ask the Australian Government for better remuneration for practitioners who provide domiciliary visits to aged-care facilities and patients in their homes.
Under the Optometric MBS, the domiciliary benefit is an additional loading intended to account for travel and equipment transport which applies to optometrists visiting a patient's home, residential aged-care facility or other institution.
Optometrists providing this service bill MBS item numbers 10931-33 (the domiciliary loading benefit), and receive $24.75 for one patient, $12.35 per patient for two patients, or $8.20 per patient for three patients.
Only two per cent of practitioners often or always provide home visits and fewer than five per cent regularly provide care in an aged-care facility, according to the 2012 Optometrists Association member survey.
In 2012-2013, nearly 15,000 MBS claims were made for domiciliary services, accounting for less than one per cent of total claims made.
Association policy advisor Christopher Poulter said that anecdotally, common barriers to optometrists providing domiciliary care included payments that did not acknowledge the real costs of providing care outside a practice.
The association is planning discussions with the government in coming months to ensure fairer domiciliary loading conditions, but needs comments from practitioners who conduct visits to ensure the request appropriately accounts for the unique requirements of optometrists providing domiciliary eye care.
Results from a survey which closes mid-April will help form a revised Optometric MBS domiciliary loading benefit.
'Even if you see these patients only a few times a year, we are keen to get everyone's thoughts,' Mr Poulter said.
He said the association wanted to encourage more into the field as it was a viable career option and there was a huge unmet need of these patients.
'Given the prevalence of eye disease and vision problems increase with age, there is a significant unmet need of patients who are unable to access optometric care through established practice,' Mr Poulter said.
Optometrist Susan Kalff has worked in the field for 20 years. She started in 1994 visiting one aged-care facility and now regularly visits many nursing homes and aged-care facilities in Melbourne's southern suburbs, ranging from weekly to annually. She also provides home visits to isolated patients.
Ms Kalff is a deft hand at the quick set-up of her double trolley full of portable equipment which she takes from her car and assembles at each site.
At some, such as Village Baxter in Frankston which she visits on Thursdays, there is a room for visiting doctors and allied health specialists. The work involves more than correcting refractive error with spectacle prescribing, as many residents in aged-care facilities have multiple ocular pathology.
'It's fascinating work and really rewarding but you have to like the elderly and be able to communicate well with them,' Ms Kalff said.
'It's different from conventional optometry but never boring. It's a mix of prescribing and fixing spectacles, eye diseases, managing low vision, removing ingrown eyelashes, identifying eyelid disease such as BCCs, and dry eye as well as ocular emergencies. I enjoy the challenge of ocular pathology; therapeutics is really valuable.
'It's a great lifestyle because I work my own hours. Although I do a lot of paperwork at night, I can have time off when I need it, provided I plan coverage for my patients, and there are no office or staff overheads, just my car and equipment,' she said.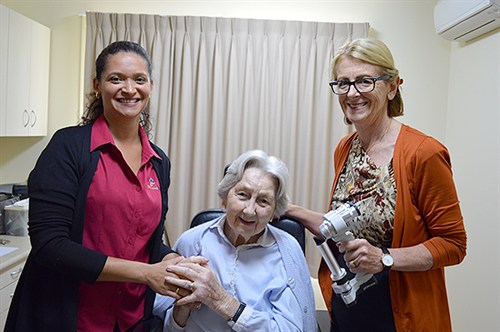 (L-R) Clinical care co-ordinator Antoinette with patient Marie and optometrist Susan Kalff
Communication with aged-care staff and educating them so they know what to look for and ask about is important. For example, this involves educating staff to call her to arrange specialist care for emergencies such as acute red eye or vision loss, and that hallucinations in macular degeneration are part of the disease (Charles Bonnet Syndrome) and not a psychotic episode.
Apart from scheduled appointments, staff pop in with queries about patients because they know Ms Kalff is there. For example, Jim is having problems with sticky, irritated eyes, so she advises him to change from gel to eye-drops. This valuable clinical advice is given immediately because she is on the spot.
'You don't do this for the money so an improved domiciliary loading benefit would be great,' she said.
Her work includes reviewing resident lists to ensure none falls through the cracks in the system, and helps with nursing home accreditation as it shows vision care is being managed.
Ninety-year-old Nina needed a change in prescription and new frames 'that were a bit more modern'. She also has glaucoma and it is difficult for her to travel to her ophthalmologist so Ms Kalff comanages the condition at Village Baxter with an ophthalmologist via phone and email.
When Ms Kalff first saw Nina, IOPs were high so Ms Kalff called the ophthalmologist and the GP, then amended the medications to better control the intraocular pressures.
'It's a good example of optometrist, ophthalmologist and GP working together by phone and emailing photos and medication charts for patients who cannot get to the specialist,' she said.
Clinical care co-ordinator at Village Baxter, Antoinette, said having an optometrist on site made staff more aware of eye conditions and helped with management of falls prevention and provision of vision aids.
'It really works well having her here and fits into the patients' routine much better,' she said.
Filed in category:
Uncategorised