Read time:

1:30min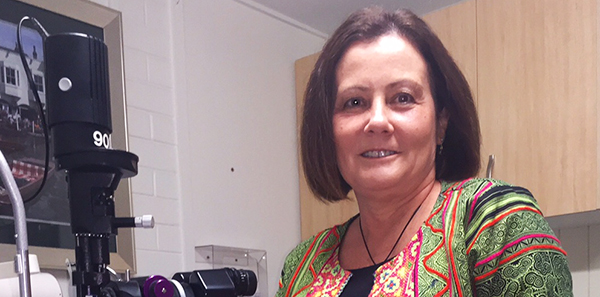 Lisa Penrose
______________________________
By Ashleigh McMillan
Journalist
Optometrist Lisa Penrose presented a lecture on how telehealth has been utilised in Indigenous eye health, at the 2017 Australian Telehealth Conference (ATC) held in Melbourne on 27-28 April.
Ms Penrose, manager of Eye Health Services at the Institute for Urban Indigenous Health, spoke about how the institute implemented a telehealth model of care within Aboriginal Medical Services following the approval of MBS items for telehealth.
She says that it is currently pushing the boundaries for the use of telehealth in eye care, with the first fellowship supervision via telehealth in the space.
'We have primarily been using telehealth for ophthalmology consultations between an ophthalmologist, an optometrist and the patient, as well as for post-operative cataract surgery consultations,' she said.
'We're about to start using telehealth for an ophthalmology fellow to be supervised remotely in our clinics. You often think of telehealth being used from an urban setting out to rural and remote locations, but this is going to be in reverse, as our final-year ophthalmology registrar will be supervised from Townsville while working in two of our clinics in south-east Queensland. We'll have an optometrist in the room assisting the fellow, and I believe this will be the first time that telehealth will have been used in this way.'
Presentations on the theme of 'Beyond telehealth to the world of virtual care' were made by representatives from CSIRO, the Australian Digital Health Agency and the federal Department of Health and Human Services.
Ms Penrose says that a primary focus of the conference was artificial intelligence's role in the future of health care and the 'Uber-isation' of health care.
'The conference covered how practitioners can work in tandem with artificial intelligence in the future to provide better, more co-ordinated patient care. The one comment from ATC 2017 that has stuck in my mind is that as a clinician, if you can be replaced by a robot, you deserve to be.
'There's certainly a lot of robots and artificial intelligence that is fantastic at crunching data and making unbiased decisions, but they're not so good at empathy. We have to make sure that we become very good at delivering those parts of health care that humans are better at.
'The complexity of looking after chronic disease, in particular diabetic care, when considering the number of health-care providers can be enhanced by using artificial intelligence and chat bots to triage patients and co-ordinate care.'
Clinicians to be replaced by robots? Clinicians need to differentiate themselves from future machines- interesting discussion #ATC17

— Lisa Penrose (@penrose_lisa) April 27, 2017
Ms Penrose says it's important for optometrists to embrace and utilise new technologies in the telehealth sphere.
'It's a really exciting field of health care, and optometrists need to see it as an opportunity, not a threat.
'Clinicians don't necessarily need to be experts in the technology, as was suggested by some ATC presenters, because we are experts in clinical pathways and patient care, but we should be able to consult experts in the telehealth field.
'There are so many good things that can come out of the new technology, but it was mentioned again and again that clinicians are very scared of it and don't want to embrace the new technology. But what we need to remember is that at the end of the day, it can really enhance patient care,' she said.
Filed in category:
Uncategorised