Read time:

1:30min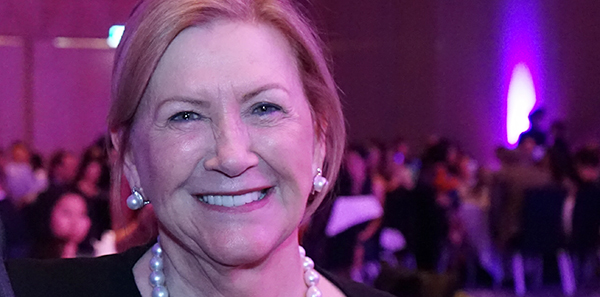 Dorothy Carlborg
______________________________
By Helen Carter
Journalist
Over nearly five decades, Dorothy Carlborg has met, networked with and helped thousands of optometrists throughout Australia. She reflected fondly on her career when she retired this month from the optical industry and as CEO of the CCLSA.
When Dorothy Carlborg started work at the Cornea and Contact Lens Society of Australia nine years ago, there were about 250 members nationwide. In her first six months, a computer database and website were established, state 'launch' meetings were held to introduce the new CCLSA, and membership trebled to about 750, most of whom were independent optometrists.
Most CCLSA members are also members of Optometry Australia.
'I've worked in the industry so long that I used to joke to optometrists that if you have grey hair or are bald I know you, and if you don't I probably knew your father,' she told Australian Optometry.
'I've had a great career, met some amazing people, and travelled and worked all over the world. It's a lovely industry and I am very grateful.'
She has made a huge contribution to the education of optometrists in the contact lens field.
'I loved working at the CCLSA; they were fabulous, talented people, doing voluntary work to arrange informative education events and an international conference every two years with the best speakers from Australia and around the world,' Ms Carlborg said.
'I love that it's gone from strength to strength. We had fabulous talent at our conferences, the who's who of the contact lens world.'
Ophthalmic industry
Ms Carlborg had an extensive career in the ophthalmic industry, working for CIBA Vision for 25 years through multiple acquisitions, Johnson & Johnson, Barnes-Hind, Bausch + Lomb, Alcon, Wesley Jessen, and Advanced Medical Optics. Her roles ranged from sales representative to marketing manager, and director of new product marketing and development USA.
She worked in the UK as CEO, America and Singapore as vice-president Asia Pacific, and travelled extensively for work including throughout South East Asia, Japan and South Africa.
In 1969 as a young single mother, Ms Carlborg started her career, working as office manager for Johnson & Johnson in Victoria. The company had some vision care products but it was 'very early days' in contact lenses, she recalled.
Johnson & Johnson set up business units for the company in Sydney and promoted its state managers to product managers. Ms Carlborg was offered the role of managing the Victorian business, then was offered a representative role in Sydney specialising in ophthalmic drugs and contact lens solutions, selling products to optometrists and ophthalmologists.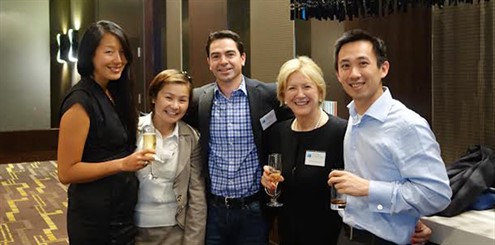 Dorothy Carlborg (second from right) with CCLSA board members (L-R) Jessica Chi, Margaret Lam, Heath Davis and Eric Cheng
CCLSA days
She worked with stalwarts of the industry including Lloyd Hewett and Brien Holden Vision Institute CEO, the late Professor Brien Holden, whom she met when he asked if he could have six dozen bottles of contact lens solution for a trial he was doing.
They formed a lifelong working relationship and he recommended her for the CCLSA role. Professor Holden and his team looked after the program of the International Cornea and Contact Lens Conference meetings, co-opting high profile researchers and practitioners to present in Australia.
When Ms Carlborg arrived at the CCLSA, contact lens stalwart Kenneth Bell had been voluntarily running the organisation, in between practising, for 40 years.
Mr Bell, who died this year, made a huge contribution to contact lens practice in Australia and internationally, particularly through his involvement in the CCLSA. A life member, he was its secretary from 1969 to 2009 and through the organisation was pivotal in helping develop Australian Standards for contact lenses.
Ms Carlborg's work with contact lens companies meant she was well known by the CCLSA board which offered her the position of CEO.
'It was a little organisation. I went to do the handover with Ken and he handed me some big files with names of members in pencil, and ticks next to their names if they had paid their membership,' she said.
'When I started with the CCLSA, the board was older, well-known optometrists who had been there for quite some time, but we moved on to a younger team with a lot of experience, energy and passion who love what we do.
'We offer education with CPD, e-learning, e-newsletters, an average of four meetings and dinners per state annually and annual research grants. Our secretariat has good working relationships with about 50 different organisations, including 15 not-for-profits.'
Six years ago, Ms Carlborg, along with the chair of education and a board member, David Stephensen, introduced contact lens master classes at Optometry Australia conferences in Tasmania, South Australia and Western Australia in the interim years between international conferences to ensure the smaller states were not disadvantaged.
Name change and mission
Under her leadership the organisation changed its name from the Contact Lens Society of Australia to the Cornea and Contact Lens Society of Australia, to reflect growth in corneal research, development and treatment, particularly the skyrocketing incidence of dry eye patients.
Also under her reins, the organisation developed a new constitution, a strategic plan and a mission statement: 'To support research and innovation, promote professional development and education, and encourage communication among members in the cornea and contact lens field.'
Ophthalmologists and corneal specialists regularly speak at its education events, discussing advances and nurturing the important relationship between optometrists and ophthalmologists.
'It's a great organisation, all about education,' she said.
'As Optometry Victoria CEO Pete Haydon said to me, our members are your members. And it's true, we don't see us as competing with Optometry Australia, rather we are trying to keep members up to date on contact lens and cornea information.'
Ms Carlborg was made a CCLSA Life Member for her dedicated and tireless work in growing the organisation, and Andrew Coleshill was announced as the new CCLSA CEO at the International Cornea and Contact Lens conference in Sydney on 8-10 September 2017.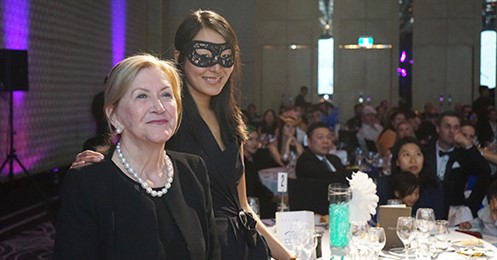 Dorothy Carlborg and Jessica Chi at the ICCLC in Sydney
Filed in category:
Uncategorised