Read time:

1:30min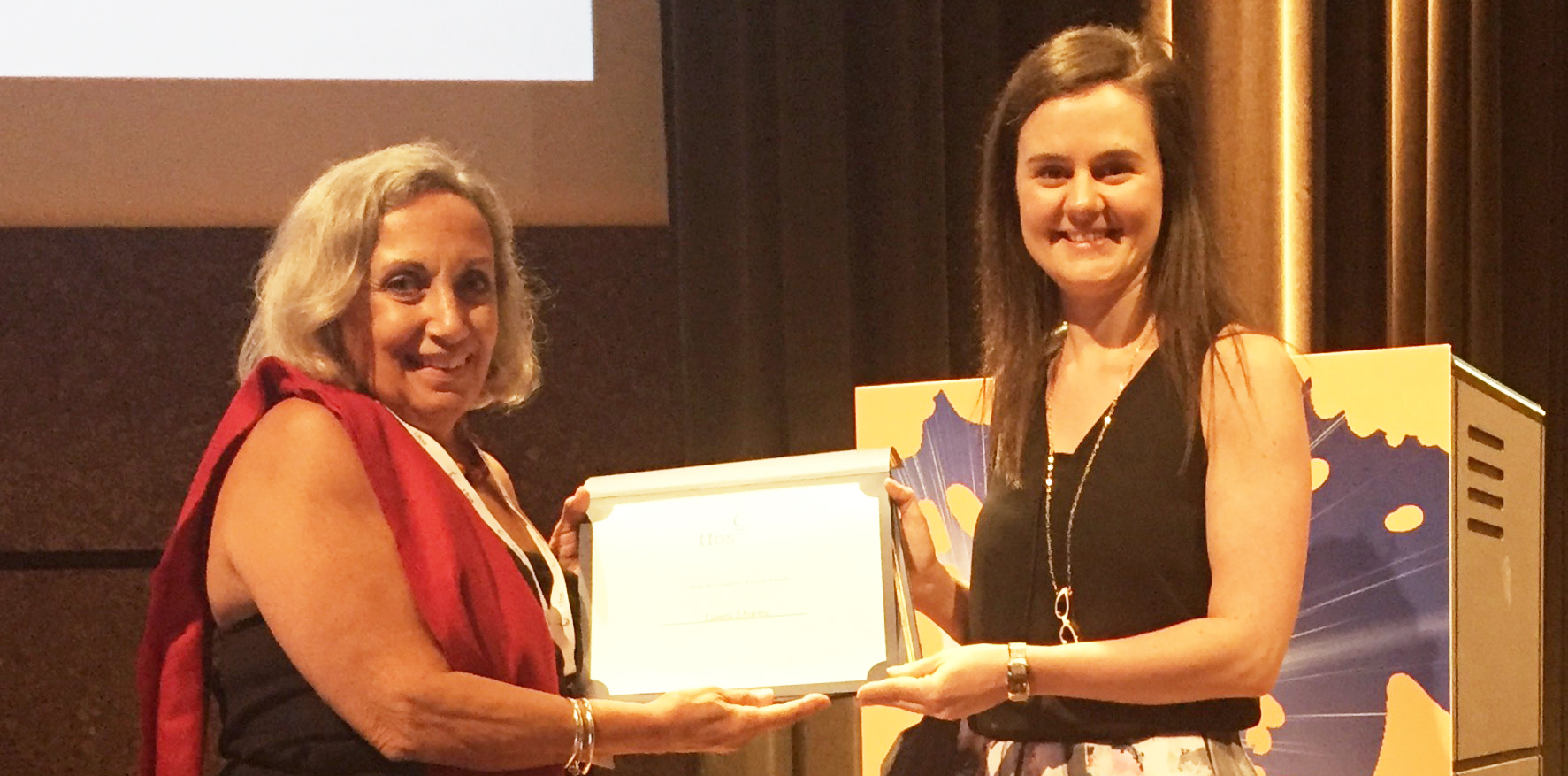 Dr Laura Downie (R) receiving her award from TFOS society operations manager Rose Sullivan
______________________________
By Helen Carter
Journalist
Downie wins dry eye award
Dr Laura Downie won the 'Conference Young Investigator Award' at the Tear Film and Ocular Surface Society conference and Dry Eye Work Shop (DEWS II) in Montpellier, France on 7-10 September.
She received the award for her research investigating the efficacy of different forms of omega-3 essential fatty acid supplements for treating dry eye, and the effectiveness of a new omega-3 supplement. Results of the study were presented in a poster at the conference and will be published in a journal.
Dr Downie is a lecturer, clinical leader and NHMRC Translating Research Into Practice (TRIP) Fellow in the University of Melbourne's Department of Optometry and Vision Sciences.
Tear Film and Ocular Surface Society conference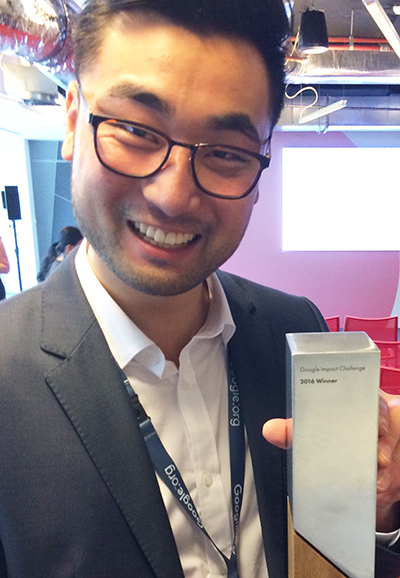 Dr William Yan from CERA received the Google award on Wednesday   Photo: Mark Pearce, CERA
CERA wins $750,000 Google grant
Centre for Eye Research Australia (CERA) researchers have won $750,000 in the 2016 Google Impact Challenge Australia.
The funds will go towards creating the Vision at Home evidence-based software algorithm to provide a way for people with access to a webcam and the Internet to test their eyesight anywhere. CERA will trial the technology with post-operative patients from the Royal Victorian Eye and Ear Hospital, in elderly and disabled patients across Victoria, and in schools in Indigenous communities.
Project leader and PhD candidate Dr William Yan, who presented the project to Google judges and received the award in Sydney on Wednesday, said Vision at Home would bring testing to areas with poor access.
Google Impact Challenge Australia
Journey steers patients towards comfort
Abbott Vision has launched a program developed to help optometrists and their patients manage dry eye.
The 'Dry Eye Journey' program was launched at the Corneal and Contact Lens Society Australia's New South Wales meeting, sponsored by Abbott Vision in Sydney on 3 October. The program provides patients with a simple dry eye starter kit and reference guide to help them understand their condition, and provides tips to manage their symptoms.
The Sydney launch of the program included presentations from Dr Rob Gerowitz on orthokeratology, and Professor Fiona Stapleton from the University of New South Wales on advances in dry eye.
For information call Abbott Customer Service on 1800 266 111.
One-third of myopia undetected
Myopia increases drastically in students from grade one to grade eight, and nearly one-third of cases are going undiagnosed and uncorrected, a Canadian study has found.
The University of Waterloo Myopia Prevalence in Canadian School Children study found that myopia increased from six per cent to 28.9 per cent between the ages of six and 13. Nearly one in five or 17.5 per cent of children in the study were myopic.
Lead investigator Dr Mike Yang said in a news release: 'Historically, myopia started at age 12 or 13 but now it is showing up more often in kids six or seven years old.'
The study also found that spending one additional hour per week outdoors significantly lowers the odds of children becoming myopic, backing similar Australian research.
Prediabetes overlooked
Prediabetes is undetected among many women who have had gestational diabetes, creating missed opportunities to prevent type 2 diabetes later, an American study has found.
Researchers said that even though most gestational diabetes cases resolve after delivery, women with gestational diabetes have a 35 to 60 per cent chance of later developing type 2 diabetes.
The study of 284 women with a history of gestational diabetes found that 24.4 per cent had undiagnosed prediabetes and 6.5 per cent had undiagnosed diabetes.
Diabetes screening in US women with a history of gestational diabetes, National Health and Nutrition Examination Survey, 2007–2012 
Brien Holden award
The International Agency for the Prevention of Blindness has given a posthumous lifetime achievement award to Professor Brien Holden from the Brien Holden Vision Institute for his contribution to blindness prevention and for being 'an extraordinary champion for eye health and optometry services worldwide.'
Regional achievement awards were received by the institute's regional director of South East Asia and Eastern Mediterranean, Sumrana Yasmin, and strategic programs director for CBM Australia, formerly known as Christian Blind Mission, David Lewis.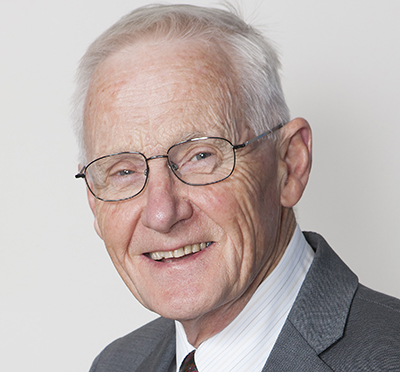 Professor Ian Constable
Chair to pioneer eye treatments
New senior academic roles at The University of Western Australia include The Ian Constable Chair in Discovery and Translational Ophthalmic Science, which will focus on new treatments for major blinding diseases, a postdoctoral fellowship and continuous PhD program to attract leading research scientists.
The new Chair, which is being established with funding from the Australian Foundation for the Prevention of Blindness and private donations, will be based at the Lions Eye Institute.
Health profession agreement
The Optometry Board of Australia and the Australian Health Practitioner Regulation Agency have published the health profession agreement for 2016-2020, setting out the partnership between the OBA and AHPRA, and services that AHPRA will provide in supporting the board to carry out its functions.
OBA chairman Ian Bluntish said that publishing the agreement demonstrated the OBA's and AHPRA's commitment to transparency and accountability in implementing the National Scheme.
Contact lens conference
The Cornea and Contact Lens Society of Australia will host the International Cornea and Contact Lens Congress in Sydney on 8-10 September 2017.
Optometrists, ophthalmologists, researchers and students can check www.cclsa.org.au for updates and registration which will open in early 2017.
Hand hygiene
The National Hand Hygiene Initiative, a program to reduce the rate of health-care associated infections, has launched a new learning management system to host online learning modules about hand hygiene for health-care workers.
They include profession specific modules for allied health practitioners.
Filed in category:
Uncategorised