Read time:

1:30min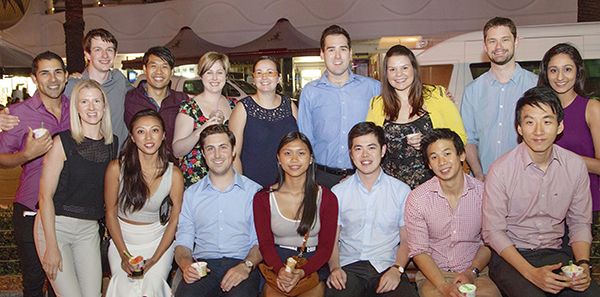 QLD/NT Young Optometrists members at a 'V Eye P' dinner held during Australian Vision Convention (L-R front) Rebekah Bryant, Lily Luong, Drew Sherwin, Rachel De Leon, David Hsu (OWAGG), Alex Ng, Simon Lan. (Rear) Vincent Vellin, Lachlan Powell, Ming Wong, Clare Webster, Lilly Beech, Matt Harding, Marissa Megaloconomos, Joel Bialy, Sonya Sahota.
__________________________
By Helen Carter
Optometrists in their first few years after graduating have mobilised to form groups that provide additional support and events for professional and social activities, with assistance from Optometry Australia state organisations.
Groups for young optometrists are meeting regularly in New South Wales and Queensland, and a group for new and recent graduate optometrists has been formed in Western Australia.
Western Australia
Kate Hegarty is the chairwoman of the Optometry Western Australia Graduates Group (OWAGG), which was planning to hold its first meeting in May.
Ms Hegarty joined the Optometry Western Australia board as a director last year.
'The objective of the group is to make new graduates and those new to Western Australia feel welcome and supported by their peers,' Ms Hegarty said.
'We plan to discuss case studies and incorporate CPD relevant to young optometry professionals. Any recent graduate optometrist is most welcome to join.'
Optometry Western Australia CEO Tony Martella said the group aimed to provide assistance and opportunities for early career optometrists to help them integrate better into the profession in the west.
'The focus will also be on development and the delivery of education specific requirements that graduate optometrists can most benefit from,' he said.
'Moving interstate, especially for the first time, can be both an exciting and uncertain time. Western Australia relies predominantly on graduate optometrists making the move here to commence their professional careers and fill the positions available.
'Whatever we can do to help accommodate or simplify this for any young graduate coming west can only be beneficial for them.
'Most importantly, this assistance is also about reinforcing and demonstrating the real commitment to optometrists by their professional organisation throughout their professional life,' he said.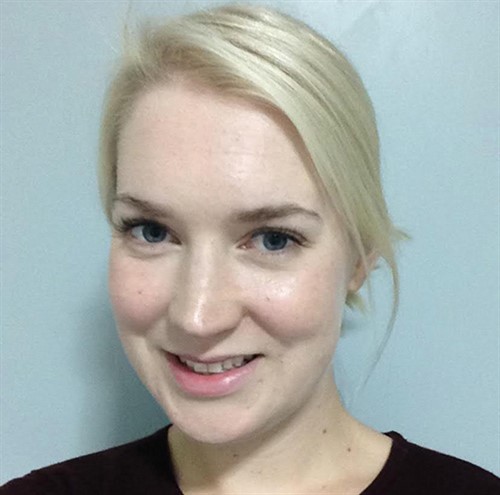 Kate Hegarty, OWAGG
NSW/ACT
A Young Optometrists (YO) group was formed in New South Wales by a group of UNSW graduates from the 2011 cohort.
The group had guidance from Carolyn and Peter Hewett, and the inaugural executive team consisted of Rebecca Li, Rajeev Naidu, Christopher Pooley, Jack Phu, Carina Trinh and Megan Tu.
Optometry NSW/ACT has also backed YO. CEO Andrew McKinnon said it had supported the group financially through sponsorship of events including a barbecue for optometry students, and support in kind by providing workers for the barbecue and sending representatives of the organisation to speak at events.
'It is a good way to expose the organisation and what we offer to graduates and students,' he said. 'We are working on ways to increase the attractiveness of membership to young people and get representatives of YO involved as they are the future of the profession.'
Newly-elected chairwoman Carina Trinh said YO had now grown to 115 optometrist members and 58 student members. Most were from NSW but 25 were from Victoria, South Australia, Queensland, Western Australia and the Australian Capital Territory.
'We wanted to create events targeted at young optometrists to fill potential gaps in their knowledge,' she said.
'Our goals are to address the needs specific to young professionals finding their way in the optometric industry. YO aims to provide a friendly learning environment for young optometrists to share professional knowledge, and raise awareness of the optometric career so that undergraduate students have a better understanding of the actual profession and young optometrists understand their vast career options.
'We also aim to facilitate essential networking between optometrists, students and industry professionals.
'We run tailored CPD events and social events. Our speciality has been Q and A panels where experts in the field provide educational seminars followed by anonymous facilitated questions.
'We have run hands-on workshops on business skills in collaboration with ODMA and had a scleral indentation workshop on 19 April, and we may run contact lens workshops,' Ms Trinh said.
The group also held a Glaucoma BIG Breakfast to raise funds for glaucoma awareness.
YO is open to optometry students and optometrists who have fewer than 10 years of clinical experience. More experienced practitioners can become Friends of YO.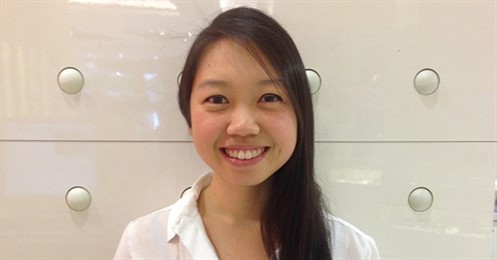 Carina Trinh, NSW
QLD/NT
Optometry Queensland/Northern Territory Young Optometrists held a 'V Eye P' Young Optometrists Dinner at AVC in April, which was attended by 50 members.
Chairwoman Marissa Megaloconomos is also vice-president of Optometry QLD/NT. She said the group formed in 2014 under the auspices of Optometry QLD/NT and as part of the organisation's strategic plan to support and assist the professional development of recent optometry graduates.
The group runs social events and CPD events.
'After graduation, it's very common to feel isolated or secluded working in a small, darkened room each day, in some cases without support or mentoring,' she said.
'We felt that it would be a valuable member service to provide recent graduates with opportunities to support and network with each other to assist their professional development in the first few years after finishing university.'
The Queensland group has about 70 active online members and any Optometry QLD/NT member with up to five years experience is automatically a member.
Final-year optometry students at Queensland University of Technology are also included at some events.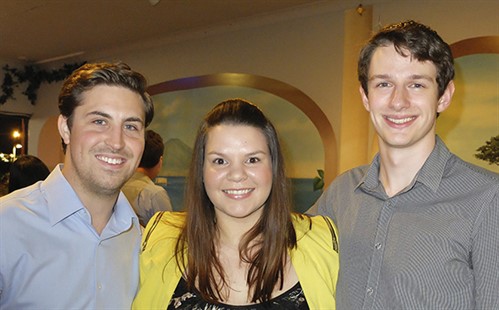 Queensland Young Optometrists committee (L-R) Drew Sherwin,
Marissa Megaloconomos and Lachlan Powell
Victoria
Optometry Victoria CEO Pete Haydon said that engaging with early career optometrists in the latter part of their studies and their early years of practise would be a critical part of what the Victorian organisation would do in the next strategic planning period to help build a strong profession for them.
'We already help graduates transition into the workforce by offering information sessions for students and early career graduates, including sessions about getting registered and a careers expo to meet future employers,' he said.
Optometry Victoria also organises an immediate graduates dinner and on 15 April held the most recent dinner for the University of Melbourne 2014 graduates. Mr Haydon, Optometry Victoria policy and member services manager Kirsty Machon and Optometry Victoria board director, optometrist Rogan Fraser, attended and spoke.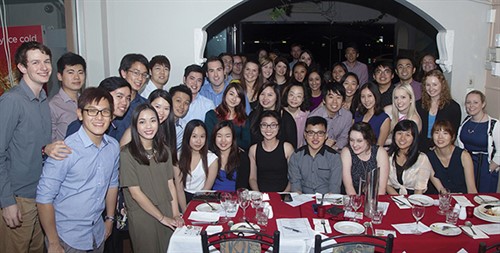 QLD/NT Young Optometrists members at the 'V Eye P' dinner
South Australia
Optometry South Australia is introducing a new Professional Hub this month for recent graduates. The first meeting will be on 15 May at the Optometry South Australia office.
Filed in category:
Uncategorised