Read time:

1:30min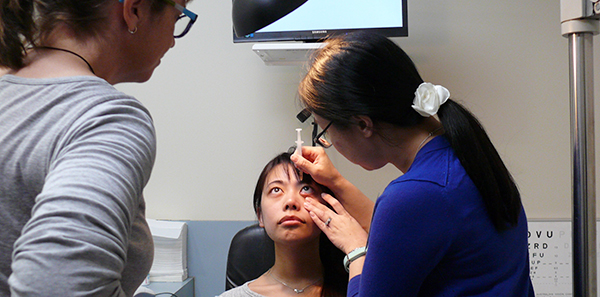 Mae Chong (R) lead optometrist, demonstrates lacrimal lavage on student Samantha Chow, while Jeanine McKenzie observes
______________________________
By Rhiannon Riches
Assistant Editor
The Australian College of Optometry (ACO) is offering 2017 pricing for candidates enrolling before 15 December 2017 in the only Certificate in Ocular Therapeutics course offered next year.
Applications are now open for the course commencing on 16 April 2018.
Candidates earn 80 therapeutic CPD points on successful completion of the course.
ACO Director of Education, Marcel Mihulka, said survey results showed that more than 90 per cent of candidates enrolled in the course because of its flexible learning feature and the ability to do their clinical placements locally.
'Our recent feedback survey results revealed that 97 per cent of candidates were happy with the course experience and would recommend the course to their colleagues and friends,' he said.
A graduate from the April 2016 intake said that distance learning was a fantastic experience, Mr Mihulka said.
'It was fantastic to be able to study without leaving home and to be able to organise local venues for exams and clinical placements which strengthened relationships with local ophthalmologists, especially as I live in a rural area and most other CPD requires travel,' the graduate said.
Download the course information booklet and application form from the ACO website.
Filed in category:
Uncategorised