Read time:

1:30min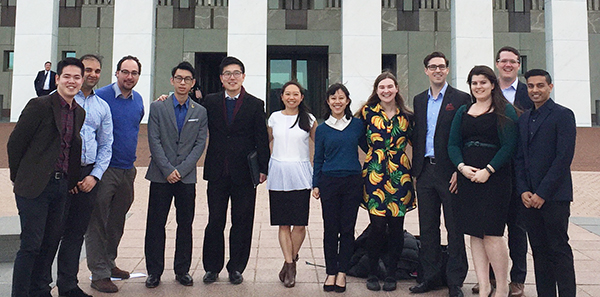 (L-R) David Hsu, Shazaan Khambiye, Luke Higgins, Wilson Luu, Jason Tan, Carina Trinh, Katrina Yap, Tori Halsey, Drew Sherwin, Cassandra Haines, Rohan Hughes and Kiran Sookroo
______________________________
By Ashleigh McMillan
Journalist
Early career optometrists have advocated for the profession to federal politicians during the Rising Stars advocacy summit and cocktail event held in Parliament House in Canberra yesterday, 12 September.
MPs Tim Wilson and Andrew Wilkie spoke to 12 early career optometrists about how to engage with local Members of Parliament, and Martin Rocks from the federal Department of Health discussed advocacy's impact behind the scenes.
Optometry Australia CEO Lyn Brodie, Vision2020 Australia board member Andrew Harris, Jaki Adams-Barton from the Indigenous Australia program at the Fred Hollows Foundation and Vision 2020 Australia policy and advocacy adviser Sarah Davies spoke on a panel about how to be effective in campaigning for optometry and the eye-care sector.
ECO Victoria committee member Katrina Yap said it was great to learn about the intricacies of advocacy from federal Members of Parliament and other prominent voices in the eye-care sector. 
'As a clinician, you don't really get a chance to learn about policy and advocacy during your studies, but it's such a big part of our profession,' Ms Yap said.
'Tim Wilson and Andrew Wilkie highlighted that when we're communicating with politicians, we need to keep our message really concise and keep it repetitive, because it takes a lot to get your message across.
'They also said that politicians aren't good at investing to save money, which perhaps wouldn't have been obvious to us previously. As optometrists, preventative health care is what we're about, so getting a succinct and direct message across is what we as a group of ECOs are now trying to do,' she said.
'Mr Wilson mentioned that if you want to be an advocate, you need to be a leader, but being a leader isn't always comfortable. He said that as you spread your message, people are ultimately either going to rally behind you or be against you.
'As young optometrists we don't have a lot of experience in this field, so it was really reassuring to hear that it's okay to feel a little bit uncomfortable in the advocacy roles we're taking on,' Ms Yap said.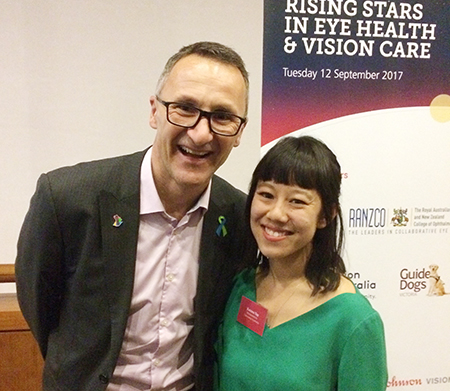 Greens leader Senator Richard Di Natale and Katrina Yap at the Vision2020 Australia Rising Stars cocktail event
MP Amanda Rishworth hosted the Vision2020 Rising Stars in Eye Health and Vision Care cocktail event yesterday. Greens leader Richard Di Natale and MP Jane Prentice were present, along with 150 other representatives from eye health sector organisations and the Australian Government.
The event was a partnership between Optometry Australia, Guide Dogs Victoria, the Royal Australian and New Zealand College of Ophthalmologists, and Vision Australia.
National discussions
The group of early career optometrists are meeting today for a national ECO Think Tank, to discuss state-based work throughout the year. They will hear Optometry Australia board member Steve Zantos respond to recommendations that were made at the first ECO Think Tank held at SA Blue Sky Congress in 2016.
The meeting will also cover topics such as the effectiveness of current advocacy campaigns,  workforce projections of potential oversupply, and how to assist optometry students in their transition to practice. Ms Yap said it was a forum to engage with and inspire other optometrists in their first years as practitioners.
'It's not about reinventing the wheel, but trying to find strategies that work for everybody, because we do have things in common between each state,' she said.
'I originally thought that there wasn't much I could do as an individual, but it's been highlighted to me during the event that our local MPs are actually very accessible to us, and we are able to write them letters or organise to meet with them to get our message across.
'I'll be doing that and encouraging my peers to do so as well, because that way we'll be able to move forward with everyone's contribution.
'It would be great if more of the profession had exposure to what's involved with advocacy, because I think optometrists would interested and ultimately more engaged with the direction that the profession is heading in,' Ms Yap said.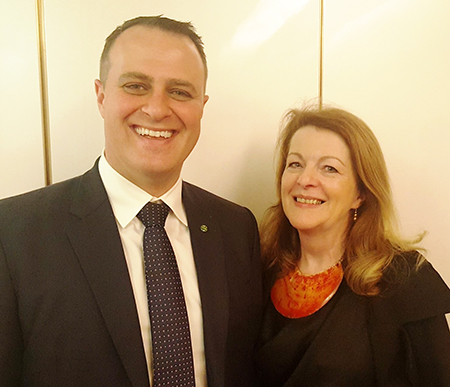 MP Tim Wilson and Lyn Brodie
Filed in category:
Uncategorised