Read time:

1:30min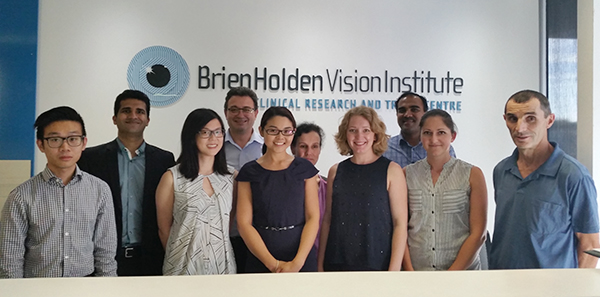 The VISTA (Vision Innovations Science and Technology Applications) team, which worked with the BHVI Technology Group to develop the EDOF lenses   Photo: Brien Holden Vision Institute
______________________________
By Helen Carter
Journalist
More presbyopes preferred extended depth of focus lenses than Acuvue Oasys for Presbyopia lenses, the first clinical study of world-first extended depth of focus contact lenses for presbyopia has shown.
The better vision performance of extended depth of focus (EDOF) lenses resulted in 61 per cent stating they would buy them compared with 39 per cent saying they would buy Acuvue Oasys for Presbyopia (AOP). Significantly more would buy only EDOF compared with purchasing only AOP (27 per cent versus five per cent.)
The study, published in Optometry and Vision Science in April, was by the inventors and developers of EDOF contact lenses from the Brien Holden Vision Institute in Sydney.
The 41 trial participants (20 low presbyopes and 21 medium-high presbyopes) wore both contact lens designs on different days and compared outcomes.
Researchers concluded that EDOF lenses provided better intermediate and near vision performance in presbyopic patients than AOP contact lenses without compromising distance vision.
High contrast visual acuity, clarity of vision and ghosting with EDOF were significantly better than with AOP although differences depended on testing distance and add groups, they said.
'EDOF was significantly better than AOP for clarity of vision at distance, intermediate and near, ghosting at distance and overall vision satisfaction,' the researchers wrote.
Better option
Lead author, BHVI senior research optometrist Daniel Tilia told Australian Optometry: 'The study shows EDOF lenses provide good distance, intermediate and near vision during short-term wear. Potentially, this means EDOF lenses can be a better option for people currently wearing multifocal contact lenses, or it could allow more presbyopes to experience the benefits of contact lens wear.'
The contact lenses received clearance to go on the market in the USA from the Food and Drug Administration in 2015. This was world-first approval for this type of technology applied to contact lenses for presbyopia.
At the time, the now late Professor Brien Holden hailed the invention as a vital step forward in quality vision for presbyopes and said it was the birth of a new technology.
Coming to Australia
Mr Tilia said he hoped the study results meant the lenses were a step closer to market. He said putting them on the US market was among several options being considered and the institute was in the process of seeking CE approval for market in Europe which would facilitate Therapeutic Goods Administration approval.
'Most contact lenses that correct presbyopia are either "centre-near" which means the near correction is concentrated in the centre of the lens with the distance correction in the optical periphery of the lens, or "centre-distance" which means the distance correction is concentrated in the centre of the lens with the near correction in the optical periphery of the lens,' he said.
'The EDOF lens deliberately manipulates higher-order spherical aberrations, which means the distance and near corrections are the result of the interactions of these aberrations over the normal range of viewing distances. When this is correctly done, the resultant lens gives good distance, intermediate and near vision.
'This is the first trial in a peer-reviewed journal showing EDOF lenses, during short-term wear, provide better intermediate and near vision without compromising distance compared to a commercially available multifocal lens.'
He said a similar manuscript accepted for publication later this year showed similar results for a comparison with a different commercially-available multifocal lens, and another paper under review showed EDOF lenses delivered similar results when worn for about one week.
'We are also testing EDOF lenses against the major multifocal contact lenses on the market,' he said.
Children and accommodation
'We recently completed a study comparing accommodative responses of EDOF lenses and standard lenses in children and will present those results at ARVO next week, 2-6 May. While wearing EDOF lenses, the accommodative response was closer to an ideal response while phorias and accommodative facility were unaffected.
'We are also running trials to see how effective EDOF lenses are for myopia control.'
The researchers said the potential presbyopic contact lens market was large, growing and underutilised. People aged 45 years and older in the more developed world total 560 million but presbyopes averaged only 22 per cent of total contact lens prescribing from 2010 to 2014. EDOF lenses could potentially help the market fulfil its potential, they said.
Australian context
Johnson and Johnson Vision Care general manager for Australia and New Zealand, Paul Griebel, said the company did not sell Oasys for Presbyopia in Australia and New Zealand but sold 1-Day Acuvue Moist Brand Multifocal contact lenses.
'We know patients who need to wear multifocal vision correction have been dissatisfied with their contact lens options. Our research identified the key physiological target for consistent vision for presbyopes; the natural variation of the ageing pupil,' Mr Griebel said.
'We created a new and innovative optic design, patented and validated in multiple early studies and in 2015, Johnson and Johnson Vision Care companies introduced an industry first with its new multifocal contact lens, 1-Day Acuvue Moist Brand Multifocal. This new lens is designed based on the natural variations that occur in pupil size as people age and with their degree of vision correction, to provide a great vision experience,' he said.
Optometry and Vision Science: Short-term visual performance of novel extended depth-of-focus contact lenses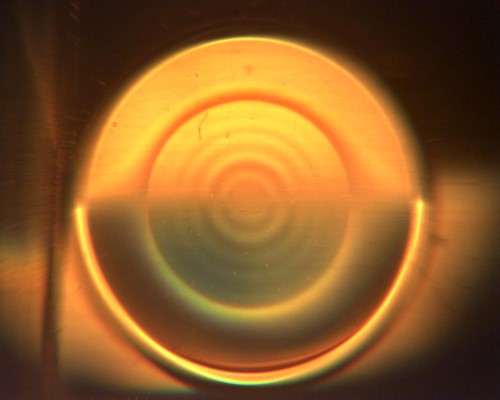 The extended depth of focus contact lens for presbyopia   Photo: Brien Holden Vision Institute
Filed in category:
Uncategorised