Read time:

1:30min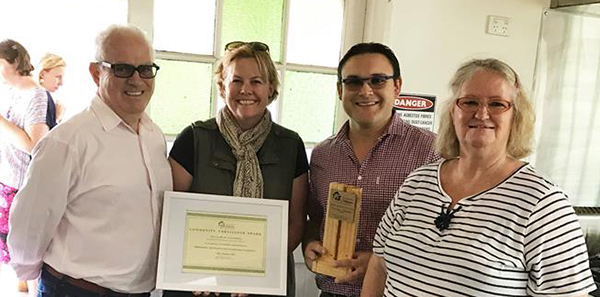 (L-R) Greg Johnston, Toowoomba Clubhouse CEO Jo Sheppard, Gareth Edwards and Clubhouse member Christine Sutton
______________________________
By Ashleigh McMillan
Journalist
Queensland optometrist Gareth Edwards has found that an eye examination can change the lives of those with mental health issues.
Mr Edwards regularly provides free appointments to members of Toowoomba Clubhouse, which supports adults who have experienced mental illness. The Clubhouse was established in 1996 to address a shortage of mental health services in the area, by helping members to develop work skills and socialise on their way to recovery.
He received the Community Ambassador Award from Toowoomba Clubhouse in 2016. The award is judged by the organisation's members and is given to an individual who has positively changed their lives for the better.
A large number of patients from the Toowoomba Clubhouse have not had an eye examination for many years.
'These examinations are what we do every day, so it's nothing too out of the ordinary for our practice. It's great to get recognised for doing good work every now and again and get a pat on the back,' Mr Edwards said.
'I think that the main drawcard here is the familiarity. Each patient is booked in through the Clubhouse, which they are familiar with. They don't have to walk into another practice or make another appointment, and there's no hard sell on them.
'This makes it easy for them to come to us, whereas their anxiety might put them off doing it in a usual retail environment.'
The Essilor Vision Foundation provides free prescription glasses for Toowoomba Clubhouse members who require them.
Mr Edwards says the Essilor Vision Foundation's CEO Greg Johnston initially contacted him because Mr Edwards's practice is located across the road from the Clubhouse, but he would like other optometrists to consider providing the same service.
'I think it's a good community service and something that our industry is well-positioned to do. It's not going out of our comfort zone; it's doing what we do, just targeting a group of people who probably need that extra reassurance.
'It's an easy process, simpler than filling out a Medical Aids Subsidy Scheme form and jumping through hoops and checking eligibility. We're in a prime position to help those people out there who need it.
'If you're not booked out weeks in advance, then I am sure the average independent practice could probably squeeze in a couple of people a week,' he said.
Filed in category:
Uncategorised